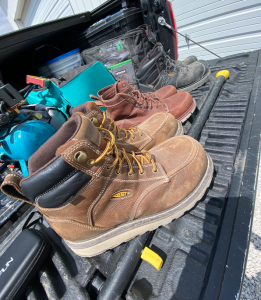 We are pleased to partner with KEEN Utility to bring you a boot giveaway. I also want to share with you what has made my boot buying an easier process with the best results for my needs. It's the first tool I use everyday.
I have been on a search for the Holy Grail of boots for many years. I feel that boots are one of the most important tools in our arsenal. As such we want the best tool for the job.
Sometimes we feel that boots are a one size fits all solution. This could be true in some cases. If you work in a shop or factory and do the same task every day you can probably keep buying the boots you are currently wearing and they will serve you well every season year after year.
One Tool Is Never Enough
For people like me who never know what the next job might be, one boot will not do. I do remodeling and fire and water damage restoration. The job is different almost every day. One day I may be walking in several inches of water. Another day I may be jackhammering concrete or shoveling out a crawl space. I can go weeks working inside a finished home tearing out and replacing cabinets, doors, trim, tile and drywall. I may be working outside in the snow and mud.
Due to this diversity and because I have some pretty harsh foot and ankle problems, I use different boots for different days. Sometimes I need a waterproof boot. Sometimes I need a boot that breathes. I normally wear a safety toe but I don't have to every day.
One thing I do need every day is firm support for my feet. I want comfort but more than that I need my foot to be held in a position that keeps my anatomy in proper alignment. I have really flat feet. In addition, I have broken my ankle. I have torn ligaments on more than one occasion. Over the years I have been to several podiatrists. They have prescribed custom orthotic inserts. I have even had surgery to correct some of the problems. Nothing has worked better than having the right boots with the right amount of support.
No boot company has helped my feet feel better every day than KEEN Utility. Not Redwing, not Thorogood, not Wolverine, not Carolina, not Timberland Pro and certainly not any of the cheaper brands. KEEN Utility has allowed me to stay on my feet longer without severe foot and ankle pain. Now I must say I can't wear every boot they make but there are quite a few.
There are basically three methods KEEN Utility uses to construct their boots.
Not All Boots Are Made Alike
The lightest and least expensive method is cementing. They attach the upper last to the midsole and sole using high quality cement adhesives.
Support Needed
The next more durable method which we have actually gotten to try our hand at in Portland, Oregon is the Direct Attach method. An upper last and a sole are held in place in a machine. Hot liquid Polyurethane is then injected between the two parts to form the midsole and basically vulcanize the parts together as one through a chemical bond.
The most durable method of constructing KEEN Utility boots is the Goodyear Welt method. Welt Construction is a tried and true method of construction and the oldest practice for footwear manufacturing. How is it built? First, a welt (A heavy strip of leather, rubber or plastic) is stitched to the bottom edge of the upper. Then, a strip of canvas or leather is cemented to the insole of the shoe as a point of attachment for the sole. After that, the space that is enclosed by the welt is filled with cork or another material that is breathable. Finally, the outsole is both cemented and stitched to the welt. Not only is it stronger and more durable, it is also possible to resole. This adds even more to the durability.
A Great Example of a Cemented Boot
When I am working inside I don't need a heavy duty boot. I can opt for a super comfortable pair like the Manchester. The mid soles are very supportive but more comfortable than all of my top of the line running shoes. The midsole has a special blend of materials to absorb shock without crushing down quickly like regular EVA. The supreme comfort has helped me to go longer than any other boot ever.
The Manchesters are also waterproof so they are great for the cold, wet seasons. KEEN Utility sent me a pair but I liked them so much I bought two more. I bought one soft toe and one safety toe.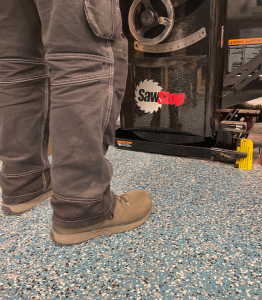 There are more than a few battle scars on mine. I have scuffed the toes a bit from being on my knees more than I like. I have also gouged them a few places from working on scaffolding. The soles are wearing a little faster than most other KEEN Utility boots I have owned. I do miss the big protective toe cap but I do like the looks of these without it. Even so, I will buy them again and again for the supreme comfort.
Boots With Direct Attachment
The only boots I have that are made with the injection molding process are the Logandales. They are very comfortable. The uppers are part leather and part synthetic. The midsole is a very resilient PU foam. These are medium duty boots which should last longer than the Manchesters in medium to heavy work. All the boots made in the Portland, OR facility are built with the direct attach process.
We actually got to have a hand in building our own pair in Portland, Oregon. It was a very interesting process. I am glad to see them bringing many jobs back to the USA.
To begin the process we received a pre sewn upper and a lower rubber sole. We then loaded the upper onto a very hard plastic foot shaped last. Next we loaded the outer sole into a mold. The last is then suspended just above the sole inside the mold. Hot liquid PU foam is injected between the upper and the sole creating the midsole area effectively making them one unit. After cooling, the boot is released from the mold for final trimming and packaging. We skipped the packaging since we didn't need another box and had no extra room for the plane ride home.
Heavy Duty But Not Heavy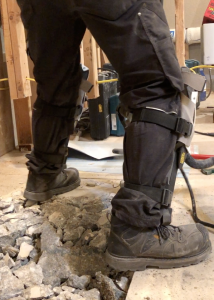 On heavier days like demolition day or when I am running a jackhammer to tear out concrete or tile I try to wear a heavier duty boot. For the last few years that has been the Tacoma and the Glendale. These heavier boots are built with a Goodyear welt sole. This type of boot is the most durable boot construction. They are discontinued. They have been replaced by the Cincinnati and Philadelphia.
About three months ago I got a pair of the all new Cincinnati boots. They have quickly become the one boot I would own if I could only have one pair. The Cincinnati 6" wedge sole carbon fiber toe boot is made with the KEEN luftcell midsole. It is an air infused PU that is designed to provide maximum cushion and support. On my feet they are easily 95% as comfortable as the Manchesters but even more supportive on those long days. Cincinnati is built to hold up much longer. They are heavy duty without being too heavy.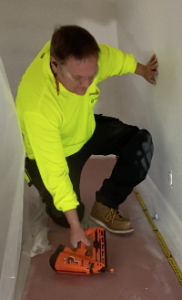 The Cincinnati is made with the highest quality leather offered in a work boot. It is nice and thick while still being supple KEEN Utility calls it barnyard resistant leather. It is resistant to oleic acid, urea, sodium chloride, and ammonium hydroxide in order to extend the life of the boot. The inside is nicely finished with a padded liner. It adds to my all day comfort level with reassuring ankle support.
This is by no means a comprehensive review of KEEN Utility boots. They have an incredibly diverse line up of high quality boots. I was glad to learn of the different methods of building boots. It was also enlightening to see why there are different types out there for light, medium and heavy duty use. Hopefully this will help you to make more informed decisions when comparing boots.
To enter the giveaway comment below