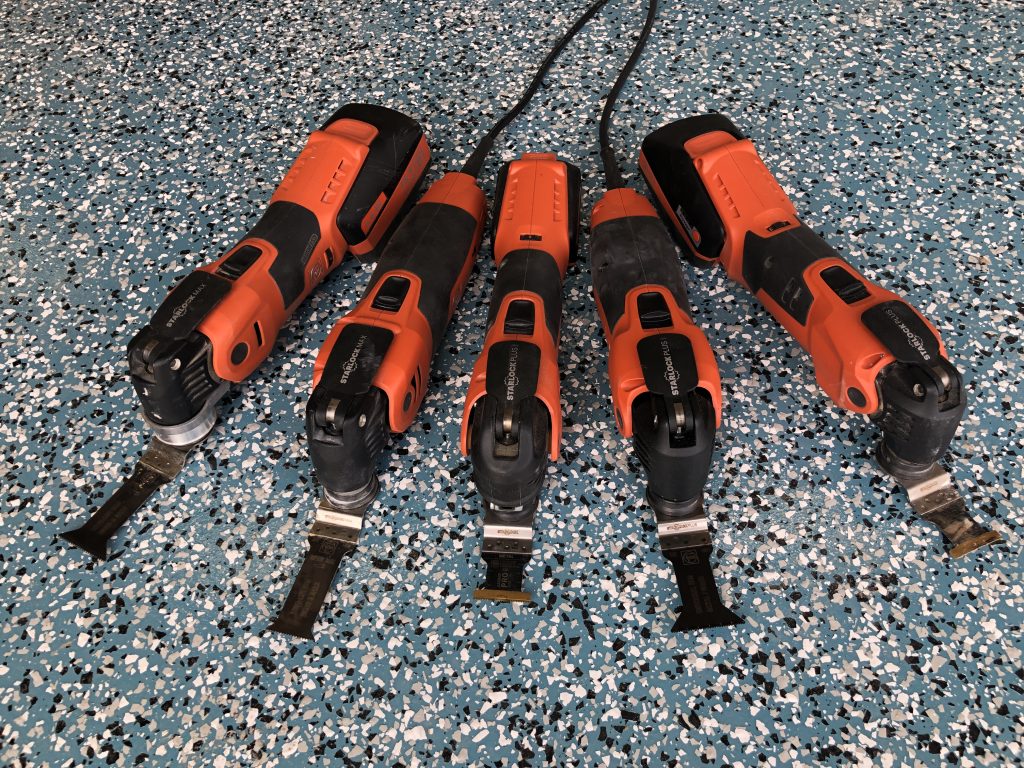 Fein Oscillating Multi-Tool
There are certain tools we expect to be the best in their categories. We have the Sawzall from Milwaukee. Wormdrive saws from Skilsaw. Often these tools are from the company that invented the category. For Fein Oscillating Multi-Tools that honor unquestionably goes to Fein for their Oscillating Multi-Tool.
They came out with the first version in Germany in 1964. It was the only one back then. The world took awhile to realize what an outstanding tool it was.
I never saw one until the early 90's. Honestly I wasn't very impressed at the time. I'm pretty sure the blade was dull and it just didn't do much but make noise and burn wood. I actually dismissed it as something I would probably never use.
Its good to be wrong sometimes. I found out just how wrong I was when I finally tried one with a sharp blade. It was on a job with a fellow restoration contractor. We were in competition but would collaborate on jobs from time to time. We were cutting water damaged drywall out. I had never cut it out so fast and effortlessly! It was clear, I had to get one after that. I have had several units from nearly every manufacturer both cordless and corded. They all do the job to some degree.
I always want the best tool for each application. Even though they cost more they make the job go faster and easier. I feel they are a worthwhile investment. The best tools are more pleasing to use and are often more comfortable and ergonomic. In the world of oscillating multi-tools there is nothing "Feiner" than Fein Starlock tools.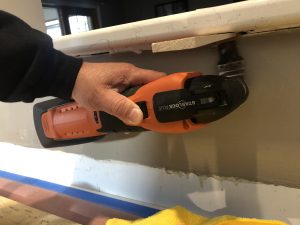 Fein had a long head start compared to every other tool manufacturer. They never stopped developing their Fein Oscillating Multi-Tool's all those years they held the patent.
Even though I kept trying other tools to stay within a cordless platform or because a new model claimed superior performance, I keep going back to Fein.
A few years ago Fein entered a partnership with Robert Bosch Tool Corporation to develop a new tool free blade interface system. It was to be both tool free and have no removable pin like so many systems on the market do. After many ideas the design was released as Starlock, A 3D interface which was a vast improvement over all systems before it.
Instead of using tiny holes and pins which can break, it uses a star shaped cup with tapered sides and a center lock. The tapered sides mean a secure purchase for the blade throughout its entire life. As blades wear on older systems the attachment point of the pins and holes get bigger and slop gets worse. I have seen several pins break over the years. With the starlock design the blade stays tight in the tapered cup. This allows for full transfer of energy from the tool to the workpiece.
That is all great on paper but how does it really work on the job? I am pleased to say that it takes a useful tool and turbo charges it. I regularly use the Starlock tools for things I never would have dreamed of doing before. I used to use Fein Oscillating Multi-Tool's only for cutting drywall, door shims and undercutting door trim when installing flooring.
Now I use them for so much more. Cutting subfloor out of entire kitchens and bathrooms. I use them in remodeling in many places I used to use recip saws for. In fact nowadays I use my Fein starlock tools more than reciprocating saws. Who would have dreamed such a thing would be possible?
There are three tiers of Starlock tools offered by Fein. The tools are all offered in both cordless and corded. This allows most any user to balance needs with their budget
Starting with the entry level MultiTalent tools it is plain to see that no matter what level Fein is offering the quality will always be great. The mid level offered is called MultiMaster. The top level is called SuperCut.
MultiTalent
These entry level tools compete very well with competitors offerings and even outperform most on the market. The corded has a solid design with a 250 watt motor. It has plenty of power for anything we need to get done with a Fein Oscillating Multi-Tool.
The cordless multi talent uses a compact 12v battery and an efficient brushed motor to provide similar performance to corded. It outperforms ALL 12v and many 18v cordless tools on the market! It uses 2.5AH batteries for light weight and easy handling. It would be nice to see the option of 5.0 or larger batteries for extended run times.
Interestingly the 12v tool improves on the corded multi talent in the design. If you look closely you will see the oscillating head is decoupled from the motor housing with soft rubber vibration dampeners. This allows the head to move independently from the motor and handle. The end result is smoother extended operation and comfort for you.
MultiMaster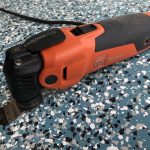 This is a significant step up in performance. The corded Multimaster has a 350 watt motor and the newer decoupled head design. This is the smoothest oscillating multi tool I have ever used. If I am doing extended cutting this is the one I want in my hands. It is noticeably smoother than any competing Fein Oscillating Multi Tool's I have worked with. The power difference is also noticeable. Cuts are faster and more effortless. The word butter keeps coming to mind when using it. The variable speed dial is easy to use and stays put.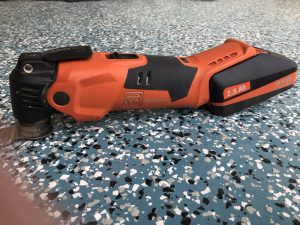 The cordless 18v MultiMaster is just under the performance of the corded model. It is almost as smooth and powerful as the corded. The power and speed seem pretty comparable in normal use. Although for extended use the corded will dominate with unlimited runtime. When you push it hard you will be rewarded with solid performance. I have had fewer stall outs compared to competitors tools especially with 5.0 batteries. The 2.5 are really nice and light. Ideally you would have both.
SuperCut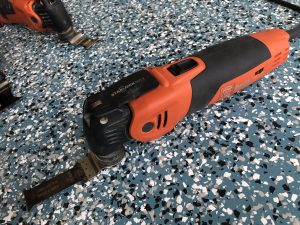 Finally we come to the STAR of the Starlock line! The SuperCut!! This is not the first SuperCut. There was a previous version and it was the most potent Oscillating Multi Tool at the time. This new version is improved in every way. Power Speed and smoothness. Add to that the Starlock interface and you have a world beater.
My favorite is the cordless version. It's not quite as powerful and smooth as the corded but the freedom makes up for it. The 18v SuperCut has exceeded all of my expectations for the last 2 years. It truly changed my whole mindset toward Fein Oscillating Multi-Tool.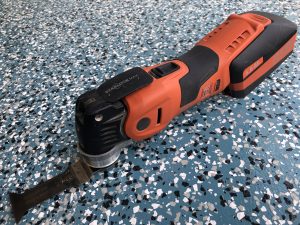 My favorite place to use the Fein SuperCut is in kitchen and bath remodels. Removing countertops and cabinets is so much easier with one. They are so handy for removing unwanted whatever from the structure. The Fein SuperCut also makes trimming parts of cabinets a breeze. It even does a nicer job of cutting outlet openings than a circular or jigsaw.
I love cutting out subfloor with the Fein SuperCut. It is so much nicer than a toe kick saw it isn't even funny. The task I used to dread is now fun. It is so incredible the get into the sweet spot of the power-band and cruise through 3/4" subfloor like its butter. I seriously can't cut it out any faster with my Crain corded toe kick saw or my Milwaukee Super Sawzall.
You may have seen some of my tool fights on Instagram or Facebook showing the power of the Supercut. It is so fast that I have been accused repeatedly of cheating with the cuts. People say I precut the material before making a final pass with the SuperCut. Some have said I sped the videos up. Those who haven't experienced the power of the SuperCut don't understand how great it is compared to run of the mill tools from the bigger tool companies.
If you step up to the corded version you will get even more power and less vibration. It is probably a more practical tool for extended cutting. It is smoother than the cordless models but not quite as smooth as the MultiMaster. In addition to a 450 watt motor you get the Starlock Max interface which uses ALL Starlock blades. Some of the heaviest duty blades are only available in Starlock Max. They may be longer and more aggressive than the Starlock and Starlock plus tools can handle.
Regardless of your situation and budget you should be able to find a Starlock tool to fit your needs. They are available bare tool or in kit form with accessories and batteries.
Check out the complete line up here at Acme Tools.