Refrigiwear Polar Force Extreme Cold Weather Gear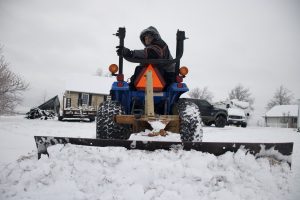 When Refrigiwear reached out to us about trying their extreme cold weather gear I jumped at the chance. I was excited to try something with better performance than the brown duck bibs and jackets I had been getting from the local farm stores. The traditional bibs, jackets and coveralls do help but wet weather performance was severely lacking. Furthermore they don't insulate all that well when it is extremely cold or if there is a wind chill. To top that off they aren't the most comfortable for me.
Something New, Something Better
I actually had a hard time deciding which pieces of the extreme cold weather gear to order. There are so many appealing items to choose from. I finally settled on the Polar Force Collection 7140 bibs, 8340 coat and 6440 Balaclava as well as the Extreme Collection 1250 boots and 0283 gloves.
First Impressions
The day the package of extreme cold weather gear arrived I was immediately impressed with the weight and build of the gear. I could easily tell these were special pieces. The look and feel are high quality. The cut is very comfortable and allows me to move around easily. I am pretty picky about how clothing feels on my body. I don't like when something is loose in one area and tight or restrictive in another.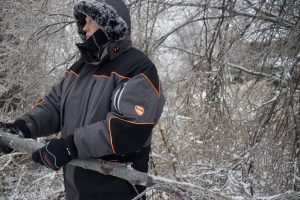 When I put the Refrigiwear on for the first time I was struck with how well they fit me. It wasn't unlike a big bear hug. They are heavy and have a substantial feeling but they are completely free from any uncomfortable pressure points or odd feeling seams. The insulation feels like a nice cozy sleeping bag. It has a lot of body to it. You can feel it everywhere. Lightly pressing in on every point at once. I've really never had anything like it before. I actually look forward to putting it on and going out.
The loft seems to really keep the insulation value high. Since I began wearing them I have never experienced any cold spots although we have had a lot of weather well below freezing this winter. It's not uncommon to find myself unzipping the jacket often because it is so warm. I feel it is even warmer than my 100% goose down parka. Quite honestly, I have never experienced gear this warm ever before.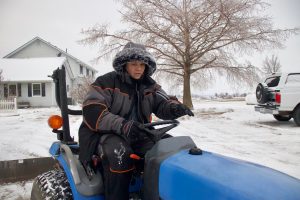 This season has been kind of crazy for all of us. In northern Missouri we started getting snow in October. It has snowed several times since. We have also gone through a few ugly ice storms. We have lost water and power more than once so far. It looks like we have at least a month of winter ahead of us at this point. Another factor we have to add is our location. It is high in the county and surrounded by fields on all sides. There are no tree stands or wind rows for at least 1/2 mile in any direction. This means we have a pretty good wind chill almost every day.
I am loving my Refrigiwear for when I sit on the tractor to push all that snow. Pushing snow on a tractor is not very hard work compared to using a shovel. As such, I never produce much body heat while pushing snow. Add to that an almost constant wind chill on our hill and you can see the need for really warm clothing. On the tractor, I never felt the slightest wind chill or cold spot on my legs or body.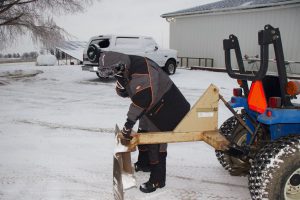 Every so often I have to jump off the tractor to reorient the blade. Sometimes I want to push straight. Other times, I want to push the windrow to the right or left depending on where I am and where I want the snow to end up. Movement is always easy. Climbing, kneeling or bending over has been no problem. I haven't felt restricted yet while wearing the bibs or the jacket.
Regulating Temperatures
I find it easy to regulate my temperature by zipping or unzipping the jacket and bibs as well as keeping the hood on or off. I also change up the balaclava depending on how my face felt. It can be just a neck warmer, it can cover from the cheeks down, or it can cover my head in its entirety, leaving the smallest slit to see out. Some days I don't even need it. The hood is very warm by itself.
Speaking of the hood, it is easily the most comfortable I've ever had. I really appreciate how snug the fit is around my head. I've never actually had one that would stay put like this as long as I want in the wind without tying or snapping anything.
No More Cold Feet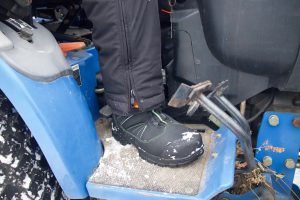 The boots are quite comfortable. My feet always feel warm without being drenched in sweat. I ordered 1/2 size larger than my regular street shoes because they are safety toe and I want all the toe room I can get. I usually wear heavy wool socks and appreciate the extra space for that as well.
The BOA system is much easier than laces and is super quick when releasing to get the boots off faster than I am used to with regular laces. It is quite nice to slip my feet in and dial in the amount of tension on the cable. It seems to even out well from the very top to the bottom metatarsal region.
The sole has a nice tread. Grip seems good whether it is light and fluffy powder or heavy wet snow and slush. As an added safety feature, their special compound in part of the tread to help with traction on ice. I believe it is a mix of glass fiber in the rubber. Extra grip on ice is always welcome. It seems effective so far. I haven't fallen once while wearing the boots even though we have had over 14 days of significant ice on the ground since receiving them. It has gotten as thick as 1″ or more in the low spots. Even if the air temp never gets above freezing the sun can start the melt off until dusk when it refreezes. That ice is especially slippery.
I am happy Refrigiwear reached out to us. It's been such a pleasure using their outstanding line up. Thank you to Refrigiwear. You can find their whole line up here.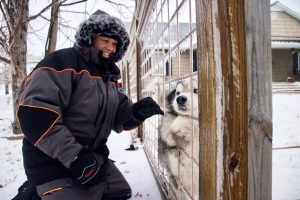 Thank you to Refrigiwear for kindly sponsoring this post. All opinions are 100% honest & completely my own.