Drills with interchangeable chucks have always fascinated me. I have been using them for years on my remodeling and restoration jobs. I also really like them in my shop. My first three were Festool. other companies have been catching up. I now have one each from Fein, Metabo and the Bosch Flexiclick. Most are available at Maxtool.com. They all do a great job for installs, finish work as well as cabinet and furniture building.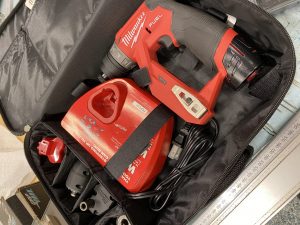 I have often wondered why Milwaukee offered a similar tool in other countries but not in North America. The rising popularity of these tools won out and now Milwaukee fans have a strong contender available to them: The Milwaukee FUEL Installers drill.
4 heads are better than one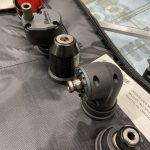 Why make a drill with interchangeable heads? Often hybrid tools are a huge compromise for specific tasks. So far I am seeing no compromises here. With this single tool you can use any normal drilling and driving bits. The 3/8" chuck will handle all normal twist bits up to 3/8" as well as many special hex shank bits. You also get 4 interchangeable heads for tight spaces and right angle drilling.
Short tool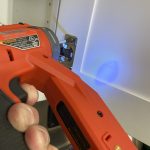 Sometimes you want a shorter tool so with a simple pull on the lock collar you can remove the chuck and use the drill with no chuck at all. All you need is a 1/4" shank drill or driver bit. It will slip right into the center shaft. I love this configuration for building cabinets and installing hardware like drawer slides and handles.
Shorter tool
If you need even more clearance to your work such as inside a slim cabinet or between closely spaced studs or joists the right angle adapter will get you closer. You can use it with or without the chuck for a more secure grip on the bit or ultimate close quarters clearance.
Something is off here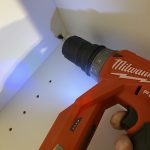 The offset adapter is awesome for driving screws right up against adjacent surfaces without running the screw at a huge angle or grinding your chuck on the side of your work.
M12 Power

As you would expect the M12 has one of the strongest motors of any 12v installers drill. The others are plenty powerful for most installation tasks but the fuel has more Argghh Argghh Argghh! We put it up against the competition and found that it easily outperformed most in both drilling with larger bits and in driving larger fasteners.

Does that really matter? Only you can decide. Every tradesperson is different and so is every job. This extra power does mean a slightly larger tool and more weight. It could mean more work done from a single tool. It also could translate to more stripped screws on lighter hardware installs like cabinet hinge or slide screws.

If you are strictly on the Milwaukee platform this tool set is a no brainer. If you are on multiple platforms there are a few I like better. The Bosch flexiclick drills in 18v and 12v are both nicer to use in my hands. The Metabo 12v set is also nicer to handle and has plenty of power in a more compact tool. The Hilti is very nice and compact and it has a better balance and feel. The Festool 18v drills are both larger than the M12 but are smoother and nicer to use overall. The 12v Festool drills are light duty and work pretty well but are not in the same class as the 18v drills for quality. I rank them very close to the m12 as in the not really my favorite category. In the end I donated my M12 installers set to a carpenter who had his tools stolen. He loves it and you may too!

You can buy most of the drills mentioned here at