Unless you are a master of finely tuned hand planes and cabinet scrapers, chances are you have no choice but to sand. I have met very few people who actually enjoy sanding.
If you think about it, what are the things you dislike about sanding?
#1 It takes too long. This is a very valid point especially if hand sanding but it also fits powered sanders just as well.
#2 It's too dusty! True with both methods. The very act of sanding abrades small particles from the work surface and these particles are a very fine dust.
#3 It makes your hands numb! Or is at the very least uncomfortable. It doesn't take long for your fingers and hands to become fatigued when hand sanding or running an orbital. We all know that numb tingly feeling that hangs on long after the sanding has stopped.
#4 It's noisy! That same vibration from orbital and random orbit sanders that makes your hands numb also causes all sorts of noise. Sometimes it's loud enough to cause hearing damage.
I have bought and used sanders for many years from nearly every major manufacturer. This includes all of the large mainstream companies. They have all done the job more or less but I can't say I ever really enjoyed using them. They are the inspiration for the 4 main reasons I didn't like sanding. Too much of everything. Time, dust, vibration and noise.
A couple of years ago I decided to try something better. I bought my first Festool. The 5″ ETS 125 EQ along with a CT36 dust extractor. This was my first High end sander and I was thoroughly hooked! Even though it is the least expensive sander from Festool, it turned out to be quite a step up. Less noise, less vibration and no dust. One thing that didn't Change much was the speed. While I did appreciate the infinitely adjustable variable speed, the over all sanding speed wasn't really faster than a regular sander. The other advantages far outweighed speed though. Overall In the sub 200.00 group, this was by far my top pick. It opened my eyes up to a whole universe of better tools. I had to see what else was out there.
I kept finding myself looking at the Mirka sanders from Finland. I had heard about how much better they were. When I finally decided to try one, I had to decide between the Ceros and the Deros. Both are brushless. Both are compact. Both are smooth. Both are very powerful. Both are nearly 100% dustless. The Ceros has been on the market longer. It is very unique in the power tool world in that it runs on DC power. This means that it comes with a large transformer. This is somewhat of a disadvantage but it's also an advantage. You can purchase a 6″ sander kit and add on a 5″ or a 3″ for a fraction of the cost. Ultimately though I decided to go with the Deros. ( Direct Electric Random Orbital Sander ) I ordered the 6″ version with the 5mm orbit. There are also 2.5mm and 8mm versions for finer or more aggressive sanding. I also ordered several grits of Mirka's Abranet abrasive. Abranet (abrasive net) is very nice to use. Instead of a paper sheet with punched holes for dust collection, it is made up almost entirely of holes. This allows for supreme dust collection. The Deros is as dust free as it gets. This feature of the abrasive keeps it cleaner and allows the abrasive to work longer without clogging. It also allows it to run cooler when sanding paint to reduce melting of the paint and clogging.
When it arrived I loved how the yellow T-Loc systainer fit right in with my other Systainers from Festool and other companies. The first time I opened it up, I couldn't beleive my eyes! The Deros was tiny! It looked just like a sander, only smaller but with a huge pad. It is only 3.75 inches tall and weighs 2.2 lbs! I picked it up and just had to wrap my head around the fact that it was so light. It was the most compact sander I had ever seen. The systainer includes a molded organizer to hold the tool and accessories. The lid has a nice foam block installed to hold the sander firmly in its molded spot. There was also A hook and loop pad saver for use with Abranet discs, a few sample sheets of abrasive, a wrench, the manuals and a DVD about the Deros.
I unrolled the extra long removeable and interchangeable 4m cord and plugged it in to my Festool CT36. I was pleasantly surprised that my 27mm Festool hose fit perfectly in both diameter and length! I had read that the Mirka sanders did not fit. That must have been an issue with the Ceros. The dust port on The sander has a nice swivel future to help avoid hose tangling.
I put the hook and loop pad saver on as well as a 120 grit disc , pushed the power button and played with the variable speed buttons and the variable paddle switch. Thats right, it has + and – buttons rather than a dial to adjust the maximum speed between 4000 RPM and 10,000 RPM. The paddle switch is set up similar to the high-end air sanders where the harder you push on the paddle switch the higher the speed. When I pushed the paddle and started sanding, my jaw dropped and my head bobbed forward. This tiny thing has got to have the highest power to weight ratio of any sander on the market. There was no awkward learning curve. It immediately felt like an extension of my hand. The center of gravity was extremely low and stable. The power and speed was unreal! It was exactly what I had always wished for. I found I could push much harder on the Mirka without stalling the pad compared to any sander I had used previously. In fact it is extremely hard to bog it down with one hand. My wrist could not handle pushing that hard on the sander all the time but it is very nice to know that if I need to push harder on a certain spot that the sander will power through without stalling out and creating unsightly swirl marks. Check out the video on YouTube >>> https://youtu.be/NmVZHIa1btE
Another advantage I noticed right away was how quiet the Deros was compared to my other Sanders. The sound is so different. It's so authoritative and beefy sounding but at a lower level than I was used to. When you turn it down, it can become just a whisper.
As a fire , water and mold damage restoration and remodeling contractor, I have used the Deros on many types of sanding tasks. Sanding raw wood. Painted wood, metal, painted walls, new drywall, old popcorn ceilings, knockdown drywall texture before and during repairs, cabinet builds , cabinet refinishing and furniture restoration. In each and every situation, I was nothing but impressed with the performance. In every case it has been faster, smoother, quieter and more powerful all with near zero dust.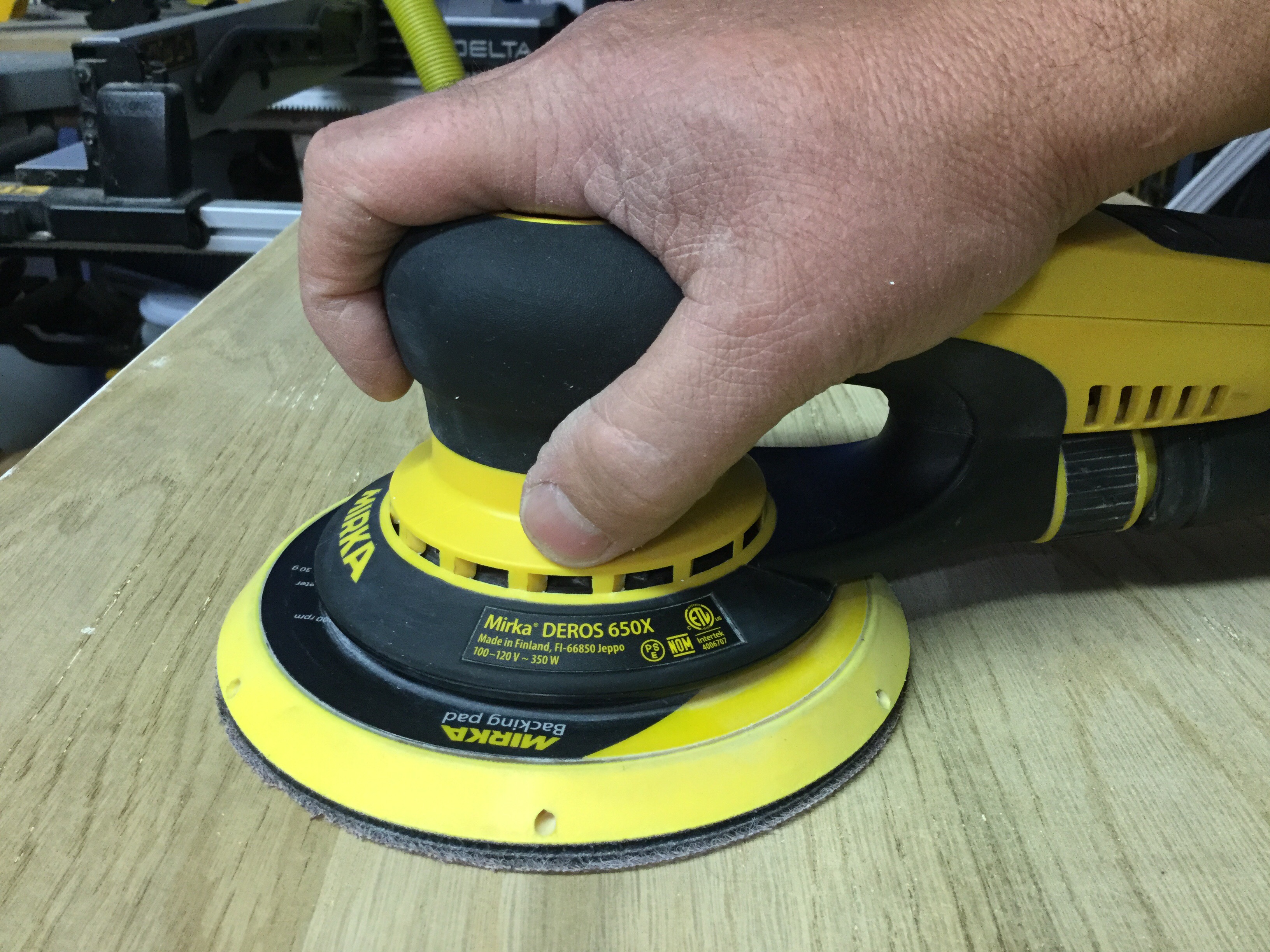 With a sander like the Deros, downdraft tables and large dust collectors are completely unnecessary. In fact you don't even need a very powerful dust extractor to realize the benefits of its superior dust collection. I find that I never need to run my Festool CT36 variable speed vacuum on high with it. I usually run it at 1/2 power or less. The Deros is so powerful that the suction from any vac on high will not affect the pad speed. But there is the extra noise factor so I always dial it down. (With regular sanders, running the dust extractor on lower power levels can actually help with making a better finish at times. Excessive suction can actually slow the pad down too much, creating more chance of swirl marks.)
So when does it make sense to pay this much for an electric sander? Any time a person makes their living doing woodworking, cabinet building or finish carpentry it makes sense to use higher quality tools. In cabinet shops you often see pneumatic sanders. While these are very powerful they cost a lot to operate. The tool itself may not be any more expensive than the Deros but the air supply system is extremely expensive. The pneumatic Sanders require incredible amounts of clean dry air. The air compressors , air line dryers / water separators all add up to thousands of dollars of additional cost not to mention the electricity necessary to run a large air compressor. Even though this sander may seem expensive it is a real bargain when compared to the pneumatic alternatives used in cabinet shops.
In addition to high volume cabinet shops, who else is buying the Mirka Deros? I have done a little research because I wondered myself. What I found was that the sander is used across the board in many industries that involve sanding. Auto body repair shops, drywall contractors, woodworkers, painting companies, high end furniture builders, flooring companies, remodeling contractors, boat repair shops, boat builders, surfboard manufacturers and the list keeps growing. Basically any one who wants the very best performance from a handheld sander.
Whether or not this award winning sander makes sense for you can only be determined by you personally. For me it is a no-brainer. If my Deros was missing tomorrow I would order one to replace it immediately. The benefits that I see every time I use it for outweigh the cost. The smoothness of its operation, the low noise output, the high power output and The supreme dust collection all make the Mirka Deros the most advanced and user friendly sander on the market today.