I used to say,"I can't afford a track saw." After buying one, I say ,"I can't afford not to have a track saw." Owning a good track saw can literally change your whole work experience for the better if you do any type of woodworking, carpentry, cabinet installation or even drywall. That's right! High end drywall contractors are using track saws!
I still remember that first moment when I first used one years ago. It wasn't even a Festool. It wasn't a very good one but it was good enough that I realized that I needed a track saw in my life. I was building some roll around cabinets for a large commercial project. That track saw was rough, loud, crude and so so dusty! The track side of the cut was pretty decent but the waste side was just as splintered up as a regular saw would produce. Still it made an impression on me.
I began researching track saws. I knew I wouldn't buy that same saw. It was not a nice user experience even though it did the job. I was trying to avoid Festool because I thought it was too expensive. In the US there aren't very many choices. There is basically Festool, Mafell, DeWalt and Makita. On the lower end you have a few more but I am never interested in the low end when buying tools.
Schutte lumber in Kansas City had a Festool event one Saturday and I decided to just go try one out. Words cannot describe the feelings I had that day! That day changed everything for me! Once I used the Festool TS55 REQ connected to a CT dust extractor, I was hooked! I didn't need to keep looking! The cuts were perfect, both the track side of the cut and the waste side were smooth and tear out free thanks to the splinter guards on both sides of the cut. The dust collection was almost 100%. I bought both on the spot! I also bought a sander and an MFT work table and some accessories. Never before had I experienced dust free woodworking. Every time I used the saw or sander, I just couldn't help but smile!
Last year when I saw the release of the new TSC55REB I knew I had to buy one. I already had the rails so it was easier to pay for it. It is available in many different configurations from full kit with batteries, charger and a rail all the way down to a bare tool . I love a cordless jobsite. I really couldn't wait to try one out! I thought it would be a good companion for my corded saw. I was mistaken. It was a full on 110% replacement for my corded saw! I couldn't believe it! It could do everything the corded saw could but with more torque! Less bogging on those heavy hardwood rips. Best of all…no cord or hose to trip on! I have seen plenty of tools knocked off of a work bench from someone tripping on a cord.
Many people have asked me ,"What is the point of a cordless saw if you have to have it hooked to a dust extractor? " I feel that it is a very good question. I like to think of it as a more versatile tool. When connected to an extractor it behaves exactly like a corded saw but with more power. The only thing that it doesn't do is trigger the extractor to turn on. You have to manually turn it on. Most of the time though, I skip the hose and use it without.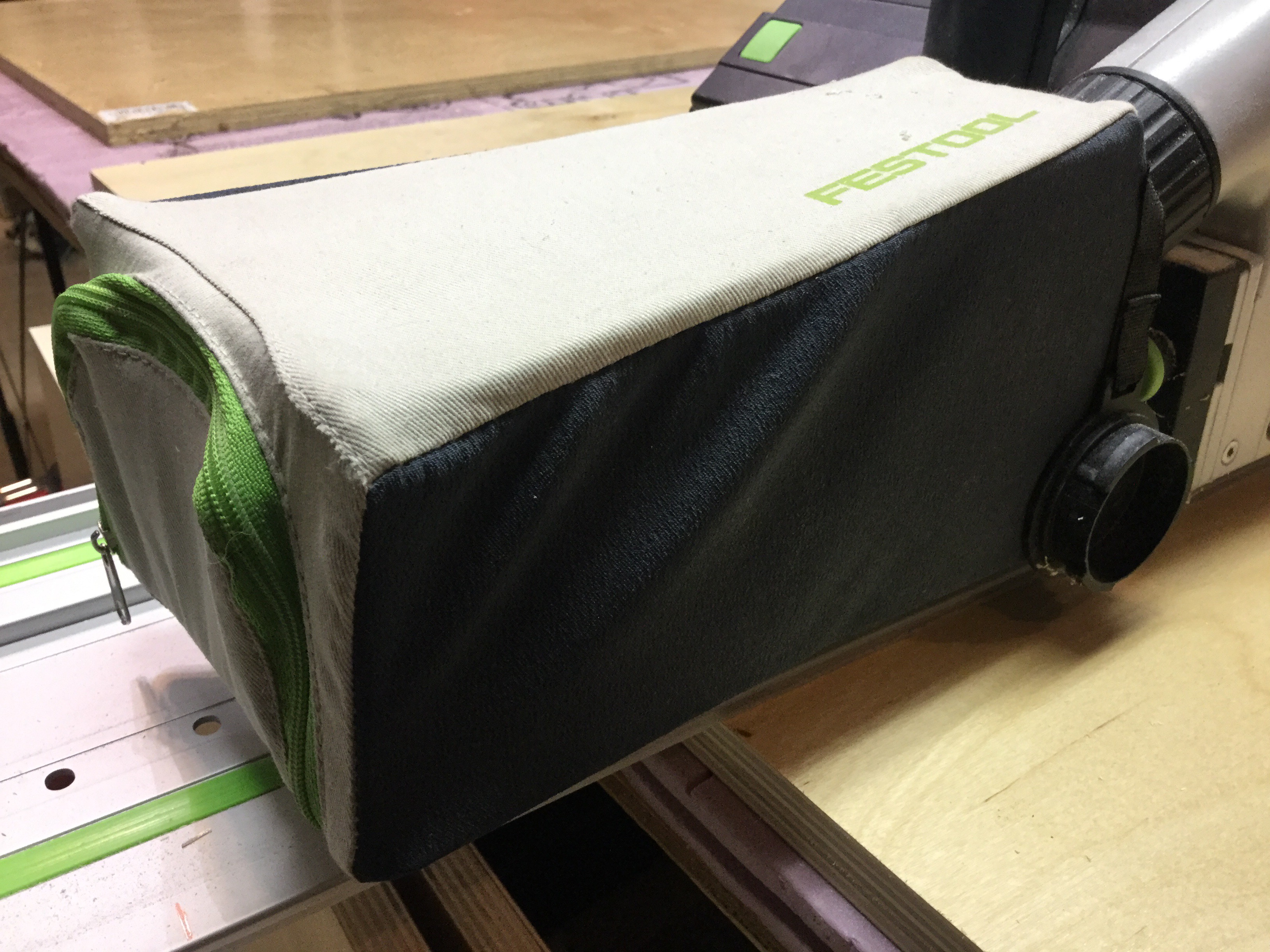 This brings us to one of the most outstanding features about the tsc55: The superior dust collection with the included dust bag. It is no ordinary throw it in the corner useless dust bag. It is far and away the best passive dust collection system I have ever used on any tool. It catches so much dust that you actually have to empty it often. It even does a near perfect job of catching all of your MDF dust without an extractor.
Festool engineers really outdid themselves when designing this cordless saw. It is nearly identical to the corded version in many ways. The areas you will find differences are in the motor case area. The motor housing is molded to accept one or two 18v batteries. There are 2 sets of variable LED battery level indicators on the saw body. They are easily seen any time you are starting a cut. They make it very easy to monitor available run time. This is a nice feature because you may not want to start a critical cut when they are nearly depleted.

I really appreciate that Festool engineered the saw to run on 2 batteries at 36v or one battery at 18v. This gives us much more flexibility. I know of no other dual battery tool that gives this option. Although at 18 volts the saw runs a bit slower, you can keep on working with one spare while they both charge up. The difference in speed is hardly noticeable to me since I rarely run the saw on full speed anyway.
Just like all Festool track saws the TSC55 has a variable speed dial. This allows you to adjust the blade speed to match your material. Wood, mdf, plastic, laminates and non ferrous metals require different blade speeds. The TSC uses a brushless EC-TEC motor with MMC electronic motor controls. They allow the saw to maintain correct speed for the job with a wide variety of blades, materials and conditions.
Before cutting with any new track, you will first need to make an initial reference cut of the splinter guard. It is installed on the aluminum rail slightly wide from the factory. The blade cuts completely through and determines the final width of the splinter guard. With any cut on any circular saw, you want to set your depth before cutting.
To make a cut with a track, you simply have to mark your cut and place the splinter guard on the marks on the side you wish to keep. It is not necessary to mark the whole cut line. I normally only mark the beginning and the end. The tracks are very straight and since the blade follows exactly the edge of the splinter guard, the cut is always straight.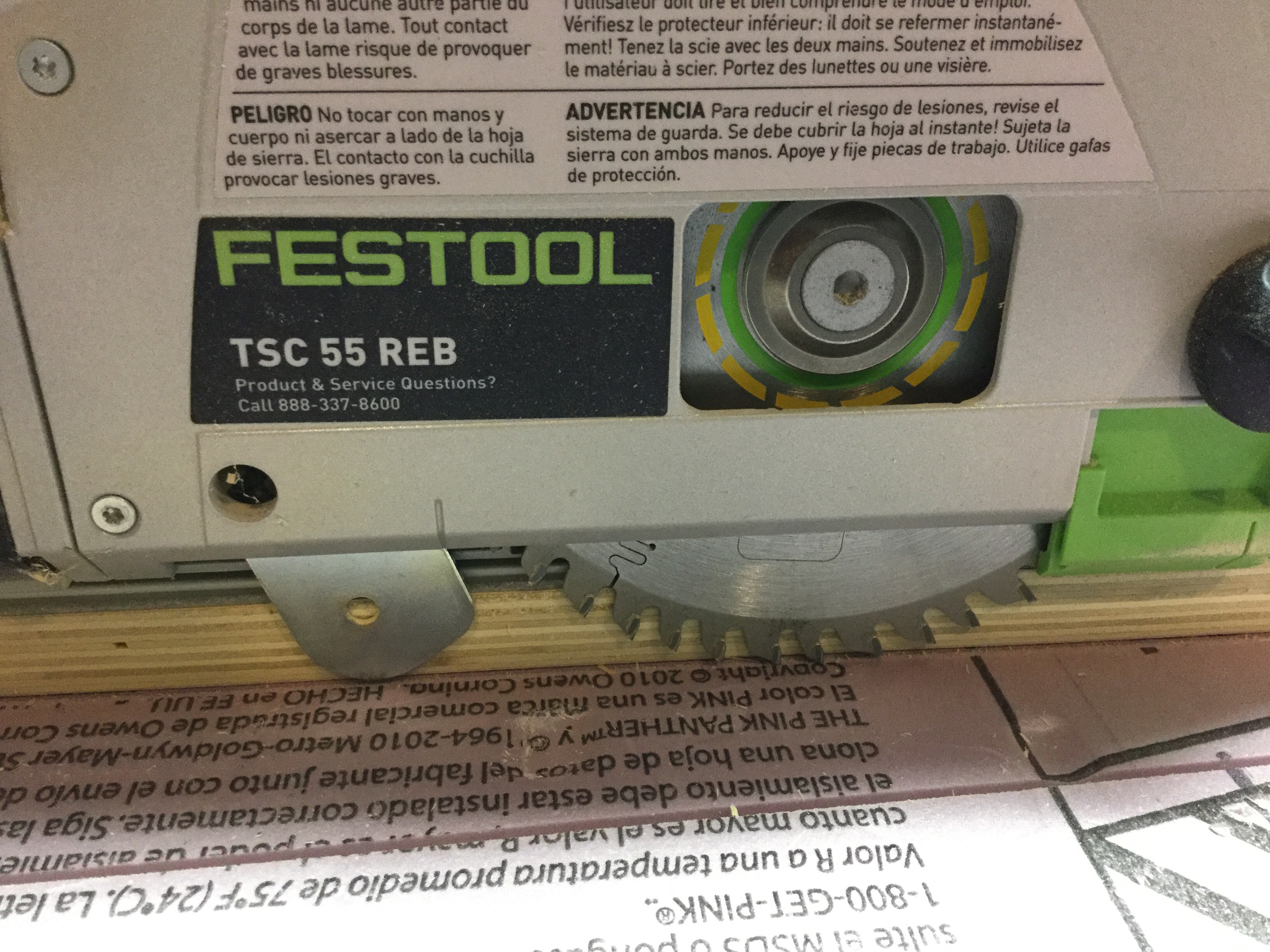 The splinter guards and riving knife make for very safe and accurate cuts
There are many blade choices from Festool. I have only used the ones for wood products. I Like the 24 tooth for general purpose use. It is a little faster than the factory 48 tooth blade and still leaves a very clean cut. The edge is as glue ready as I have ever seen with a circular saw. For even faster rips there is a 12 tooth Panther blade. On rips, I have noticed very little reduction in cut quality with it. I have heard from quite a few users that the panther is their main blade. For crosscuts in veneer plywood or melamine, I definitely recommend the factory 48 tooth blade.
I like this cordless saw so much after using it a year that I completely stopped using the corded version and sold it. It has become my all time favorite power tool. It really simplifies a major portion of my work. I can say with confidence that anyone considering a tracksaw should seriously consider the 18-36v Festool TSC55REB. It does everything a corded track saw does and more. It is very easy to schedule a demo at your local dealer.
Shop for the TSC55 REB at ACME TOOLS
I review and recommend products to help you buy the stuff you need. If you make a purchase by clicking one of my links, I may earn a small share of the revenue. My picks and opinions are independent from any business incentives.