I am a huge fan of stacking interlocking toolboxes. I have been using the Festool systainer system for years but it is very expensive and the boxes aren't really made to hold up to a full on hardcore construction crew. They are aimed more at the finish carpenter/ tradespersons who works alone or with a small crew.
Having an interlocking system for your toolboxes is a real advantage over tool bags or random boxes. Organization is the key to efficiency. Having the option to carry more than one box at a time can save both time and money. The locking design keeps each box firmly in its place during transport. It also saves space while adding a measure of protection to your tools and boxes.
Add some wheels and transport becomes much easier. You can haul multiple tools and boxes full of accessories in one trip from the truck to the job site. The advantages become even more clear when working in high-rise buildings where you must use an elevator to reach your job. Some job sites have little to no close parking and many find themselves walking long distances to reach the actual site. With interlocking boxes you can turn several trips into one.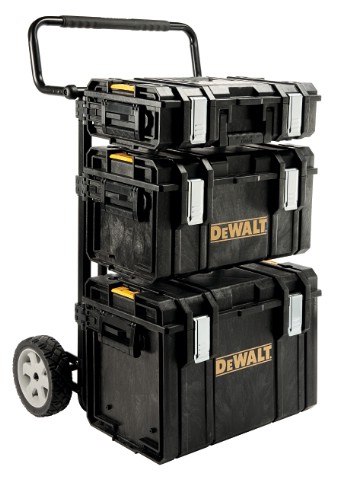 When the original tough system come out with the metal dolly I was very intrigued and almost bought a full set. I mostly work alone and decided not to add another storage system to my workflow. I liked the tough build and utility of boxes but the arrangement of the dolly took up too much space for my needs. Even though, I work out of box trucks and job trailers, space is always limited. For many it is probably an awesome set up. Each situation is different and we all have to weigh the pros and cons of different solutions.
With the new large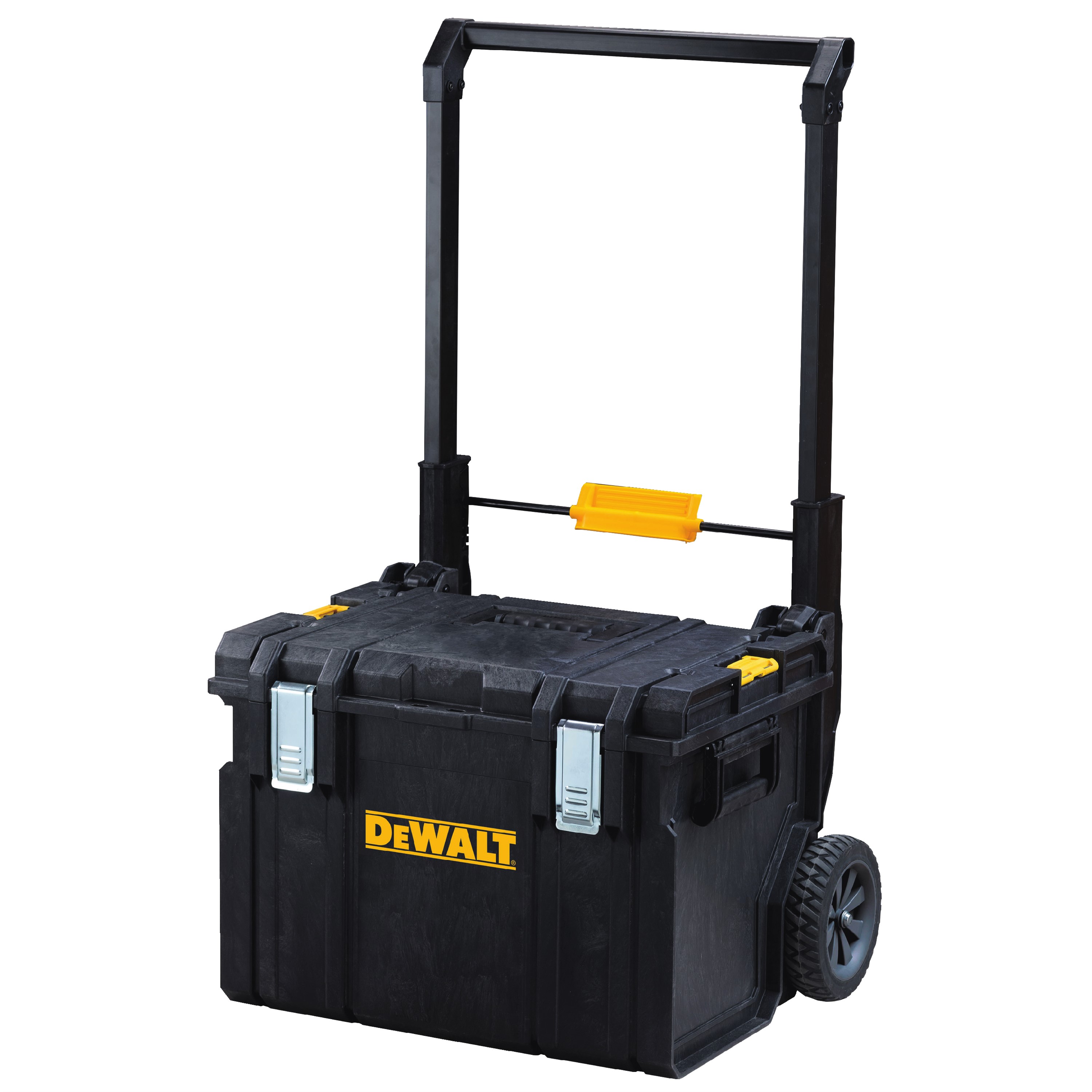 DS450 rolling bottom tool box we can now have similar utility while saving space. The boxes are still the same tough build but now stack tight while interlocking with each other. I immediately saw the benefits of the new box. It was just what I needed to get me to try the system. Since it is both taller and deeper than previous boxes, it will hold larger tools as well as more of everything. It has a telescoping metal handle and large wheels for smooth rolling even when navigating stairs. It also has a removable tray for smaller commonly used items. One advantage that it has over at least one of the competing systems is the lid. When you open it the telescoping handle tilts back and out-of-the-way. It allows the lid to open fully without wasting space. Thus there is no need to remove the lid to get into the bottom box. Few things are more annoying than having to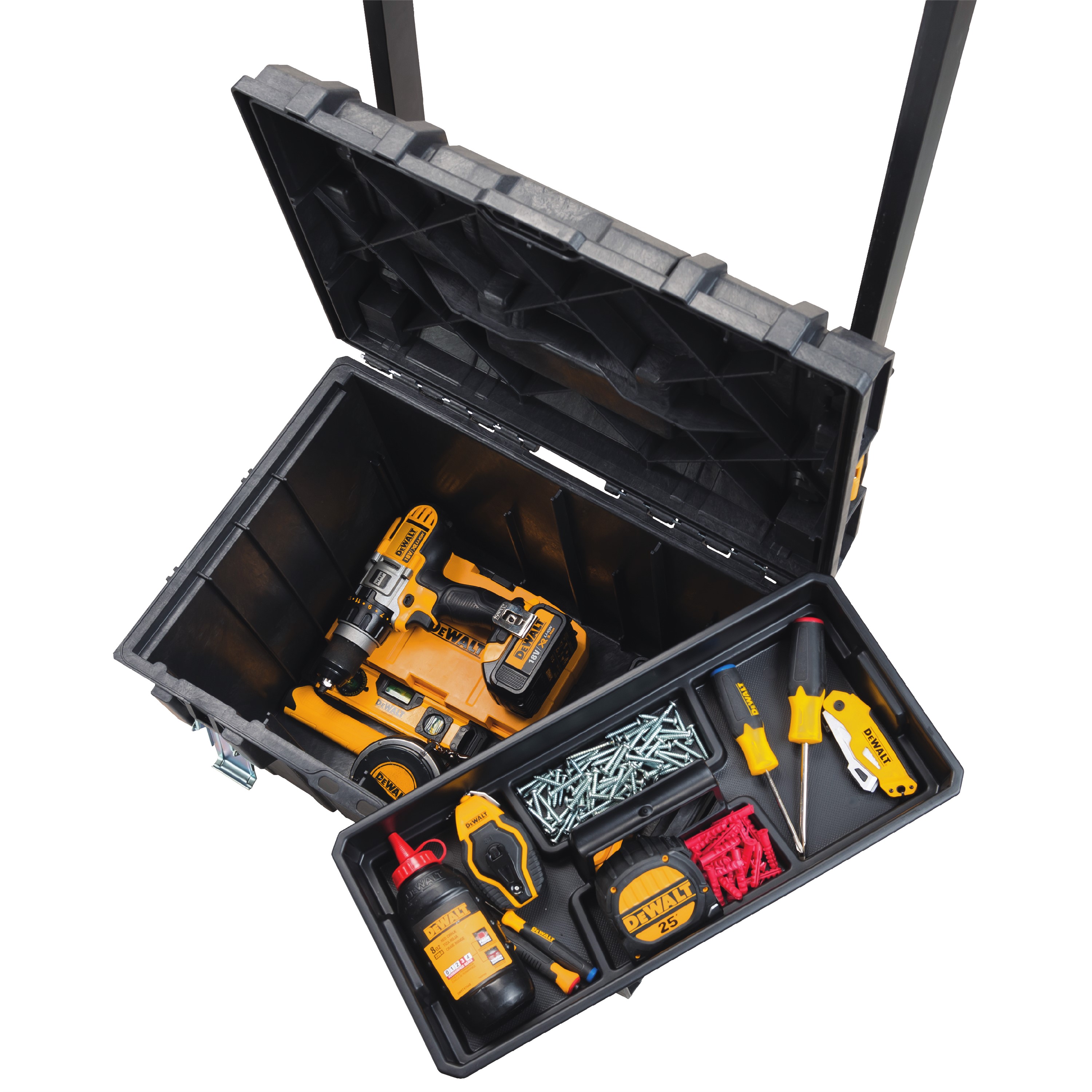 look around at the end of the day for the lid of the bottom box. Without the lid the next box will neither stack nor lock in.
---
The design of the Tough System is solid. They are made of a thick structural foam material. The hinges are heavy to stand up to job-site abuse. The handles have a nice soft rubber over mold for comfort when handling them. The lids all have a foam gasket to keep water and dust out. They are IP65 rated. In my experience they are weather-proof. I left a set outside for the better part of a year with tools inside. Through many thunderstorms and blowing snow they stayed dry as a bone inside. I am not afraid to store any tool in them. I have heard reports of some getting moisture inside but I'm not sure why. Perhaps they had a defective unit or a crack of some type. I have never had a drop of water or a hint of condensation. The lifetime warranty is reassuring.
There is a very nice array of boxes available in the tough system to meet many different requirements. There are large, medium and small boxes. There are organizer boxes , open top totes and boxes with drawers. There is even a tough system music job radio. It is my favorite of all job radios. It has the best sound quality so far. The highs are crisp and clean and it has the best bass of all job radios no matter the brand. All of these boxes lock together for ease of handling and to keep things from falling off the stack.
I feel that every trade can benefit from the DeWalt Tough System storage. It doesn't matter what job we do, we all can benefit from organization and tool protection as well as ease of transport. I encourage anyone who works with tools and or parts and accessories to at least check them out at your local Home Depot.
---
One very nice accessory that I really enjoy using with the tough system boxes are Kaizen Foam Inserts. My friend Brian Way makes them in his shop. He is a custom mill work installer. He created a nice way to organize and protect his tools. They are CNC cut multilayered foam inserts that fit the box perfectly. They are available in different thicknesses for different applications. The way you use them is lay the tools on the foam in the box, trace them out with a long tip marker and then cut the foam out with a thin breakaway knife so your tool fits snugly in the insert. The multiple 1/8″ layers make it very easy to cut and peel to fit your tool perfectly. You always want to leave a layer or 2 on the bottom. It protects the tool and keeps it from moving around during transport. Available at kaizeninserts.com use coupon code toolpig for 10% off your order.
I review and recommend products to help you buy the stuff you need. If you make a purchase by clicking one of my links, I may earn a small share of the revenue. My picks and opinions are independent from any business incentives.