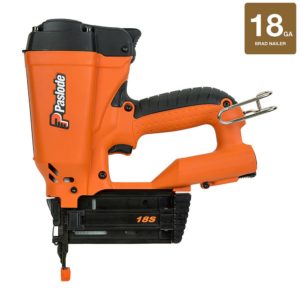 We have a long history with Paslode nail guns. This isn't the first and certainly won't be the last. From the original impulse and trim pulse guns with old Ni-cad batteries up through several generations we have had a very good run with Paslode.
We have always done our maintenance and kept our fuel fresh and we have experienced no down time with any of their nail guns. I will usually run a nail gun for a few years and then I will sell it to upgrade to the latest and greatest model.
We have had great success with them in overall feel, balance weight and power. They have enough power to drive full length nails into hardwoods like oak, walnut and maple. The power is very consistent. The newer fuel cells now have improved cold weather performance.
Over the years many challengers have come and gone. We have never found a cordless trim gun that equals or surpasses a Paslode in power to weight ratio or ergonomics. Whether we are talking the 16 gauge angled or straight or the 18 gauge, nothing has equaled or surpassed it in our use. Paslode guns are for the most part smaller, lighter and more powerful than battery only competitors. They feel closer to a pneumatic gun than most. The shot is crisp. The recoil is minimal. The hole that remains is no larger than the nail head itself. The weight and balance are spot on for all day comfort.
You will find that the nail guns rarely jam. Usually there is a drywall screw involved if they do jam up on you. When this happens, the easy clear nose takes only a few seconds to correct the situation and you are back in business.
We've been using this new compact 18 gauge brad nailer next to the standard 18 gauge gun and have found it to be equal in many ways. It feels like it has the same motor. The power is there, the shot is just as clean. The major difference is the magazine has been reduced in size to allow better access in some tight spots. Due to the shorter magazine it gives better clearance. This allows you to tilt the gun to a greater angle than the standard model.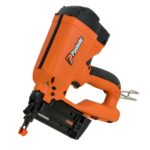 To match the shorter magazine Paslode has developed a shorter nail clip to go along with it. There are 50 nails in these smaller clips so you will have to refill more often. Whether or not this is a good tradeoff for the tighter clearance will depend on your needs.
In my experience, one advantage of the Paslode over battery only nail guns is nails per charge. With a 7.4-volt Li-ion battery drives up to 12,000 nails per charge. You can also get 200 extra shots with a 2 minute quick charge.
Either one of the Paslode 18 gauge brad nailers will do a great job for almost any trim carpenter. The original is still my favorite however this new compact gun offers better clearance and lighter weight.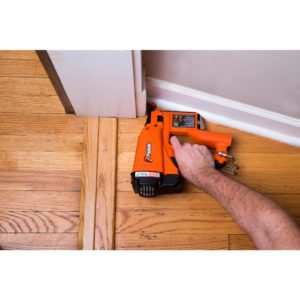 Drives into harder woods with total accuracy
Durable stainless steel magazine resists warping and jams and provides easy nail removal when switching nail sizes
7.4-volt Li-ion battery drives up to 12,000 nailer per charge
1-1/2 hour full charge; 2-minute quick charge for up to 200 extra shots
Battery stand-by position secures battery in off position to conserve battery power
Covered by Paslode 2 Year Service Promise – FREE repairs with no questions, no hassles, no cost
Reversible belt hook – Easily adjusts and keeps both hands free and the tool always at your side
Tool free depth of drive is easy to adjust, even with gloves on
No-mar tip protects premium wood
5 year limited warranty
I review and recommend products to help you buy the stuff you need. If you make a purchase by clicking one of my links, I do earn a small commission. My pledge to you is this: I will always say what I really feel. I will not taint my reviews to make a quick buck at your expense. I want you to know the truth about the tools I review for the good or the bad. My picks and opinions are independent from any business incentives.