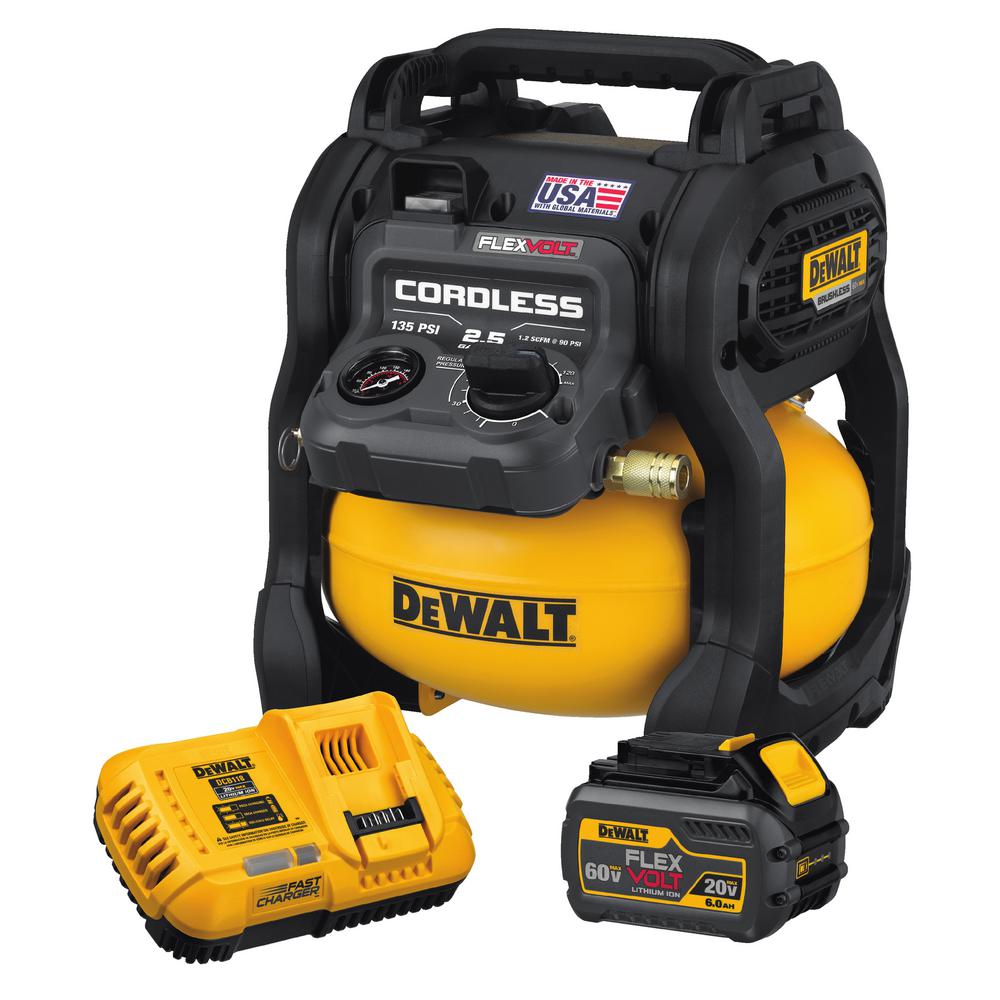 Many contractors have found the idea of a cordless air compressor to be very intriguing. They wonder if it would be powerful enough for their needs.
You may wonder why we would want a cordless air compressor when we can just go get a cordless nail gun and skip the compressor all together. We have found that cordless air compressors have filled a nice void in the industry. There are no 21ga cordless pinners available at the time of this writing. There are very few decent cordless 23ga pinners. Although most of the cordless nail guns perform admirable in general use they still fall short of the best pneumatics in power when driving full length fasteners. This cordless compressor allows you to have the best of both worlds, convenient portability and maximum pneumatic performance.
We have been using the cordless air compressor for many months now. The first one we got was the 1 gallon 18 volt from Ridgid power tools. We have been very pleased with it and have had no problems. We were very excited to get to try out the new Dewalt flex-volt 60 V max compressor. Overall it is a similar footprint compared to the Ridgid. It looks to be a little stronger with a larger tank and a higher maximum working pressure.
It features a 2.5 gallon tank and will go up to 135 psi. This will allow you to shoot more nails before compressor needs to recover. This will also allow you to run larger guns such as framing nail guns for a longer period of time. It will also allow you to fill tires faster.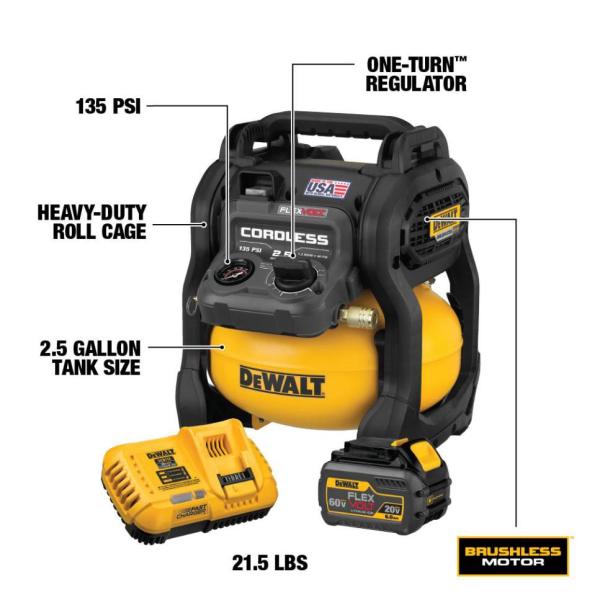 I thoroughly enjoy the OneTurn regulator. I wish every air compressor had one of these. Normally adjusting your output pressure requires a little trial and error. You have to pull out on the knob and rotate it either up or down and press back and see where the pressure ends up. It is impossible to know where the pressure will end up until the next recovery cycle. At that point you may have to pull the knob and turn it once again and then push it back into the locked position. With the Flex-volt simply turn the knob to the desired pressure when you're done, boom! It's that easy.
At 79 dB it is not the quietest compressor on the block but well within the range of acceptable on a normal job site. If you will be working close to the motor you may wish to wear hearing protection as it is loud enough to effect your hearing.
It is pretty light to carry around at 21 and a half pounds and the handle is very comfortable. With the low weight and freedom of a cord you may find yourself moving it around much more than your current corded compressor.
I was surprised to see so much plastic on the Dewalt, however it seems to be pretty tough. The Ridgid has a welded steel frame with a rubber padded handle but the Dewalt has a plastic frame/ motor shroud supporting the steel tank.
One minor quibble about this compressor is the placement of the single air hose coupling. If you are looking at the front of the unit it is on the right. Instead of being slightly angled upward on the control panel, it is protruding horizontally out the side. The air compressor is not heavy enough to allow one-handed insertion of your hose. It would be nice to see 2 couplers as it is large enough to run 2 finish guns.
Hook yourself up at The Home Depot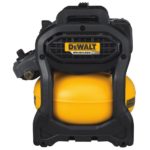 FEATURES
Up to 1,220 nails per charge
Brushless motor paired with a heavy-duty oil-free pump provides cordless convenience with the power of a corded tool
OneTurnâ"¢ regulator for fast, accurate pressure adjustments
Lightweight and portable at only 21.5 lbs
Heavy duty roll cage for job site application
Compressor Made in the USA with Global Materials
79 dBA operational noise level (tested per ISO 3477)
1.2 SCFM @ 90 PSI (tested per ISO 1217)
I review and recommend products to help you buy the stuff you need. If you make a purchase by clicking one of my links, I do earn a small commission. My pledge to you is this: I will always say what I really feel. I will not taint my reviews to make a quick buck at your expense. I want you to know the truth about the tools I review for the good or the bad. My picks and opinions are independent from any business incentives.