Metabo Dust Extractor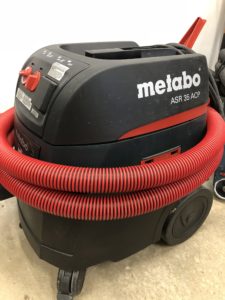 Metabo isn't a name most people have heard of. Even among contractors and those in the building trades it is one of the more obscure brand names. That is slowly changing with social media and the internet. They are best known for their line of world-class grinders. Talk to a welder. Chances are they have heard of Metabo.
I have three of their grinders from the 90's. Two are for metal and one is for concrete. I used to use it with my old Clark industrial shop vacuum but now I use it with something much better!
Long before OSHA passed the new silica standards in the US, Metabo Power Tools were making scores of dust free solutions for cutting drilling and grinding concrete in Germany. Europe already had high standards regarding quartz(silica) and Metabo has some of the highest performing dust extraction solutions on the market.
ASR35 ACP
The backbone of most of these solutions is the ASR35 ACP dust extractor. I must say right off the bat that it is one of my top favorites among the auto clean HEPA extractors.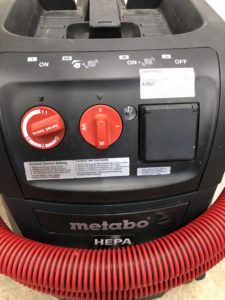 It is made to use with your power tools that have dust extraction provisions. If you look on the control panel you will see a covered receptacle. You plug the tool into this receptacle and when you turn on the tool the vac starts running. When you turn the tool off the vac runs for several seconds then shuts off to gather any remaining dust. You can also see two turn dials. One is marked "current control". It is a very nice way to balance power needs with what is available. You don't want to overload the extractor or the circuit.
If you run the extractor on full power 11 amps that leaves 4 amps for your tool on a 15 amp circuit. If you have a 10 amp grinder you need to turn the extractor down to 5 or at least close to it. It is good to have the flexibility for noise as well. You don't always need 100% of the power. When sanding, too much suction can pull your sander too tight to the surface causing more heat and scratches in the finish. The other dial controls which mode you are in. Off/ On with no auto clean, on with auto clean and tool activation with auto clean.
Power Holds Up
On paper the ASR35 may look to be a little underpowered compared to some of the competition. It is rated at 130 CFM (cubic feet per minute) airflow while others are rated higher at around 150 CFM. With brand new filters the others feel more powerful at first. When you start using the vacs the field starts to level out more.
When you peek inside you see the Metabo vac has 2x to 4x the surface area on the HEPA filters compared to all the other extractors. see the difference in the video below.
It also has the most effective filter cleaning mechanism of all the auto clean extractors I have used. Most extractors use reverse airflow to blow air back through the filters. They all work to varying degrees but all of them lose a certain amount of air flow during the cleaning cycle. The Metabo vac uses an electromagnetic pulse to physically shake the filters. This ensures that you never lose any of the air flow and it also more effectively cleans dust and debris from the filter elements. This mechanism is louder than the Makita and DeWalt extractors but not as loud as the Hilti, Bosch and Fein units. Almost all auto clean vacs have a set interval for the auto clean process. some are annoyingly frequent. The Metabo does it less often than any of the other extractors I have used. It is not at set intervals. It is only periodically as needed.
Toolpig Approved
We have used and abused our Metabo vac for about 2 years now. We have run it with no dust bags the whole time to see how it compared to other extractors. Still we are on the original filters. So far we have used it for cutting concrete grinding concrete to level for tile, cutting tile buffing tile, sanding drywall and texture, extracting wood dust in our shop and on the job sites. We have used it to clean the floor on job sites and the shop. Probably the worst thing we've done with it was heavy silica clean up after soda blasting paint from brick. It makes a 2" layer of baking soda, silica and paint dust on everything in the vicinity. When we clean it up, we repeatedly fill the vacuum until it is hard to lift it. At that point we would pour it into the dumpster and repeat.
One thing became clear when we used this vac side by side with all the other major extractors from all power tool companies. We found it has the most consistent performance. It has gobbled up everything we have thrown at it in remodeling and fire and water damage restoration without a hiccup. Recently we have had 2 vacs from another manufacturer fail to keep up with the dust we create when breaking up tile and grinding thinset. We have had a different one from another manufacturer fail completely in just a few short months. The little Metabo just keeps doing its thing with no issues and less noise than many other vacs.
We really like the size of the unit. It is very compact with a more rectangular footprint than some. It rolls easily even around cords and hoses on the job or in the shop. A welcome feature is a flip-up arm for cord and possibly hose storage. I also use it to hold my sander between uses. There is also a little light to let you know when you are restricting the airflow too much.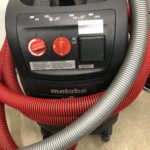 There are no bungees or hooks to keep the hose tamed while moving it around. It came with a regular grey/silver hose. We ordered the optional red antistatic hose to avoid getting shocked from static buildup. The hose ends are I believe 27 mm. I would like the option for a 36 mm end for bigger tools. I borrow a hose end from my Makita when I need the bigger size. My old trusty 7" Metabo grinder with dust shroud has a larger port than the hose. The factory hose fits the newer smaller grinder shrouds perfectly. It also fits the majority of other European tools like Festool, Mafell and Bosch. In fact the same vac is available from Mafel and Hitachi which will become MetaboHPT. They are made by Starmix which is well-known in the industry for making high-end extractors.
[UPDATE] There is a new version of this extractor with 157 CFM. It is $719.00 We have been using one now for a coupe of months. It has enough power to use it with a 6″ grinder. OSHA Table 1 regulations require 25 CFM for each inch of grinding or cutting wheel. The 130 CFM version which is the one in the $549.00 BOGO deal is rated for a 5″ wheel.
The Metabo vacs may not be the easiest to find but they are definitely one of my top recommendations if you are a heavy user and want something consistent for the long haul.