The new MetaboHPT Multivolt cordless 36V grinder is an outstanding specimen in a sea of great performers. It has more power than most cordless mini grinders and even many corded models. The size is very comparable to most 18v grinders but the power is more like the 60v Flexvolt grinder while running smoother and with less weight.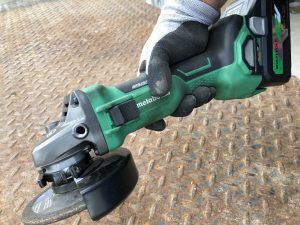 I was genuinely surprised by how hard I could push the mean green MetaboHPT multivolt cordless grinder. It is definitely making full use of the new upgraded batteries with 21700 cells. They are able to produce over 1400 watts of power without overheating. When you couple that much available power to an efficient brushless motor you get more power than a 1400 watt corded tool.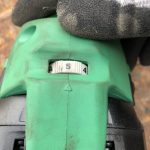 I believe MetaboHPT was wise in their power management of this tool. It features a variable speed dial for when you don't need full power. Variable speed is great for different materials. Some materials cut better at lower speeds. It is also essential for some brushes, pads and blades. Buffing and polishing also require slower speeds than grinding and cutting. Some of the buffing pads I use in tile work cannot safely be used on most cordless grinders. I see people using them and give warning and I walk away. They may get by with it for a while but who knows when one of those pads will fail sending shrapnel through the work area.
Cordless Or Corded? YES PLEASE!
A huge plus for this grinder is the ability to run it cordless or corded with the 36v power adapter. If you run out of batteries on a high drain tool like a grinder its nice to have a corded backup plan. Unlimited runtime is never a bad thing if you are close to an outlet. Another point to consider is with the cord adapter your battery is free for other tools.
Multivolt batteries work on all Metabo HPT 36v or 18v tools. AS you know they are required for 36v tools. Backward compatibility means they give 18v tools a nice boost in power and runtime. 18v batteries will not work on Multivolt tools.
Hitachi Becomes Metabo HPT
This grinder is very solid and runs very smoothly. Hitachi Power Tools let quality slip for a few years. They were a top tier tool company in the 80's and 90's. Decisions were made that resulted in competing with Ryobi and Kobalt for a few years. For the last 3 years now and especially with the rebranding to MetaboHPT and the launch of Multivolt, it really looks like quality is improving greatly. They now seem to be on par with the top companies rather than the entry level and DIY brands.
Where is it best?
I like this grinder for cutting and buffing tile. I love the variable speed dial and would really like to see it on more tools. Its far better than an app. Who realistically wants to get their phone out to control the tool in their hands? "Not I," said the pig. A simple dial is such a supremely useful feature. I will also use it for grinding and cutting concrete. I need a dust shroud before I can do much of that. Look for some instagram and Facebook videos on that in the future.
We also use it for cutting and grinding metal in our shop. It has been great at preparing bevels for welds and then soothing them out after the welding is done. The extra torque makes it faster than other cordless grinders. So far it's really nice for this application.
Should You Buy It Or Not?
I really think this grinder will make a lot of folks happy. The extra power, smooth motor, compact size and variable speed are all standout features that make it very capable. The Multivolt battery and corded adapter make it an outstanding choice. Now through the end of the year you can get a free battery or corded adapter with the purchase of a Multivolt bare tool. Check the details at Acme Tools.
AC/DC convenience meaning the tool can be powered by a MultiVolt battery OR the MultiVolt AC Adapter (both sold separately)
Features Brushless motor technology for more runtime, increased power and extended durability with essentially no maintenance
Slide switch with lock-on feature for continuous operation applications
Slim grip circumference reduces fatigue and improves control, especially during continuous use applications
Variable speed with dial auto mode: products 3,000 to 9,500 RPM (1-5) and 5,500 to 9,500 RPM (A) to easily adjust the speed best suited for the application
Safety features: brake, soft start, 0-voltage restart, anti-kick back, over current protection
Vibration absorbing side handle