Diablo means blades.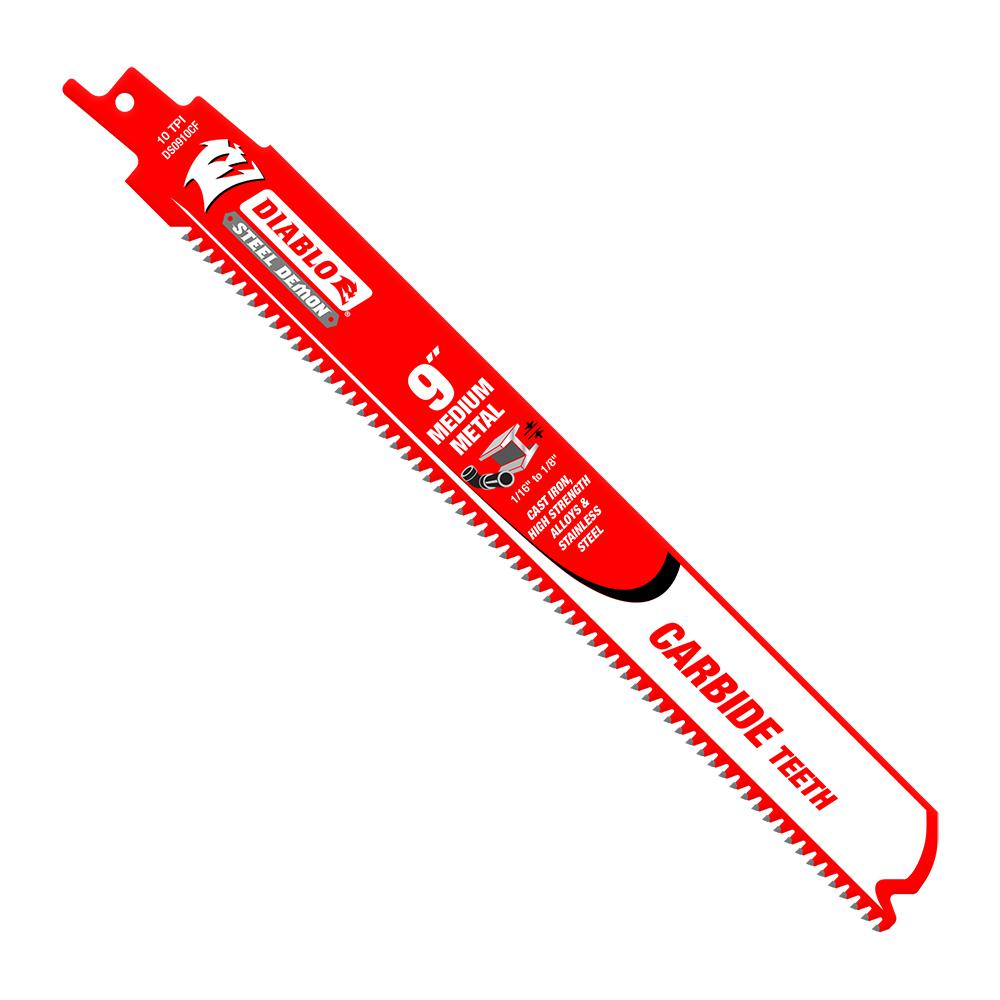 More people turn to Diablo tools for blades than any other company I know of. Their blades offer high value in each category. They have built a solid reputation in the woodworking industry with many carbide blades for table saws and miter saws as well as handheld circular saws.
They have taken that expertise and brought it to the reciprocating saw market. Since the demands for reciprocating blades are more severe than for circular saw blades they are able to tweak the carbide hardness, toughness and strength as well as particle size to make the top performing blade in each category. Instead of making just one or two carbide reciprocating blades, they make several because needs are different for varying applications.
Even with metal blades there are different demands. There isn't just one metal blade. There are several choices offered so you can get the best possible performance with your given task.
This particular one is the medium metal-cutting blade. It is designed for cutting metal from 3/32″ up to 1/4″ thick. It will obviously cut outside of that range but that is where it is most efficient. We have been able to use it on steel pipe, tubing and angle iron. It works great on 3″ cast iron pipe.
We love the way it cuts these materials. The move to carbide teeth in a reciprocating saw blade changes the way we think about what a reciprocating saw can cut. Things we never would have dreamed of cutting with a reciprocating saw a few years ago are now the norm.
https://www.youtube.com/watch?v=cQt_Pr_xq3A
For instance, cast iron is a material that just eats reciprocating saw blades. I have cut tons of it out in my remodeling jobs. I used to burn 3 metal-cutting blades up on one cut in cast. It was so slow that I just avoided it or I would use a diamond blade on a grinder for most of the cuts and then finish up with a reciprocating saw. Now with Diablo carbide blades like this, I don't even think about it. I can make several cuts with one blade and it's still good for cutting wood, steel and other products.
Another tough material for a reciprocating saw is stainless steel. Even after several cuts in cast iron and steel my Diablo medium steel blade still cuts through stainless pipe like butter. I don't know of any metal I normally run into that this blade won't cut. Thank you Diablo Tools for making such outstanding recipes blades.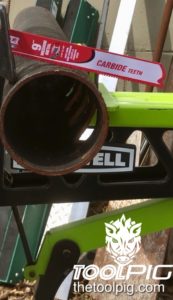 If you need a blade to get the job done, this should be on your short list.
High performance carbide for greater durability and 50x cutting performance in medium metal applications
Enhanced carbide to blade connection for extreme impact resistance
10 TPI tooth geometry for clean/smooth finishes on
medium metal applications
1 in. oversized blade body for straighter cuts with less vibration
Perma-shield non-stick coating for less heat and friction
Ideal for cutting ferrous metals and high strength alloys between 3/32 in. to 1/4 in.
Red reciprocating saw blades are a registered trademark of Freud America, Inc.
I review and recommend products to help you buy the stuff you need. If you make a purchase by clicking one of my links, I do earn a small commission. My pledge to you is this: I will always say what I really feel. I will not taint my reviews to make a quick buck at your expense. I want you to know the truth about the tools I review for the good or the bad. My picks and opinions are independent from any business incentives.