​​​I have to admit that up to this point Diablo is not the first name I think of when ordering abrasives. I normally don't get my pads at big box stores. Other than my cordless Makita I don't have any sanders that actually match the Diablo 5 /8 hole pattern.
I also try to buy larger quantities than they offer to cut the cost per sheet or rather cost per minute of sanding. It is normally more efficient to replace your pads every few minutes than it is to try to get marathon run time out of them. This is especially true if you are sanding work commercially. Wasted labor is far more expensive than a $1.50 piece of sand paper. Even if you are sanding your own project, time is precious and you don't want to waste your most valuable commodity on a piece of paper.
Each abrasive I have used has pros and cons. Most sandpaper on the market tends to wear out very quickly. The abrasive particles have sharp edges. As they move across the work surface they cut the high spots off and make the entire surface smoother. At the same time the sharp edges of the particles are broken off or dulled. When you put a new abrasive sheet on your sander pay attention to how it feels. It really grabs at first. You can feel the torque of the motor and the resistance to movement. As the abrasive wears you feel less and less of this feedback. When you notice it not cutting a well it's time to switch it out. It may look just fine but it's wasting time. Those sheets can be reused for hand sanding touch-up or custom sanding blocks.
I have used Mirka gold abrasives for decades. For the last few years my workhorse abrasive has been Festool Granat. When I want ultimate dust collection I have used abrasive net sheets with hook and loop backing called Mirka abranet. It is a screen you can see through. It doesn't have holes. It is basically all holes so the dust collection is superb.
Diablo sand net is a very similar product. The nice thing is it is available at any Home Depot a Store in a 10 pack for less than $15.00. It's not a huge investment to find out if it's right for you. Each pack includes an interface pad that is designed to protect the hook and loop pad of your sander from damage.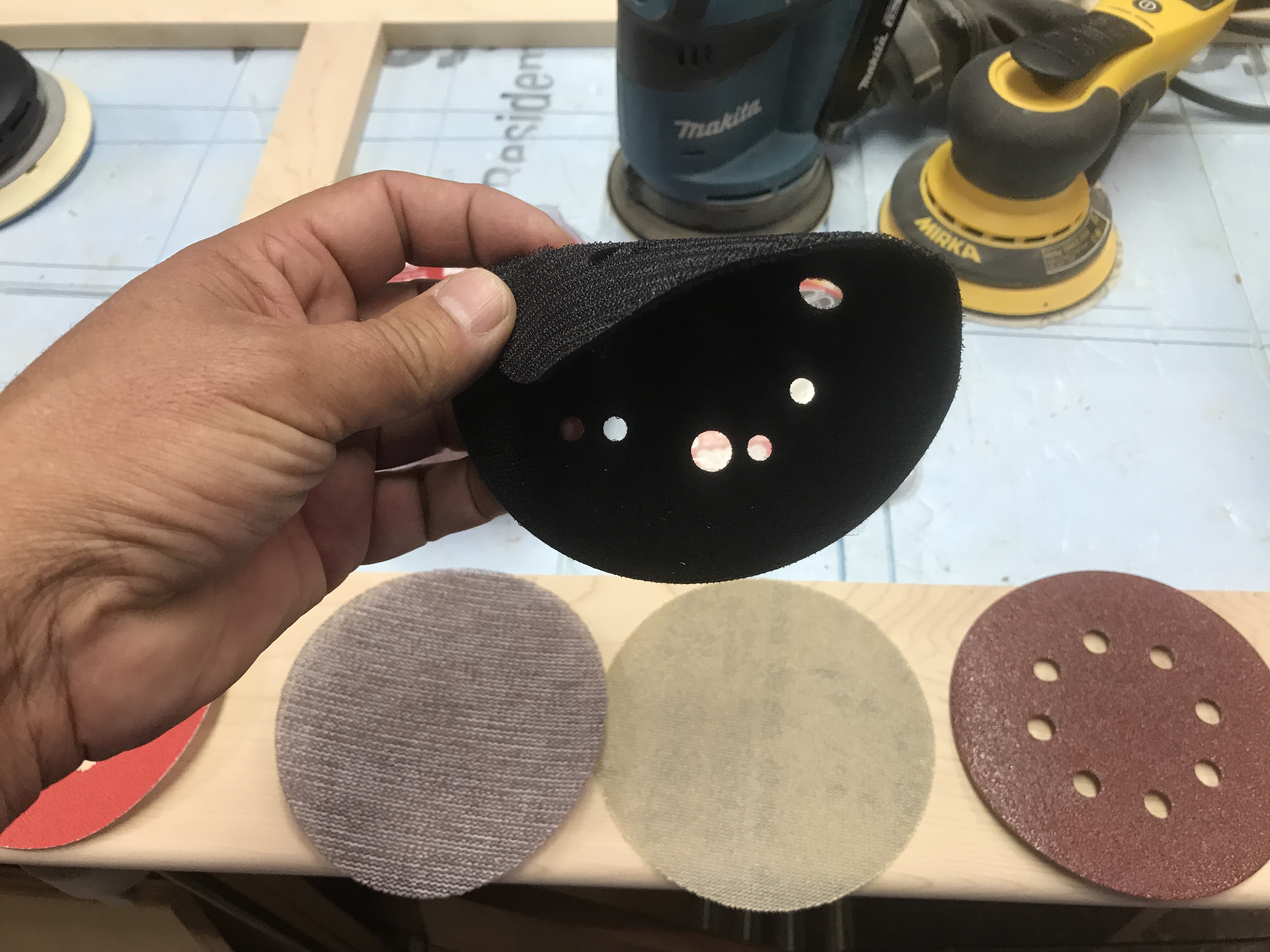 No matter what brand of sander you have it is important to use an interface pad when using net abrasive in the finer grits. Without it your pad hooks will wear out prematurely and will no longer hold your abrasive securely.
I was surprised at how fast sand net abrasives smooth out the rough spots on both hardwood and plywood. I do feel it cuts faster and lasts at least as long the red Diablo sheets. It easily outperforms the other options they offer at Home Depot. The longer working life can be attributed to the open mesh design which is much more efficient at clearing dust and loose abrasive particles away from the work surface.
I would also say that so far sandnet seems to be more durable than the regular abranet I am used to. The abrasive is holding up longer for me with general use. It cuts longer before it is worn out. The edges also hold up better to abuse. The worst thing you can do for a sanding disc is to ding the edge by hitting an adjacent surface. Often just one bump against a sharp edge can complete ruin a sheet. This new Sand net is tougher than most traditional paper sheets as well.
I highly recommend using a dust extractor or vacuum when doing any power sanding. Some sanders are better at dust extraction than others but all are better on a vacuum than without. The vacuum removes the mix of dust from the work surface as well as the abrasive particles that have broken off. If these are not removed they can scratch your work and create more swirl marks. The build up of dust can create more heat and can lift the pad from the surface enough that is slows the sanding process.
This new sand net abrasive will help your current sander do a better job of handling dust. It will cut longer. It will run cooler. It will last longer. This means it will save both time and money compared to normal sand paper discs. I think it is definitely a way to work smarter not harder.
If you like my review and want to buy click here for The Home Depot
I review and recommend products to help you buy the stuff you need. If you make any purchase after clicking one of my links, I earn a small percentage. My picks and opinions are independent from any business incentives.