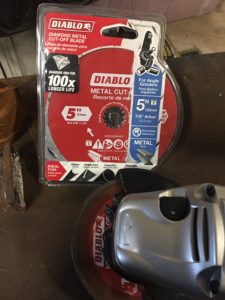 Diablo diamond wheel 4.5 inch/5 inch
Home Depot sent us some of these wheels for review in the THD Prospective program. We have complete freedom to say anything we want about these products. I urge you to read the full article to see if these are right for you because I feel these are good for some applications but not for all.
Mini grinders have long been one of my favorite tools because they are so useful for so many things. We cut metal with them, we grind welds, we cut concrete and block with them. We also use them on tile installation for cutting cement backer board and tile. I also use them for coping miters on trim installation.
Since they are so useful for so many trades they are found on many trucks, whether it be a metal fab truck or a plumber or electrician's truck or an HVAC contractor or even a general contractor/remodeler.
One wheel that is especially dangerous on a mini grinder is a metal cut off wheel. The bonded abrasive disks are fragile and can explode if they are dropped or tweaked in a cut. The resulting shrapnel spinning at 9,000 + RPM can cause serious injury or even death. There are dozens of photos on the Internet of people who have cut off wheels stuck in their cheek or other parts of their body. If you choose to search for those do so at your own risk.
Diablo Tools has developed some steel body cut off wheel with bonded diamond grit as the cutting media. This is a welcome advancement for tradespeople who need an occasional cut off wheel and do not feel so safe with the bonded discs. It is not meant as a heavy-duty all day long cut off wheel. We tried them on some 1/2″ solid rod. They are okay on the 1/2″ for intermittent cutting but I feel they are more for thinner materials. They are designed with a continuous rim and with heavy cutting they can warp on you. I suggested to Diablo project managers to add a segmented rim or some expansion slots. I feel they will come out in successive generations of this wheel. Whether or not they are right for you depends on the application. For extended cutting and heavy-duty use Diablo Tools makes several fine quality carbide blades.
These new cutting wheels are very thin and are an easy load on your cordless grinder. This makes it very convenient for grab and go cutting needs. The continuous diamond rim gives you a consistent depth of cut whether it is brand new or you have done 100 cuts. The steel body means you can use them with regular safety glasses. Even though they are not as fast as a regular bonded abrasive slicer wheel they can actually be faster because you don't have to go look for your full face shield to make a few cuts.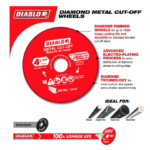 I found it handy for cutting nails, screws and staples after removing water damaged underlayment and drywall. It will also cut the tops of your anchor bolts off above the nut. It will do hog wire and concrete mesh. It will also do rebar if you don't try to cut anything larger than 1/2″. One thing I do not recommend cutting with it is threaded rod because it leaves too much of a burr.
Most of the benefits of these cutting wheels center on safety and convenience. It is very convenient to be able to just keep this wheel on your grinder and throw it in your toolbox for when you need it. That is something you cannot do with a bonded abrasive wheel and expect it to be safe. It is also very nice to be able to cut without a full face shield. Here are some points from the manufacturer for consideration.
Diamond rimmed wheels deliver up to 100X longer cutting life and durability when compared to one standard bonded cut-off disc

Advanced Electro-Plating Process for even distribution of diamond abrasive cutting edge

Maintains cutting diameter for consistent cutting results

Diamond technology is safer to use versus bonded discs by providing more control, less sparks and less dust

Diamond wheels do not shatter or break when dropped

Ideal for cutting rebar, angle iron, cast iron and steel bar

For use on angle grinders with a max RPM of 13,280

7/8 in. arbor

Available in four different sizes: 4-1/2 in., 5 in., 6 in. and 7 in.
The Home Depot
I review and recommend products to help you buy the stuff you need. If you make a purchase by clicking one of my links, I do earn a small commission. My pledge to you is this: I will always say what I really feel. I will not taint my reviews to make a quick buck at your expense. I want you to know the truth about the tools I review for the good or the bad. My picks and opinions are independent from any business incentives.