Dewalt brushless combo
The Model # DCKTS291D1M1 premium Built in the USA brushless combo kit is a great addition to anyone's arsenal or a great place to start building one. It has two of the highest performing tools in their classes, a slim 2.0 battery and a fat 4.0 XR battery and charger. The two sizes of batteries make the tools perform in different ways. With the slim battery, they are much lighter and Have a very nice balance. With the 4.0 battery, they both have more power and speed with additional run time. This is a little known but proven fact. Some may tell you that the larger battery gives you the same power with twice the run time but there is more to the story. The larger battery has two rows of 5 cells which are able to discharge twice as much amperage at 18v ( Yes that is correct. These batteries are 20 V hot off the charger and 18 V on the tool under load just like every other 18 V battery on the market ) at any given moment. If the tool demands it the 4.0 XR battery can give it the extra power it needs for the more demanding task. If you need even more power, try the tool with a flex volt battery which has three rows of five cells.
I had the previous generation of this combo kit and while the tools were strong and performed very well, I was really stoked when Home Depot sent me this new kit for the #THDProspective reviewer program. It really has some nice upgrades! First off both Tools have more power than the previous generation. The fact that they come in a tough system case is really a nice upgrade to regular blow molded cases or bags.
More power arghhh aargh aargh!
I will start with the DCD991 drill. It is basically the same drill as the DCD 996 hammer drill without the hammer function. DeWalt does not give a torque rating for the drills rather they rate them at 820 UWO Unit Watts Out. This is a significant jump over the last generation DCD995 of 650 UWO. If I had to guess, torque would be well over 1200 inch pounds. This is from comparing it to the top drills from Milwaukee and Metabo. This Dewalt has more power than either of these competitors. The Milwaukee Fuel one Key is rated at 1,200-inch pounds and the Metabo is rated at 1,300. In several tests with large self-feed type bits, the DCD991 easily outperformed these two competitors. Another test for ultimate torque was driving large lag screws. They are Spax 1/2″x 12″ long. I normally test drills and impact drivers on two stacked treated 6×6's. The DeWalt had more torque than either of these monsters. On low-speed, It drove the screws consistently deeper in the treated lumber. After several attempts to match the DeWalt, the Milwaukee Fuel One Key was actually smoking.
I do have one complaint in the power department. This is a serious heavy-duty drill and it needs a longer more robust side handle for use in Low gear. Another thing that I feel is missing on a drill with this much torque is an electronic kick back control. (Bosch and Hilti have a very effective accelerometer based torque control built-in to their high-powered drills to protect users instantly in case of a bind up.)
It's not all about power though. The DCD 991 has plenty of refinement. The handle is one of the most comfortable on the market with the slender grip and soft rubber over mold. The soft over-mold also helps protect finished surfaces. The chuck is a high-quality German-made carbide jaw Rohm keyless. This alone demands that Dewalt classifies the tool as built-in USA with global materials. That's not always a bad thing is it.
One area of refinement is in the trigger sensitivity. It is very linear and controlled. I feel that DeWalt has some of the best trigger performance on the market.
With great power comes great responsibility
An outstanding example of refinement is in the electronic clutch. It is far more advanced than your average drill driver with a mechanical slip clutch. With three speeds and 12 clutch settings, it should not be very difficult to find the perfect combination for any task you want to throw at this beast. When one says that it is a three-speed drill it is only part of the story. The numbers are somewhat deceiving and describe only the top speed of each gear. What I am saying is the clutch torque settings also affect the speed. If you put the speed selector in number one which is low gear with the highest torque You then have 12 settings of torque in that range. That is not the end of it. Each torque value also gives a different speed. The higher the number in each torque range the higher the speed. But wait there's more! The number on the clutch has different values for each Speed range. That is to say, number one on speed one has far more torque than number one on speed two or speed three. On a normal mechanical slip clutch, number one is the same torque value no matter what the speed is.
Let there be light
Another outstanding innovation in the 991 drill is the work light. They give you three choices of light output. Low is pretty normal for a drill driver. Medium is brighter than most and then you have a unique task setting which will give you a 20x brighter 60-lumen work light for up to 20 minutes. I can't tell you how many times this task light has saved me when I was in an attic or crawl space. It even outperforms some stand alone 18 V work lights. All in all the DCD 991/996 is a very impressive drill for the money.
The DCF 887 impact driver is also a crowd favorite.
What makes it so popular? Quite honestly I think it is the over all value. This is one of the most powerful quarter-inch impact drivers on the market. It has 1,825 in. Lbs of torque in a compact size. It is also very comfortable and efficient.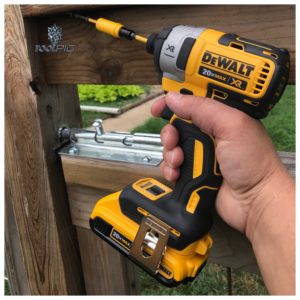 I had the DCF 886 and DCF 895. This newer driver is a big improvement over both of them. They were top-of-the-line a few years ago but time marches on. The 887 enjoys a nice torque increase as well as a higher top speed. This means that you will get more work done in a shorter period of time. One thing I was very happy to see go was the flat face of the 895 along with its trigger finger bit release. The new one-handed chuck for bit insertion and release is much nicer. The new design which is much like the 886 is also nicer for getting into tight spots.
The handle has the same design as the drill and is extremely comfortable. The trigger is very comfortable and has the same precise control. The triple LED lighting is truly among the best in the business for being able to precisely place fasteners and to actually see what you're doing. The belt hook is a very nice 2 step design. It has a wider area for larger pieces and a deeper narrower spot for tool bags, belts, and pockets.
​Control freak
Most top-of-the-line brushless impact drivers these days have at least three-speed settings to get a wider range of control. The DCF 887 has perhaps the easiest method switching between the various speed settings. It is a slide switch rather than a button or series of buttons. The first speed setting is 0-1000 rpm. It provides 20 ft lbs of torque. It is called precision Drive for ultimate control with smaller fasteners. It is low enough you may not even notice it impacting at this level. Speed 2 is 0- 2,800. It provides 125 ft.lbs of torque. Speed three is 3,250 RPM and 152 ft.lbs.
Most people I know just leave their impact drivers on high all the time. They want to drive screws as quickly as possible and get on to the next task. It is nice though to be able to dial the maximum torque down for smaller fasteners or even delicate fastening situations such as installing cabinet hardware.
One situation where it is nice to use a lower speed is when we are touching up drywall screws. If they are not quite driven slightly countersunk it is nicer to use an impact on a slightly lower speed to set them since full power can cause more damage in a split second.
Another area where a lower speed is nice is in building cabinet face frames. If you use pocket hole joinery, you probably know that it is easy to strip the pocket hole screws with too much torque. I actually prefer using a driver drill for this task but many still use an impact driver. The middle speed and torque setting make this much safer.
Over all this is a simple solid powerful proven design. It will provide years of reliable service.
The third great piece of this outstanding combo kit is the box. The Dewalt tough system boxes are a giant leap forward over the typical blow molded cases and nylon bags. I am not saying it is perfect but it is much better than the other options. The box is much more useful with its use of space. It has two fold down storage trays in the lid.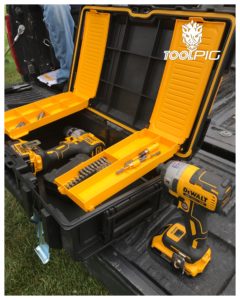 It stacks and locks with the other tough system boxes and locks into the dolly and garage storage system. I feel that Dewalt would be doing you a great service to ship all of their tools in these outstanding boxes. It is so nice to be able to lock them together on a rolling toolbox or dolly. It is so nice to be able to transport many pieces of equipment in one trip.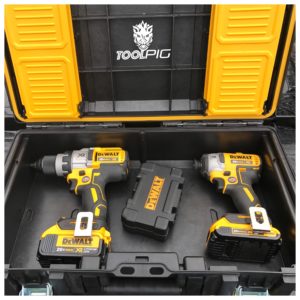 My main complaint with this box is there is no mold or insert to hold the tools and charger. Even a thin plastic liner or piece of foam would help. My solution was to order a Kaizen foam insert to make a custom liner for the tools. You trace the shape of the tool and cut it out exactly how you want it. It is a very nice accessory.
Powerful, efficient brushless motor delivers up to 75% more run time over brushed
DCD991 drill/driver has 3-speed, high performance (0-2,000 RPM) all-metal transmission optimizes tool-to-task for fast application speeds and improved run time
DCD991 drill/driver has a heavy-duty 1/2 in. ratcheting nitro-carburized metal chuck with carbide inserts for superior bit gripping strength
DCD991 drill/driver has a 3-mode LED provides lighting in dark or confined spaces up to 20X brighter than previous model
DCF887 20-Volt MAX 1/4 in. impact driver provides 1,825 in. lbs. of max torque at fast 0-3,250 RPM speed and 0-3,600 impacts per minute
DCF887 20-Volt MAX 1/4 in. impact driver has a compact size (5.3 in. front-to-back length) and lightweight (3.4 lbs.) design
Includes batteries and charger