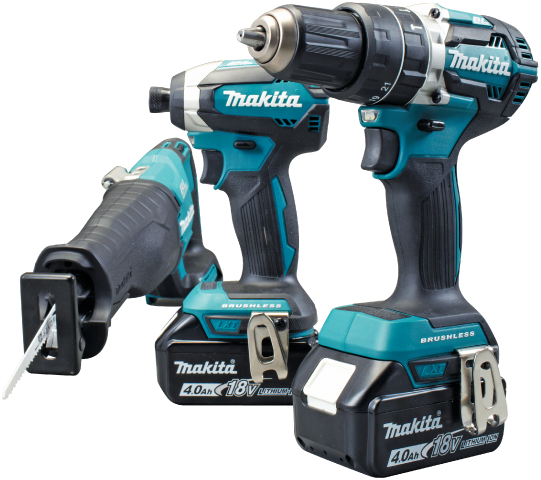 Over the past few years as brushless tools have become more mainstream, there has been a serious lack at least in North America of combo kits that include anything more than a drill and impact driver. Nearly every combo kit I have seen available in the US has been all entry level brushed tools. This has kept prices down but performance has also suffered.
Enter the Makita 18-Volt LXT lithium-ion cordless combo kit! It includes three of the most used cordless tools for any trade. The XPH12 1/2″ hammer drill/driver, the XDT13 impact driver and the XRJ05 brushless reciprocating saw with 2 of the upgraded 4.0 batteries with charge indicators.
[wpvideo fBDob4Xv]
The 4.0 batteries actually offer a power output advantage over 5.0 and 6.0 batteries. As Amp hour ratings increase, so does the lithium content which creates more heat during discharge. The result is the higher amp hour rated batteries actually have lower maximum current capabilities. You may or may not notice this difference. It is more apparent in higher drain applications. This is a real fact of life. It's all physics. This is why batteries which are using 18650 cells are all topping out at 6.0. Amp hours.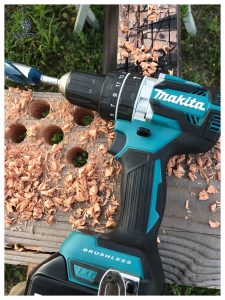 Starting with the XPH12 1/2″ hammer drill we find a strong heart of the system. The XPH12 comes from a long line of outstanding drills. The most notable being the XPH 07 1090 inch lb. monster drill. If you take that outstanding drill and reduce the size by 50% and the weight by half you have the XPH12. It has a really strong brushless motor. Even though this is a compact drill it still has a class beating 530 inch lbs of torque. It boasts 0-550 on low-speed and 0-2000 on high. With the efficient brushless motor the 4.0 batteries go a long way toward getting your job done.
The XPH12 is a nice upgrade from the XPH05 and XPH06 drills.
It will handle up to 1/2″ bits in steel and I found it to work well. Most drills do if your bits are sharp.
[wpvideo HI2YCzpe]
In wood it handles all of the typical spade, brad point and augur bits as well as hole-saws normally used on a job site.
Since I prefer the speed and efficiency of a rotary hammer I do not normally drill in concrete with a hammer drill but it's good to know that the XPH12 in hammer mode actually does pretty well in concrete and masonry. It will easily do 3/16″ and 1/4″ holes for tap cons and other anchors. Larger holes are possible but you will need to be patient.
The XDT13 impact driver is a strong performer and offers a nice upgrade in power and speed compared to almost all previous and current Makita impact drivers. I feel there are too many choices of impacts from Makita. This is just one step down from the flagship XDT12. It offers similar performance at a lower price point. This model is their best basic heavy-duty brushless impact. It lacks the different speed controls and assist modes. Honestly I don't miss them. I personally keep my impacts on high-speed and just go. If I need to drive slower I ease up on the trigger. Here is a speed run against a top of the line brushless Milwaukee Fuel one Key impact driver.
One thing I love about Makita drivers is the size. They are very compact and short from the back of the motor to the chuck. This is just slightly longer than the tiny XDT12 top of the line impact. They are among the smallest 18V impact drivers on the market. The compact size really helps in many scenarios. Say you have a tight cabinet and no right angle impact. A shorter impact will get the job done without running the bit at an angle. Thus there will be less chance for damage to your fasteners or the workpiece.
Another thing that I feel is really good on this driver is the trigger sensitivity. It may not seem important but a coarse trigger feel and control can be frustrating. If the trigger response is linear you will have much better control and you will avoid over driving screws and damaging your work. This is especially important when starting or finishing screws. Full speed ahead or stiff or jumpy trigger is not good in either situation.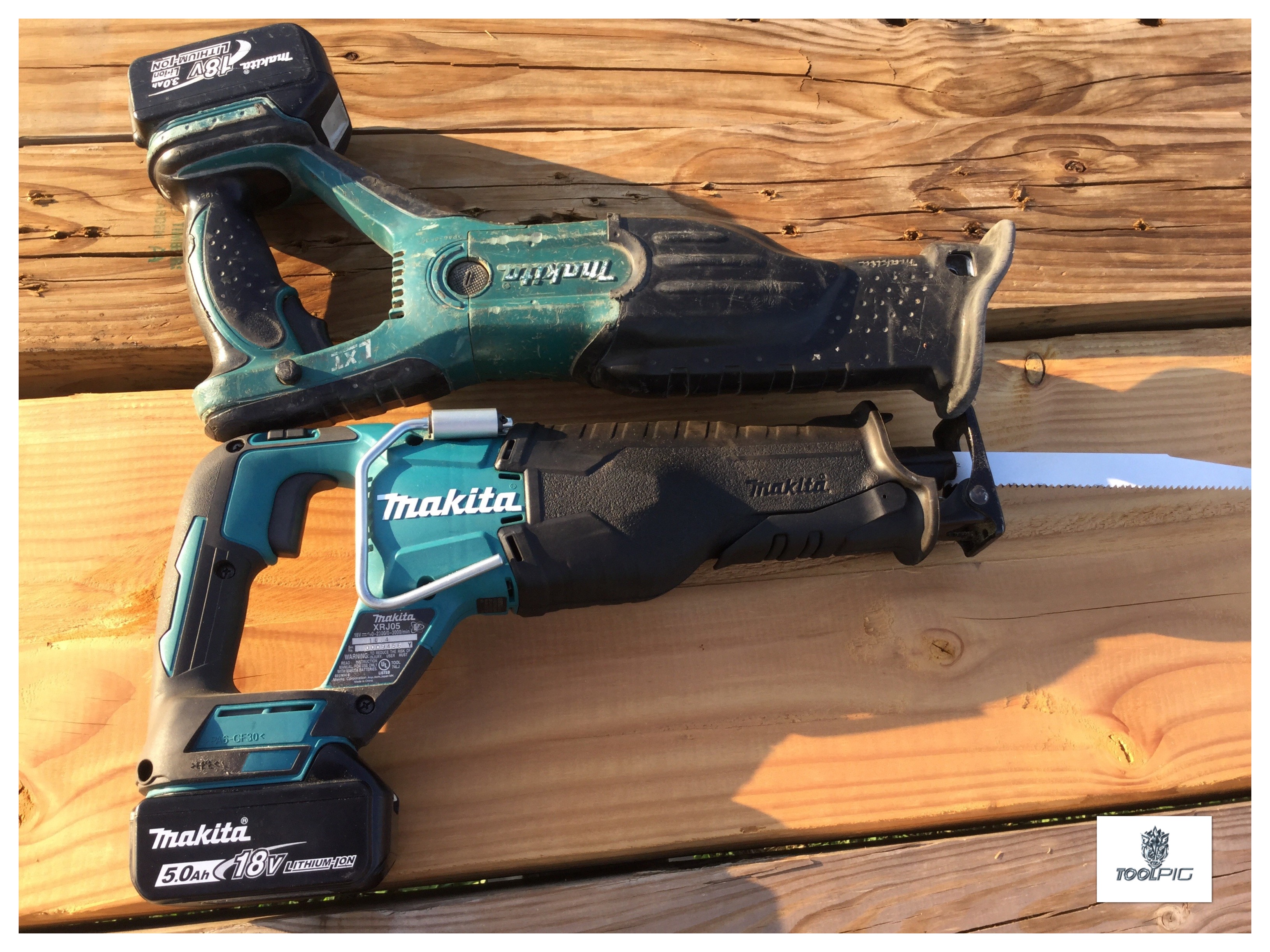 The XRJ05 reciprocating saw is outstanding in its class. In speed and power testing it is at the top of the heap. I have run all the professional saws for days on end cutting various materials with different blades and I'll just say it's a winner. I feel the power to weight ratio is spot on. I really like the adjustable speed with full power for general purpose wood cutting and low-speed for metals and composite materials. The low-speed is the sweet spot for metal-cutting. It cuts more efficiently and makes your blades last so much longer. The simple switch is a great idea. A speed dial is also good. I feel they are far more practical for most than a Bluetooth app.
Things I look for in a reciprocating saw are a comfortable handle, rafter hook, LED light, orbital action and an adjustable shoe. This saw has all of them but orbital action. The handle is THE most comfortable on the market. It has a very comfortable rounded butt which makes so much sense when you use it for extended periods. Most recip saws have a pretty squared off handle at the top of the tool. Some even have a small protrusion at the top corner. They create more psi on your hand when the whole mass vibrates back and forth in a cut. The longer the cut the worse your hand feels. With extended cuts you may even experience a bruise on your palm from this vibration. Of course gloves reduce this effect but a good rounded handle reduces it even more.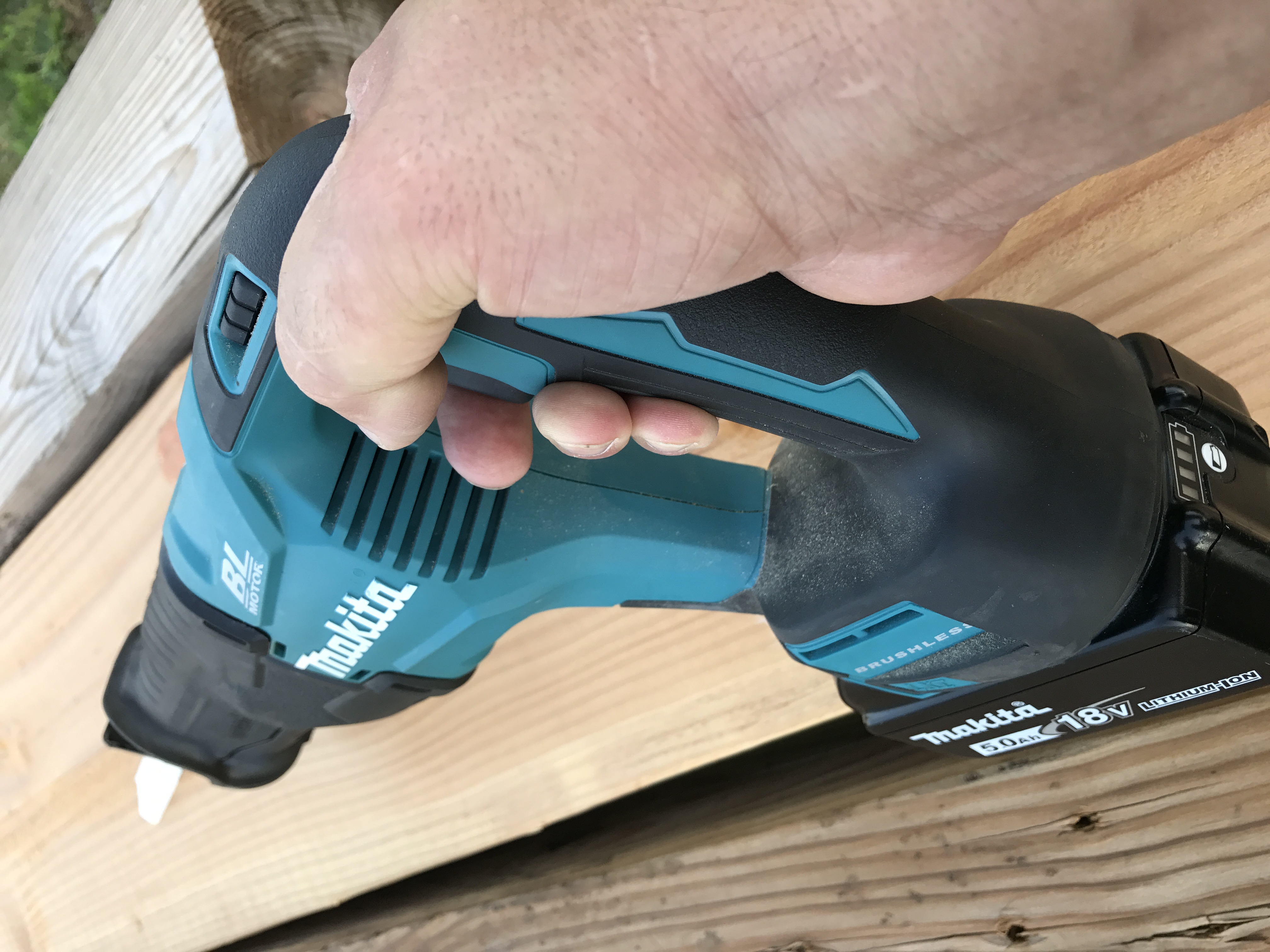 Speaking of vibration the XRJ05 feels like it has a fair amount compared to other saws. It actually has more than the Milwaukee and DeWalt in free air but in the cut it has less. As strange as it sounds it is really a thing. It may have a lot to do with the new vertical crank mechanism. I don't know the actual watts out on the motor but it seems to cut more efficiently than the horizontal cranks of team red and yellow. It even beats the orbital action of the New Bosch saw. The vertical crank minimizes lateral oscillation which wastes power and instead thrusts the blade into the material even more. It's almost like a pseudo orbital action. Whatever the case this saw and the 36V X2 saw are my favorites for feel in the cut. I like a Saw that just chews through the material with little input and straining from me.
[wpvideo y1IGVygw]
One last outstanding feature of the Makita is the one-handed automatic blade clamp. It is the same design as the saws that were released in 2005 and they are hands down my favorites! You simply push a blade into the chuck and it snaps in with authority. When you need to change blades you simply turn the rubber coated clamp and the blade jumps out! Nothing else even comes close. All other designs require TWO hands to insert or remove a blade. Most are metal which can be pretty hot if you are a heavy user.
I can't think of a trade that wouldn't benefit from this combo kit. There are not very many brushless combos other than the basic drill and impact combos in North America. This is an outstanding one I can recommend without worrying about negative backlash from people who buy one. At least check it out and compare with other available combo kits.
For more info visit
BL™ Brushless Motor delivers 530 in. lbs. of Max Torque
Efficient BL™ Brushless motor is electronically controlled to optimize battery energy use for up to 50% longer run time per charge
The BL™ Brushless Motor eliminates carbon brushes, enabling the BL™ Motor to run cooler and more efficiently for longer life
The electronically controlled BL™ Brushless Motor efficiently uses energy to match torque and RPM to the changing demands of the application
Variable 2-speed design (0-500 & 0-2,000 RPM) (0-7,500 & 0-30,000 BPM) covers a wide range of drilling, driving and hammer applications
Compact and ergonomic design at only 7-1/8″ long
Weighs only 4.0 lbs. with battery (battery not included) for reduced operator fatigue
Features Extreme Protection Technology (XPT™) which is engineered to provide increased dust and water resistance in harsh job site conditions
Rubberized soft grip provides increased comfort on the job
Dual L.E.D. lights illuminate the work area
I review and recommend products to help you buy the stuff you need. If you make a purchase by clicking one of my links, I may earn a small share of the revenue. My picks and opinions are independent from any business incentives.