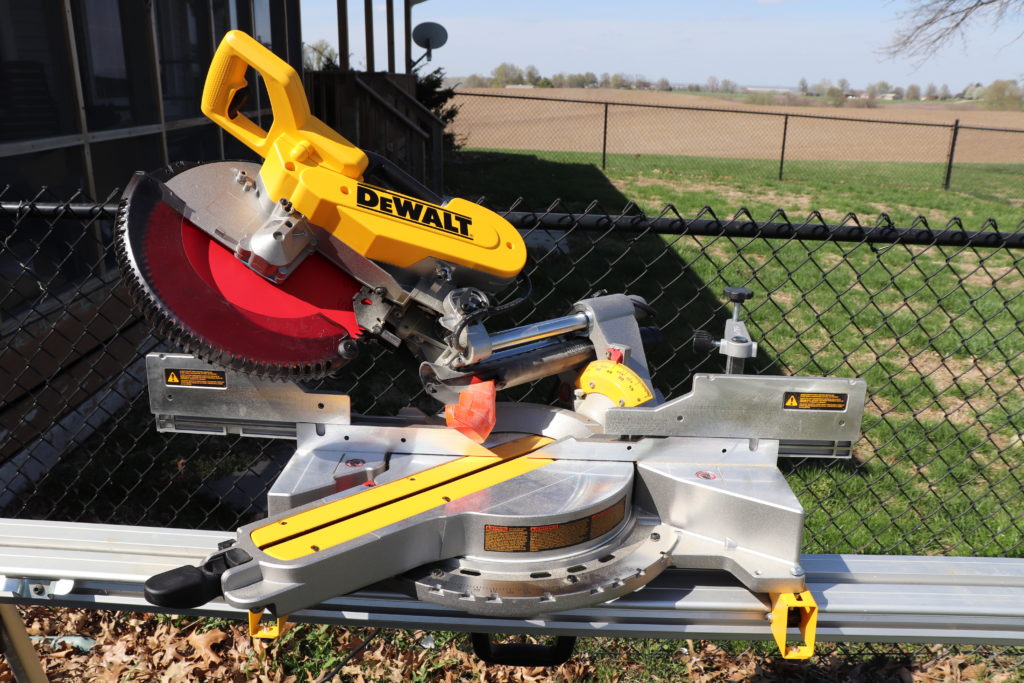 History Lesson
Wow what a heritage! We are pleased to have run every generation of Dewalt miter saws since the old 708 came out in the 90's. In the mean time we have tried just about every other brand along the way and keep coming back to DeWalt. The ergonomics and design feel just right to me. They have been dialed for many years. They seem to have really figured out what we expect out of a saw. On our remodeling jobs and in our shop even inexperienced people seem to get comfortable with them quicker than any other saws.
This Dewalt DWS779 saw is nearly identical to the DWS780 before it. The 780 was really close to the DWS718 before it. Each generation has gotten better and better for the most part. This is somewhat of an anomaly. It is pretty much the 780 without the XPS light.
Like the Flexvolt saws this is made in Taiwan instead of Mexico. This allows for a lower price point without sacrificing quality. As a rule I have been very pleased with any tool I have ever bought out of Taiwan. The quality is almost always superior to tools made in China.
Break it Down
DeWalt accuracy out of the box is usually very good. This saw was no exception. It required no adjustments to the miter scale or the bevel stops. The miter table is perfectly flat and in line with the base. Both fences are in plane with each other and square to the base.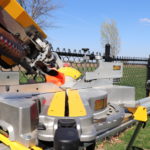 I have always thought the Dewalt fences were among the best in the industry. They are usually taller than other brands and offer great flexibility with no hassle. There is a simple thumb screw you loosen to slide the fences for bevel cuts or to increase dust collection efficiency. At the same time the lower fence is one of the most supportive for very small moldings. This is key for safety when cutting base shoe and scribe mold. The extra support means you will have fewer projectiles on the jobsite when compared to even very expensive saws like the Festool Kapex which costs almost 5x as much.
The flexvolt saw will cut a 1″x8″ standing up against the fence. In normal configuration the saw will easily cut larger than a 2 x 12 but the upper sub fences are removable to allow for 16 inch wide cross cut with the back fence. I am not aware of saw besides the DeWalt 12" sliders with this feature and capacity.
Miter scale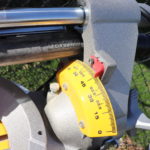 The miter scale is nicely finished stainless steel. The markings are very easy to see even with less than perfect vision. It is easily adjusted if your angles are off. It is marked in one degree increments up to 50° on the left and 60°to the right. There are additional marks at 22.5, 31.6 and 35.3 which are commonly used angles to make 45° miters or to cut crown molding flat on the table with a complimentary bevel angle. There are detents at 0°, 15° and 22.5°. To release it from the detents there is a thumb button. To lock at other angles you just push the lock lever down then to release it you lift up. After many years I have never seen one person struggle with learning these intuitive controls.
The cast aluminum bevel lock handle is at the rear. It's not quite as convenient as some of the Bosch, Makita and Metabo HPT saws with upfront controls. It is quite easy to use and works well. Normally you can bevel 0 to 45 left or right. If you need more the saw will allow you to go deeper in the bevel up to 49° by simply pulling on a small metal lever. There are also heavy duty positive stops for 22.5° and 33.9°. Where these positive stops actually end up are easily adjustable with a bolt on either side.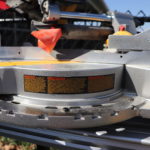 This saw like more expensive Dewalt saws has a provision to help you make dadoes. It consists of a small steel flip down lever and an adjustable set screw for setting of the trench or dado. It limits the depth the saw will plunge so you can make a slide cut without going through the material completely.
The blade wrench stores nicely in the base and is also helpful in making adjustments to various parts of the saw without having extra tools.
Accessories
The saw arrived with a 32 tooth general purpose blade. I am not usually impressed with factory blades unless the saw comes from Festool or Makita. I will use the 32 tooth for rough cuts in framing lumber. It does a fine job on 2×12 and 4×4 material. For most of my work though I need a better blade so I switched it out with a Diablo 100 tooth ultimate flawless Finish blade. Now it is producing glass smooth cuts in hard woods and splinter free cuts in thin veneer plywood.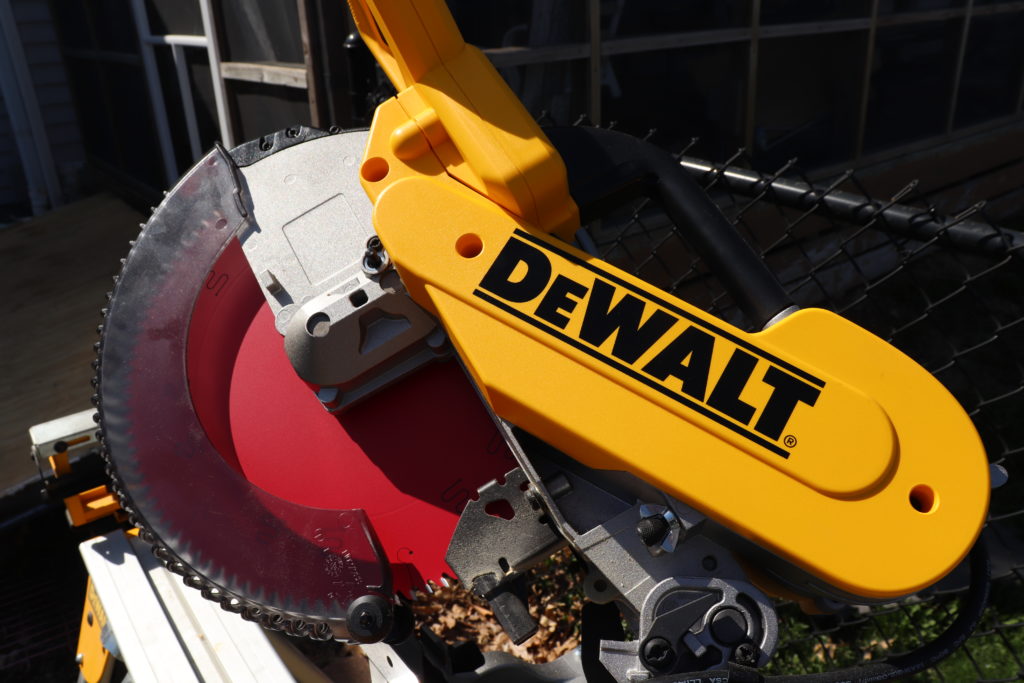 Pros and Cons
The weakest point for the DeWalt 779 saw is definitely dust collection. Dewalt has a few saws with better dust collection capabilities. The 20v max 7 1/4″ is one. The DWS717 10″ is another. Because of simpler designs the non sliding DeWalt miter saws are much better for dust collection. The DWS779 collection system is an unusually long horizontal tube with holes in it that terminates in a flexible boot close to the blade. The boot is too short to be very effective. It is so thin and soft that it deforms under vacuum and closes up. This blocks the opening so very little dust is collected. I have tinkered with the chute a little and have found that it can be greatly improved with a little Gorilla tape added to the chute. It extends and widens it while also stiffening it up enough to prevent it from slamming shut while using dust extraction.
The air lock connection fits Dewalt dust extractor hoses perfectly. I like the air lock connection more on this saw than some of the small tools like sanders and grinders. The airlock coupler is rigid and adds length to the connection. It is very secure and locks and unlocks with a simple twist of the locking ring
The Dewalt DW779 is a rather large saw but it is more compact than some 12 inch saws. Honestly the biggest space waster is the rear slide rail design and dust collection port. It will not operate close to a wall. This also means it is not a good choice for mobile shop mounting in a truck or job trailer. Fixed saws like the 716-717 are much better suited for this type of mounting.
The Dewalt DW779 in full dress is around 68 pounds so one person can carry it but it is probably not a fun task for anybody. It can be lifted from the top handle when stowed correctly or it can be lifted from the base with two hands. Either way your back is going to feel it.
Some prefer to never lift a saw by the carrying handle. I have never seen any adverse effects from it in my saws.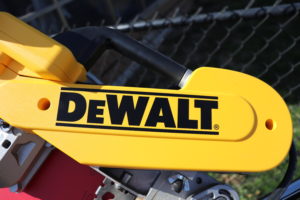 As with any saw there are pros and cons. At $349 I feel the DWS779 is a great value compared to all 12"sliders. For me, it's a no brainer. Just buy it. Use it and let it make you money. It can easily handle anything a carpenter expects from a miter saw. The versatility of the Dewalt miter saw means it can be there all the way from concrete forming through the whole job until the last piece of crown is cut.
Where To Buy
You can find most DeWalt miter saws at ACME Tools
12″ Compound Miter Saw, Blade Wrench, Dust Bag, 12″ Carbide Blade

Adjustable Detent Plate, Cam Lock Miter Handle & Detent Override

Tall Sliding Fence Support & Lightweight
We may receive a small commission if you click the links to retail partners from our website. It will not affect what you pay for any items ordered. We appreciate the support.