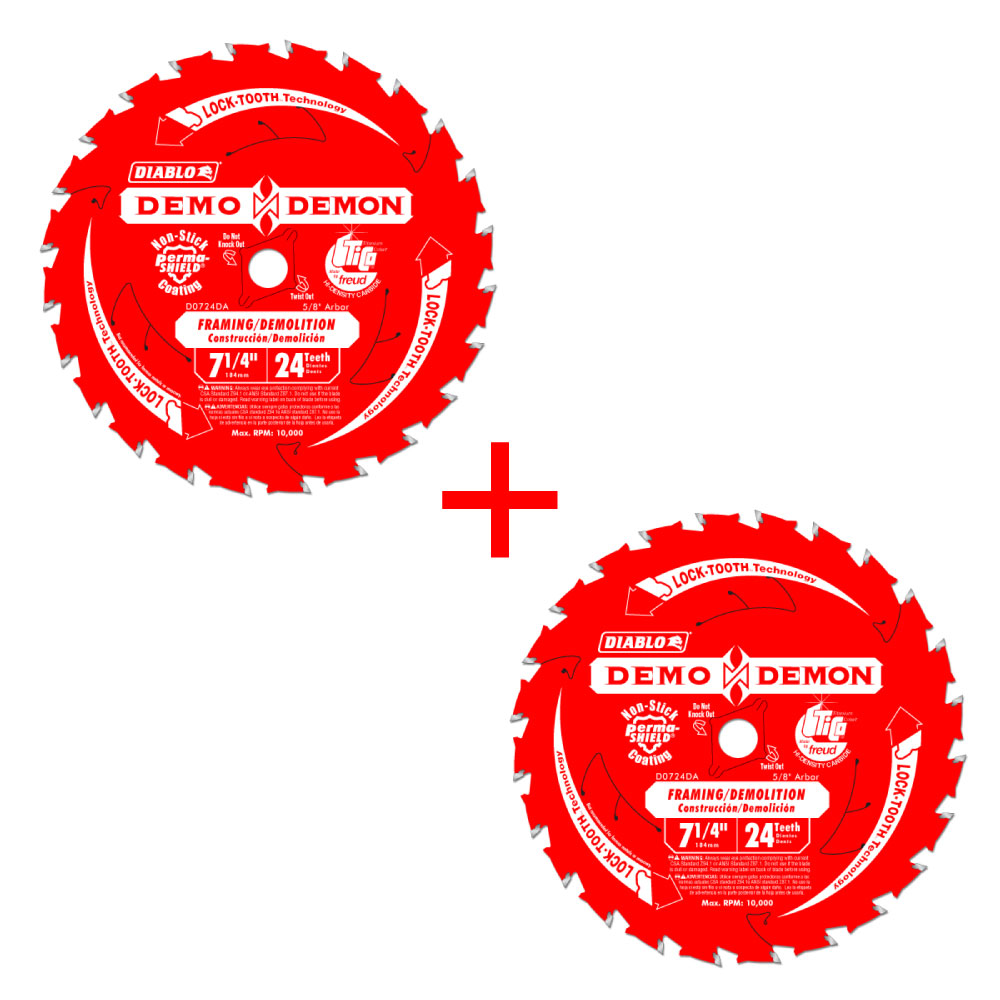 Tracking point amped 7 1/4″ blade
Toolpig has had a pretty long history with Diablo tools and even longer with its parent company Freud. They have built an enviable reputation in the blade and bit industry with above average to excellent offerings in the huge power tool accessory market.
The tracking point blades were a nice jump in the evolution of framing blade quality and performance. I have enjoyed using them very much the last couple of years. Last year at the STAFDA convention and more recently at The Home Depot headquarters in Atlanta, GA we were able to see and use the next generation of tracking point blades.
Diablo demonstrated beyond a shadow of a doubt that their new blade was superior in many ways to the current crop of carbide tooth framing blades. They had some pretty torturous displays set up to demonstrate the superiority of the new blade. There was a mock up of a very possible scenario where you could be cutting and your blade would come into contact with nails, screws, lag bolts, metal flashing and composite roofing.
They ran two of their competitors 2x framing blades in Makita corded circular saws. About 2 feet into the cut all of the carbide teeth would be lost in a shower of sparks and smoke was pouring out of the cut. This was not surprising. The blades were performing just as we all had expected.
Next they ran the tracking point blade and our eyes could not believe what we were seeing! The Diablo Demo Demon blade made it all the way through the torture test.
Most circular saw blades used in framing will have an alternate top bevel. That means in addition to the standard sharp hook angle they have a sharp edge on the side of the blade. The sharp edge will alternate from left to right as you go from one tooth to the next. This is one reason that you will find most of these blades have an even number of teeth.
The name tracking point actually means something. It comes from the unusual grind of the carbide tracking point teeth. Instead of two tooth profiles there are three. It is similar to a modified triple chip grind blade where there are the alternating top bevel teeth and between them there is a square raker tooth to square off the cut. The Diablo Demo Demon has the alternating bevel but the extreme outside edge has a chamfer instead of a super sharp point. This makes the teeth more durable since the edge is not as vulnerable to chipping from impacts with hard materials. Then instead of a normal square raker tooth it has a slight center point. It is a very low angle to help it with durability. It is high enough to aid in straight tracking. You read that right. The point actually makes it easier to cut a straight line.
In normal cutting the tracking point amped blade behaves like a blade should. It makes nice clean cuts and moves smoothly through the material with no drama. Some blades feel like they are hammering through the material. This demo demon blade glides through with a velvety smoothness.
There is less strain on your saw motor and less drain on your batteries. This means your batteries will run longer per charge. You'll make fewer trips to your charger. Time saved is money in your pocket.
The Diablo Demo Demon tracking point amped blade also lasts longer than normal blades in the same price range. The original tracking point framing blade lasts up to 5x longer but this new blade lasts up to 10x longer! How do they do it? First off they are not made in China! Freud makes most blades in Italy.
Because they manufacture everything they have strict control over quality. They use .4 micron carbide with a high cobalt content. The exact percentage is protected. Since they are able to control the mix of the carbide they can control many of its properties including hardness toughness and impact resistance.
The benefits of all of this fine-tuning and engineering can be seen in my latest blade test. Two new blades were used in this test. One was run in new condition. The other was purposefully run through a board that had 10-12d framing nails and 10 2-inch hardened drywall screws before the test.
The Test
The test was to see how efficiently each blade would rip a 2×12 x16ft Douglas fir board. If I was using a corded saw the test could probably last for days. I decided to use the new Makita x2 36 v rear handle saw with 2 5.0 amp hour batteries. It is a very powerful saw but being cordless there is a limit to the runtime.
The brand new undamaged blade allowed the saw to rip 204 lineal feet of 2 x 6 douglas fir. That is actually pretty outstanding. Rip cuts are always more difficult than crosscuts.
The blade that was run through the 12 D framing nails and 2 inch hardened drywall screws before the test allowed the saw to cut 119 feet.
That is pretty significant. It tells me that even if you hit a nail or two or five or 10 your blade is still good and it's still going to cut efficiently. If you hit hardened screws it's going to slow it down a little bit more. In this video you can see that when it is cutting the nails there really aren't any sparks it's not until you see it cutting into the last 10 screws that you start to see the shower of sparks.
Real World Results!!
That was a controlled test but I have also tortured the blade on my jobs. In our fire and water damage restoration work we do a lot of demolition. We have used it to cut out saturated hardwood flooring and subfloor. This is an extreme test of blade durability. When cutting wet wood flooring out it is impossible to avoid the nails and screws. The wet wood also makes it hard because it is so full of water is actually squeezes on the size of the blade in a braking motion just like the disc brakes on your car. It causes lots of heat. The Diablo Demo Demon absolutely aces this real world test. I can confidently say that it does actually last at least 10 times longer than regular carbide blades that we have used. This has become my go to demolition blade.
I have sent several of these blades out to framers and general carpenters and so far I have gotten nothing but great feedback from them.
I knew I liked it but its good to know that others who are harder on stuff than I like it as well.
The more I use it the more it really looks like the Diablo Demo Demon is going to be the premier framing/remodeling/demolition blade on the market. With the high-performance in the low price it just makes sense. Try one at your local The Home Depot or use the link below to order from TheHomeDepot.com
7- ¼ in/ 24- Tooth Demo Demon Tracking Point Amped Saw Blade
I review and recommend products to help you buy the stuff you need. If you make a purchase by clicking one of my links, I may earn a small share of the revenue. My picks and opinions are independent from any business incentives.