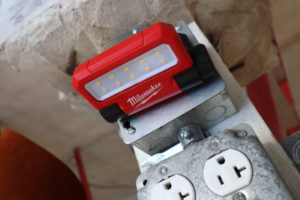 If you have followed us for any length of time you know we love almost the entire line of LED job-site lighting from Milwaukee. Milwaukee is the first company to produce cordless LED job site lighting that was bright enough to replace the ubiquitous 500w halogen light. They were not satisfied with those first designs and have continuously added to the worksite lineup with new and interesting designs for many applications.
They offer several choices in the M18 and M12 platforms as well as a new smaller platform called red lithium USB. These smaller more compact blades use a single lithium ion so with a USB charger for the most compact yet powerful job site lighting on the market. This new LED job site pivoting flood lighting is a great improvement over the first red lithium USB floodlight.

Pros 550 Lumens of True View
This new model offers 550 lumens of TrueView high definition color accurate light. It's a little bit warmer than a lot of the LED lights which tend to be so white that they are to the blue side of the spectrum. TrueView Display is better in my opinion for painting and other tasks which require good color definition. The head pivots 210° for use in many different situations. The light output itself has low medium and high for maximum weight when you need it or extended run-time.
Cons
One weakness I found on the original red lithium USB flood light was the magnet. It wasn't strong enough in some situations and I would find it on the floor. That is never a good thing no matter where you are. This new light has a more powerful magnetic base and it has proven itself to hold tight on steel surfaces much better.
This new light also has a built-in carabiner so you can hang it on a belt loop or lanyard or just about any other spot and you could stick a carabiner. I wouldn't recommend it for climbing even know it be cool to climb at night!
We have given it a thorough work out in attics, crawlspaces, cabinet installation and in the shop. It works great on a truss gang nail or the side of a metal tool box. It also sticks well to ductwork and pipe. We are getting between 3-11 hours of runtime on a charge. It won't do all day on high but medium might get you most of a day depending on duty cycle.
You can find all Milwaukee LED work lights at ACME Tools
550 lumens of TRUEVIEW™ High Definition color-accurate output

Light head pivots 210° for three output mode directional light

Magnetic base with built-in carabiner for on-the-go light