Home Depot sent us a few items from their Husky organizer and tool storage lines to see what we thought of them. Right away they looked familiar yet unique in their own way.
We are looking at:
A 19 inch hybrid Tote with a separate tool organizer.
A 10 inch small parts organizer bag with 19 compartments. 6 large and 13 small.
A Husky 16 inch Pro mobile office.
Husky 15-piece screwdriver set
First up, The Husky Pro Hybrid Tote Has a wide open center area with pockets for large and small tools and materials. Because of this we find quite a bit of room there. Consequently I've been putting cordless tools in it as well as often used hand tools. It will easily hold my cordless drill, impact driver and circular saw as well as a small reciprocating saw or light. It's really nice to be able to see everything at a glance without opening a top or cover of any type.
Additionally this bag features a second custom open spot for the zippered Tool Organizer. This large separate unit provides protection, organization and storage for dozens of loose tools like the Husky 15-piece screwdriver set which includes eight slotted screwdrivers and seven Phillips screwdrivers, nut drivers, sockets, pliers or chisels.
The Husky tote has heavy-duty feet on the corners and an extra large foot in the center to keep the bag from sagging. All 5 feet are nearly 1′ tall to protect against scuffing and water intrusion from below. The tote also has a metal measuring tape clip, fairly comfortable plastic carry handles and two side handles for ease of handling.
The tote is most likely made of a heavy yet somewhat flexible plastic covered in heavy-weight 1680D fabric with reinforcement. After seeing the rigorous testing Husky does on their products I have no doubt it will hold up to job site use. As a result I have no problem recommending them.
Constructed of heavy-duty 1680D polyester fabric, water-resistant material
Reinforced edging prevents wear on all corners and edges
5 heavy-duty feet protect the base
Large universal open center storage area for larger tools
Includes tool organizer for organized, easy access to critical tools on-the-go
Easy-access tape clip on outside of tote
Dual truck handles provide quick carry or grab point
Tote has 6 external pockets, 18 internal pockets and custom Pro Tool Organizer case slot
Tool Organizer case has interior pockets and elastic straps designed to securely hold your tools in place
Dual lockable zippers secure main compartment of Tool Organizer for theft prevention
Interior zipper pocket for smaller items
10 additional interior pockets and 5 elastic straps to organize and secure tools in place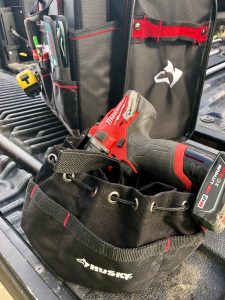 These bags brought back lots of fond memories. Previously I used this type of bag for years. They are so handy to have on hand. One canvas bag can organize 6 different types of screws or other fasteners. In addition there are 13 smaller pockets for small tools as well as quite a few driver bits or other small tools around the outside of the main compartments. Each compartment is big enough for about 5 lbs of fasteners.
The whole thing can be secured with a para cord closure with a cord clamp. consequently everything stays in its proper place during transport. The bottom and exterior pockets are reinforced with poly ripstop material. Therefore they should hold up under the harshest job site conditions They are easily stacked in 5 gallon buckets
In conclusion, if you put 4 of these in a bucket, you will have spots for 24 different fasteners or pieces of hardware and over 50 drilling and driving bits. Because of these numerous pockets they should find a use in many situations.
Check it out for yourself at Home Depot
Heavy-duty canvas
Reinforced poly ripstop pockets and bottom
Web loop handle
Rip cord closure
19 total pockets: 13 exterior, 6 interior
Dimensions: 10 in. D x 6.5 in. H
I put this to work on my bid jobs and inspections. I spend a lot of time in my vehicle and I generally have a passenger in the next seat so it has to go to the back. It is intended to be belted next to you in the seat and I can see this as a productive solution. The lid is a good surface to work from, I inspect fire and water property losses, so this is a great clean space to use.
My Pros and Cons
The pockets on the Husky Mobile Office are great for storage of clipboards and my graph papers. Unfortunately the smaller pockets won't hold the laptop I use. (its a big one) However it has lots of padding this is designed for the electronics most have and will hold the iPad I have for the job. I appreciate all the pockets and loops so everything from Laser distance measurers to flashlights and screwdrivers to my HUSKY WOOD HANDLE SPORTING KNIFE has a place. We all know organization makes us more productive.
I take my organizer inside at the end of the job or day. It would have been better with a top handle as an carry option. Also I tend to load it with a lot of items so it's a bit heavy. I don't think I am alone. I would prefer casters or small wheels with a handle that retracts like you see on soft sided luggage. The exterior is easy to wipe down for quick clean ups and that is a plus since most work sites are dirty.
This organizer is available only from Home Depot.
Constructed of heavy-duty 1680D polyester fabric, water-resistant material
Reinforced edging prevents wear on all corners and edges
Molded lid with raised edge keeps items from sliding off
Dual lockable zippers for theft prevention
2 water bottle pockets, 2 covered pockets, 3 open pockets, 1 mesh pocket, 3 pencil slots and external tape clip for easy access
2 interior pockets and 4 interior padded dividers for holding your laptop, tablet and paperwork
I acknowledge that The Home Depot is
partnering with me to participate in
the ProSpective 2018 Campaign. As a part of
the Program, I am receiving compensation in
the form of products and services, for the
purpose of promoting The Home Depot. All
expressed opinions and experiences are my
own words. My post complies with the Word Of
Mouth Marketing Association (WOMMA) Ethics
Code and applicable Federal Trade Commission