Bigger is better with the Husky mobile job box. It has a 50 gallon holding capacity, which is great for any trade. Yet, as an apartment make ready technician, I need to take a vast array of tools with me to each apartment. Otherwise I'm constantly going out to my truck or to the shed for something I forgot. In the past couple of weeks I've had this, it's already paid for itself, especially with such an affordable price of $49 at Home Depot.
When you first open the tool cart, you will be impressed with some of the features Husky thought to include. The removable tray is huge. It has holes on the lip of both sides of the tray so that you can put any of your favorite screwdrivers for quick access. It would definitely be better although if the tray could slide from one side to the other of the box. As it is now you have to take the tray out if you want tools out that are stored below the tray.
Water Tight
The fact that it has a water tight seal will also help you sleep at night if for some reason you left it in the back of your truck and it starts to rain. Fortunately as of yet I have not tested the that feature out! Although the seal has came in handy for me by not allowing saw dust in the box, keeping my tools clean. Upon seeing the plastic lid hinges I did worry, but so far it has not been a problem. If one were to break, I noticed Husky has a 3 year limited warranty on job boxes, so I'm not too concerned.
There is an electrical cord outlet on the side of the box, that allows you to charge your power tools or cell phone while they are locked inside. This definitely would help give you peace of mind if you are working with others that you don't want touching your chargers or phones while they are charging on site.
Secure On The Job
As far as security, it's true if someone wants your tools bad enough they are just gonna wheel the thing away, after all it is a mobile tool box. Yet with the large metal latches and keyed lock system, it can easily deter your average thief. You will find useful, no matter your trade, the features on top of the lid.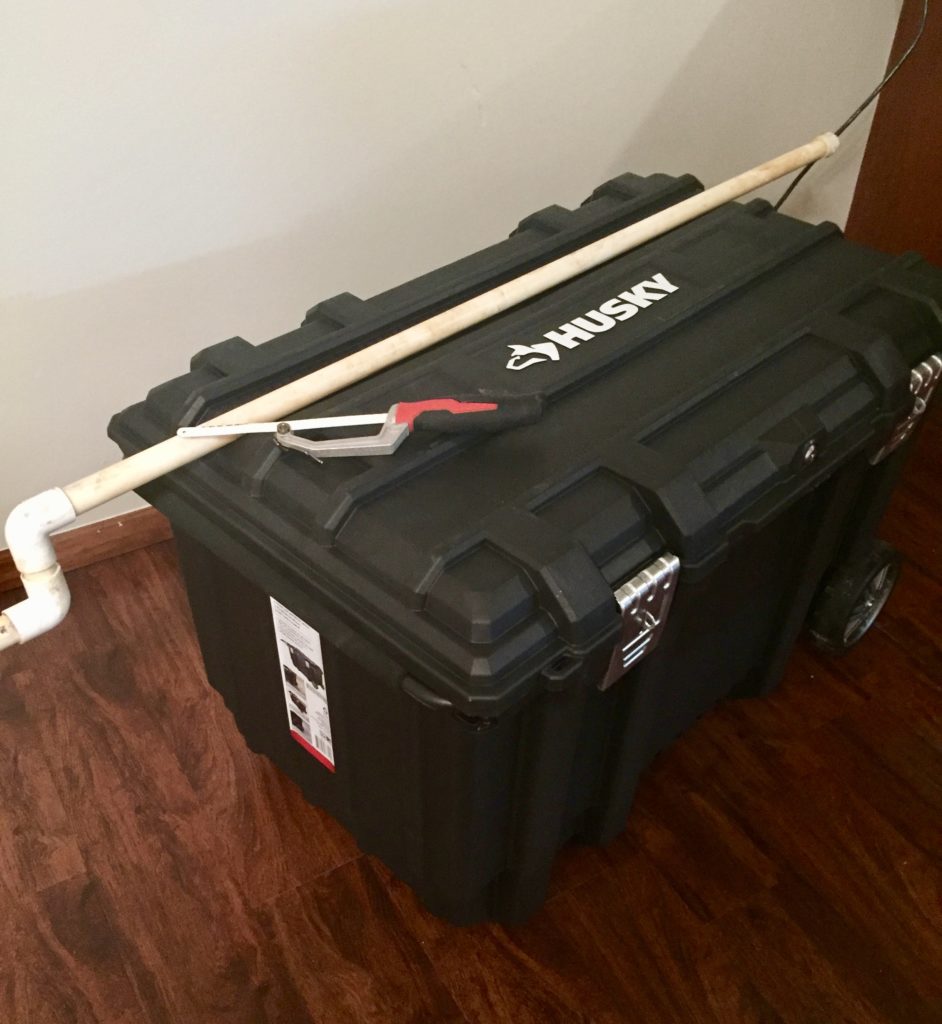 It has built in 2×4 tracks that make easier for you to cut lumber or turn the top into a work surface. I found the notched track particularly useful, it allowed me to quickly and safely cut piping.
As far as the outside of the box, it seems pretty tough to me. Although I'll probably throw my back out, I did pick it up fully loaded many times and throw it in the back of my truck. It looks to be unharmed so far. The wheels are 8″ all terrain, so you can go through most rough spots on the job site. I did find though it a little bit hard to make tighter turns with this box because of its size it has a smaller turning radius than what you might think. Also if it's too heavy and you push it backwards with the handle extended, it will collapses in, since the handle doesn't lock out. It seemed better to turn it around and pull it though anyway.
All things considered for the price you cannot go wrong with the Husky mobile job box. All of us have been on the job site and wished you would of brought another tool. Now you can, and if it saves you time going out to get more tools, it saves you money!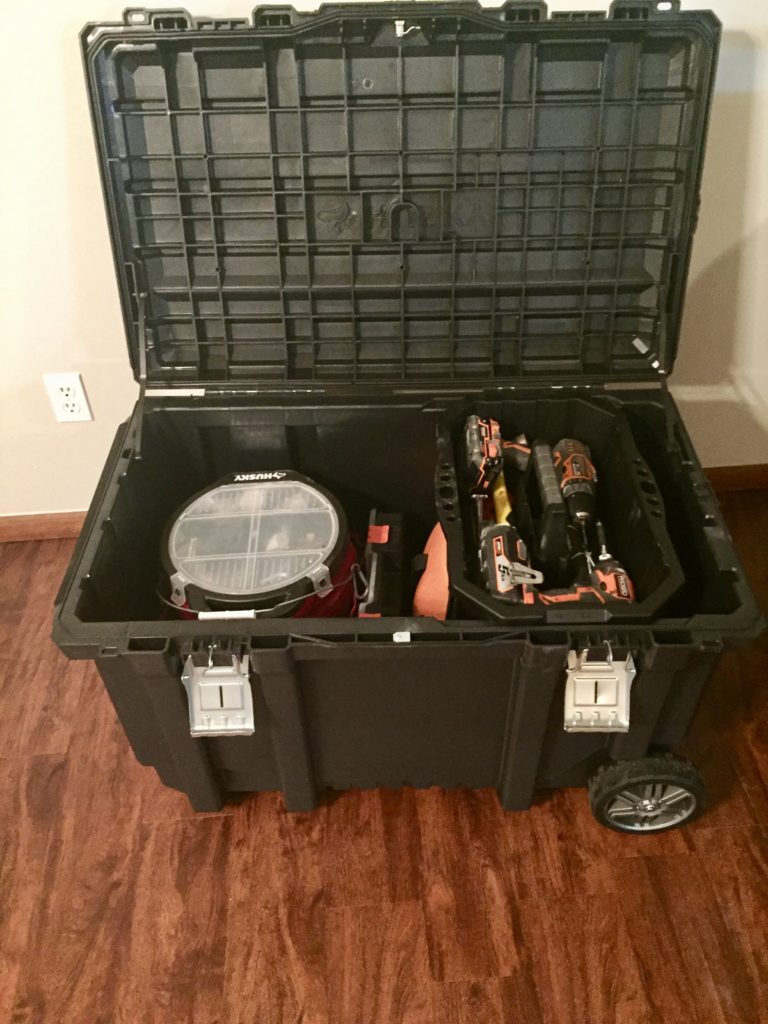 Storage capacity – 50 gallons

Great for storing power tools and gear

Comes with water tight seal to keep contents dry and dust free
I acknowledge that The Home Depot is
partnering with me to participate in
the ProSpective 2018 Campaign. As a part of
the Program, I am receiving compensation in
the form of products and services, for the
purpose of promoting The Home Depot. All
expressed opinions and experiences are my
own words. My post complies with the Word Of
Mouth Marketing Association (WOMMA) Ethics
Code and applicable Federal Trade Commission