Dewalt Impact Bits
For years DeWalt has been making really good driver bits. They have an exact fit in the different fasteners and are pretty durable. Instead of sitting back and enjoying the success they have pushed ahead and improved upon them in a few areas.
Why We Need Them
Impact drivers are much harder on bits than drills because they work differently from drills to deliver higher torque in a smaller package. In a drill the torque is constant and smooth. With an impact driver there is a rotating hammer which impacts an anvil thousands of times per second delivering higher torque. That torque is not smooth. That hammer can be very destructive to bits in just a few seconds.
Because of this we need bits with different characteristics in different zones. We need the tips to be hard so they last a long time without wearing out. However, harder steel can be brittle. If the entire shaft is hard it will most likely break in short order.
Impact rated bits can be made in a few different ways. DeWalt manufacturers most of their impact rated bits with a torsion zone. That means they have a normal 1/4″ hex shaft where the bit meets the impact driver and a slimmer more flexible area that is made to twist slightly to absorb some of the impact energy from the hammer mechanism. It may seem strange that a slimmer shaft would make the bits more durable but it works very well.
This 30 pc. set is perfect for 99% of all my driving needs. I prefer to use Torx head screws when I can. It includes T 20 and 25 in both 2″ and insert tip sizes. It also has a good mix of Phillips and Robertson in both lengths as well as 1/4″ and 5/16″ nut drivers.
Two nice features of this set are the sleeved bit extension and the 10x magnetic screw lock. The 10x means it is 10 times stronger than regular magnets. It really helps keeping the screw straight and definitely reduces screw drops even if you cam out of the screw head.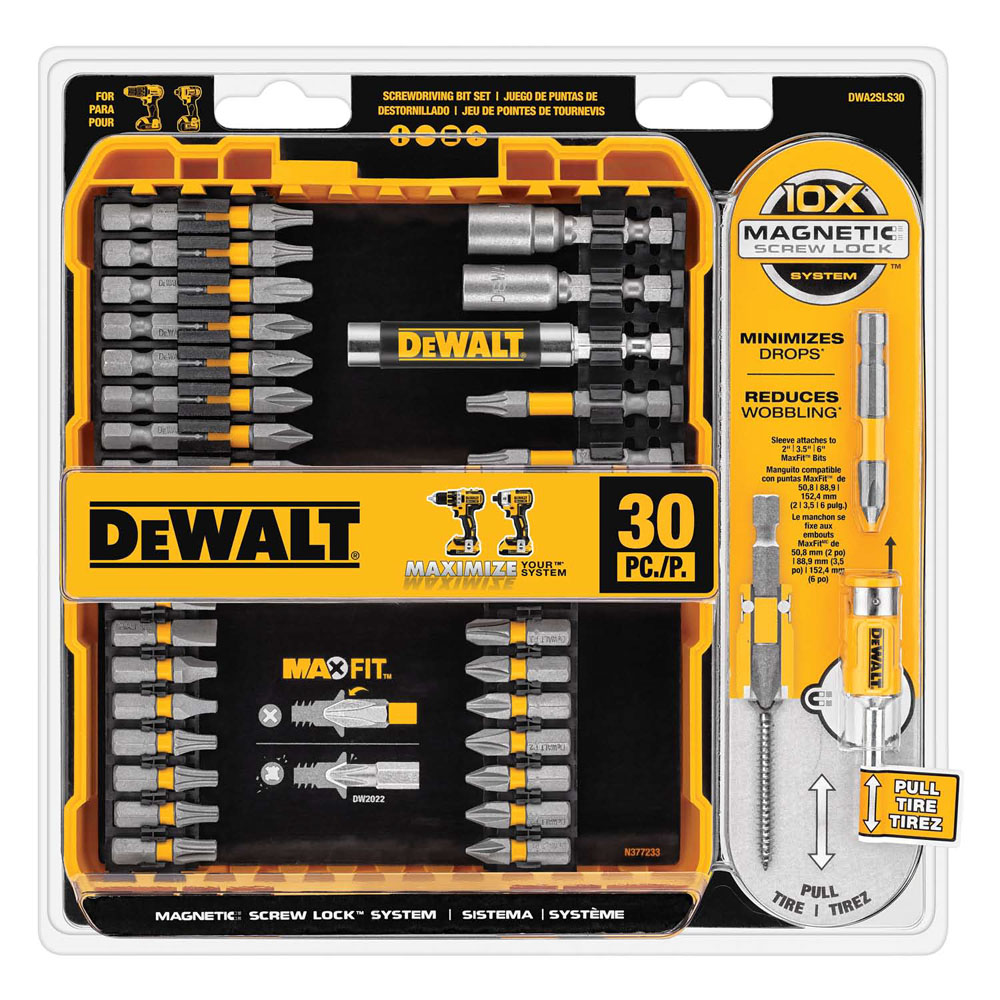 For the money you may find a different configuration that works better for you. For my needs this is as close to ideal as it gets for a smaller set. You can find these at your local Home Depot or click here to buy online At The Home Depot
Securely fasten a variety of flathead, Phillips and

Torx

screws with this 30-piece

MaxFit

Screw
Includes a magnetic screw lock sleeve so you won't drop any fasteners and a bit tip holder

Provides extended reach when your power tools need to operate in cramped spaces.

The bit tips are precision-machined to snugly fit screw recesses, resulting in fewer stripped

screws.

I review and recommend products to help you buy the stuff you need. If you make a purchase by clicking one of my links, I do earn a small commission. My pledge to you is this: I will always say what I really feel. I will not taint my reviews to make a quick buck at your expense. I want you to know the truth about the tools I review for the good or the bad. My picks and opinions are independent from any business incentives.