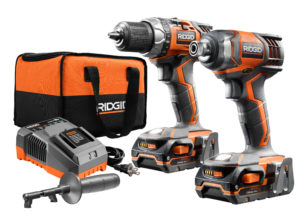 Ridgid Gen5x Combo Kit
First thoughts:
Home Depot sent us this combo kit to check out and give feed back on. I don't have a lot of experience with Ridgid Power Tools. I really didn't know what to expect. From the first time I grabbed them I knew they meant business. They both have a nice heft to them that I didn't really expect. They feel very solid.
The Hammer Drill:
The hammer drill has the expected features of a current compact cordless hammer drill. The always popular brushless motor. Two speed transmission with three modes; screw driving, drilling and hammer modes. It sports an all metal Jacobs chuck. It has a bright LED light in the handle base that stays on for a few seconds after letting go of the trigger. I feel it is definitely an improvement over the ring light inside the chuck on an earlier model. The handle is nice and slim with an aggressive over mold for a secure grip. Speaking of the grip, this drill has a unique feature. When you grab it, there is a second switch in the handle and it activates the LED light even if you never touch the trigger. I originally thought it was a bit gimmicky but I do actually find it useful in darker areas. You can use the extra light to place your bit exactly where you need it. I normally would hit the trigger with other drills in these situations.
It's Brushless Power:
In real use the Gen5x brushless drill works like most compact brushless drills. We don't always need over 1,000 inch lbs. of torque. The brushless motor is efficient, smooth and fairly powerful. It will do 95% of the drilling and driving jobs most of us will run into on a residential or commercial project. We have run all different types of bits with it on our jobs from simple driver bits and twist bits to medium-sized hole saws. It has never wavered on anything yet that I have asked of it.
Other considerations
I have to keep this as honest and unbiased as possible. I will say it is somewhat larger than most of the competitors in this segment. They are for the most part slimmer shorter and lighter. They are also more comfortable to use all day especially with a slim pack battery. The Milwaukee, Dewalt, and Makita brushless compacts seem to have more power and torque as far as I can tell in my testing. I realize every manufacturer is different. They all have their methods of testing. I do not have the lab equipment to check actual torque specs on anybody's products. I will tell you that the box states 700 inch pounds of torque on this drill. Whether or not it meets the actual number that is published does not really affect me. What matters to me is this: Does it do the job? In our use in remodeling and restoration work it has done a fine job and is the best tool in this combo kit.
The Impact Driver:
The other tool in this combo kit is the brushless Gen5x impact driver. It has the same feature in the comfortable handle as the drill. When you pick it up you activate the LED lights even without touching the trigger which I find to be actually useful in some circumstances. The 3 LED's are bright and well placed around the chuck. Since there are three you will have no trouble finding your screw or seeing your work. It as a very nice smooth acting one-handed chuck. When you want to insert a bit you simply push it in and it does all the work for you locking it in securely. When you want to take the bit out you just pull the collar and the bit is ejected.
PROS
Like the drill the impact is both powerful and efficient. I am just going to say it runs a long time on a battery. I cannot tell you how many drywall screws it will put in on one charge. Every piece of lumber is different and you may get different results than I can. I don't normally get into run time testing because at some point during the day you are going to have to switch the battery out and it really doesn't matter to me if it is at 3:00 or 4:15 You still have to switch it out.
CONS
The driver itself is larger than most in this class. It is both longer and wider with more weight than any of the other impact drivers that I use currently. I don't understand why it has to be so large. It does the job but at the cost of extra weight and more bulk in your hand. It is actually somewhat of a surprise that it is called a compact because it is as full size as they get these days.
I also might mention that it has a published torque rating of 2250 inch pounds. I have no way to confirm or refute that claim. I did find that the top Milwaukee, Dewalt and Makita brushless drivers with lower torque ratings seem to drive screws, even large lags, faster than this model. At the same time they are smaller and lighter. I am not bashing this tool. I am simply stating what I have experienced in comparison to the other tools in this class.
Bottom line
Overall, this is a nice set to work with. If you are on the Ridgid platform these are the latest and greatest. If you also want the benefits of longer runtime efficiency and longer life these are an easy choice. If you are not on the Ridgid platform and considering a purchase of a drill and impact driver it is good to look at other tools in the platform. There are more and more unique and useful tools available on the Ridgid 18v platform as time goes on. If they appeal to you or would work well in your arsenal then these would make a great introduction to the system.
One appealing factor of Ridgid Power Tools is the Lifetime service agreement. As long as you register your tool soon after purchase you are covered for life if it ever fails.
For More information click here
To Purchase from Home Depot Click Here
Hammer drill – best-in-class torque with a powerful 700 in.-lbs. of toruqe in a compact hammer drill

Hammer drill – compact size and lightweight design for a fully powered hammer drill

Impact driver – best-in-class torque with an industry leading 2,250 in.-lbs. of torque

Impact driver – 3-speed settings to provide adjustable power and speed for any job

Impact driver – tri-beam LED lights around the front housing to elimate shadows from the work surface

Backed by the industry's only lifetime service agreement

Backed by the Industry's Only Lifetime Service Agreement

Hex grip enhanced micro-texture for secure grip and maximum user comfort

4.0 Hyper lithium-ion batteries have triple-protection electronics, best-in-class extreme weather performance and on-battery fuel gauges

GEN5X brushless motor technology delivers up to 50% more run time and longer motor life than similar products
I review and recommend products to help you buy the stuff you need. If you make a purchase by clicking one of my links, I do earn a small commission. My pledge to you is this: I will always say what I really feel. I will not taint my reviews to make a quick buck at your expense. I want you to know the truth about the tools I review for the good or the bad. My picks and opinions are independent from any business incentives.