Dewalt 10" Table Saw
We have used Dewalt table saws for as long as they have made them. We have found them all to be outstanding in their respective categories.
This is one of the earlier compact job site saws with a full 15 amp motor. It also runs a little slower than some of the newer saws at 3,850 RPM but it doesn't seem to affect cutting power or speed. Even though it is a compact saw it has most of the features of the full size saws.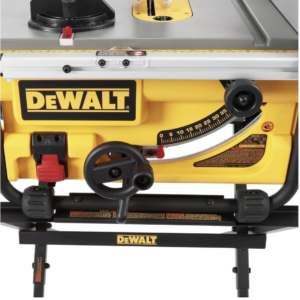 It has the open steel frame that Dewalt has been famous for many years now. It is a light weight yet TOUGH design made for abuse of a job site construction setting. I can't tell you have many table saws I have broken by throwing them into the back of the truck. They were all made of plastic. Some of the brands were Craftsman, Makita, Delta and Dewalt.
The 3 1/8″ cutting depth will not get you through a 4×4 in one pass but it will rip 2x material all day long without breaking a sweat whether it's a 90 degree or 45 degree bevel.
This model has the rack and pinion fence system that Dewalt has become famous for. It securely holds the front and back of the fence parallel to the blade. At the time of this article no other portable fence system on the market can beat it for repeatable accuracy.
It features a 24″ rip capacity which will get you to the center of any 4×8 sheet. The fence has a fold out feature which keeps the material flat.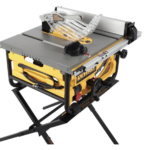 The scissor fold stand it comes with is plenty strong and stable. It has super fast set up from your truck to the cutting station. What I like about the stand is you can mount your saw to it permanently with bolts or leave it loose. When you use it on the folding stand loose it is still stable and secure even without the mounting bolts. To me this gives the best of both worlds. You can use it on the stand when you prefer but you are not tied to it. You can take just the saw for a few cuts.
This represents a solid value for a full featured compact job site table saw.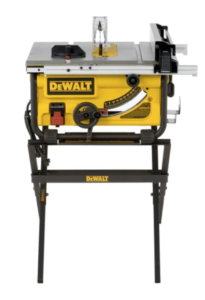 If you want one Click here and BUY Home Depot
10 in. blade for fast, accurate rip cuts

Rip fence with 12 in. left and 20 in. right rip capacity for ripping wider materials

Adjustable rear feet designed to level the saw on uneven work surfaces

Lightweight design for easy transporting on and off the job

Maximum cut depth of 2-1/4 in. at 45° and 3-1/8 in. at 90° for a variety of useful cuts

Dust port allows for 2-1/2 in. vacuum hook up and minimizes cleanup
I review and recommend products to help you buy the stuff you need. If you make a purchase by clicking one of my links, I do earn a small commission. My pledge to you is this: I will always say what I really feel. I will not taint my reviews to make a quick buck at your expense. I want you to know the truth about the tools I review for the good or the bad. My picks and opinions are independent from any business incentives.