Ridgid JobMax Multi-Tool
The Home Depot provided us with the Ridgid JobMax Multi-Tool, Model # R28602, This is part of an interchangeable tool system with a power unit and multiple heads that clamp to the power unit. Our sample shipped with the oscillating multi tool head. Our crew and I have used it on our residential and commercial jobs for cutting, wood, metal and plastic pipe so far and it actually cuts and scrapes pretty well. I feel it is more than capable for your projects at home. I even feel that you could benefit from one of these for light to medium professional use.
ATTACHMENTS
This tool has a cordless power head available from Ridgid and a matching one from Ryobi if you are looking for a cordless ability. To get more bang for your buck you can also purchase attachment accessories like the Reciprocating saw attachment and the Jig saw head. I can see the benefit in one platform with many uses, especially for an intermittent tool.
BLADE CHANGING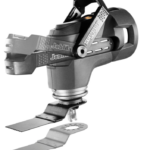 It has a very nice tool free blade changing system. It is spring loaded and consists of a lever on a pin with a retention piece at the end of this pin. It also is magnetic to hold the Blades clearly before you engage the clamp. The whole mechanism is very secure and we never had it come loose on the projects. One thing I really appreciate about it is there are no extra pieces to keep track of while on the job.
LED LIGHTS
With a well placed LED light on the power head it illuminates the blade and the cut at any time the trigger is activated. It has a variable speed trigger but no dial. It is not really possible to maintain anything other than full speed. Most professional models provide a speed dial for extended cutting at lower speeds. Some materials require different speeds to avoid burning or melting.
POWER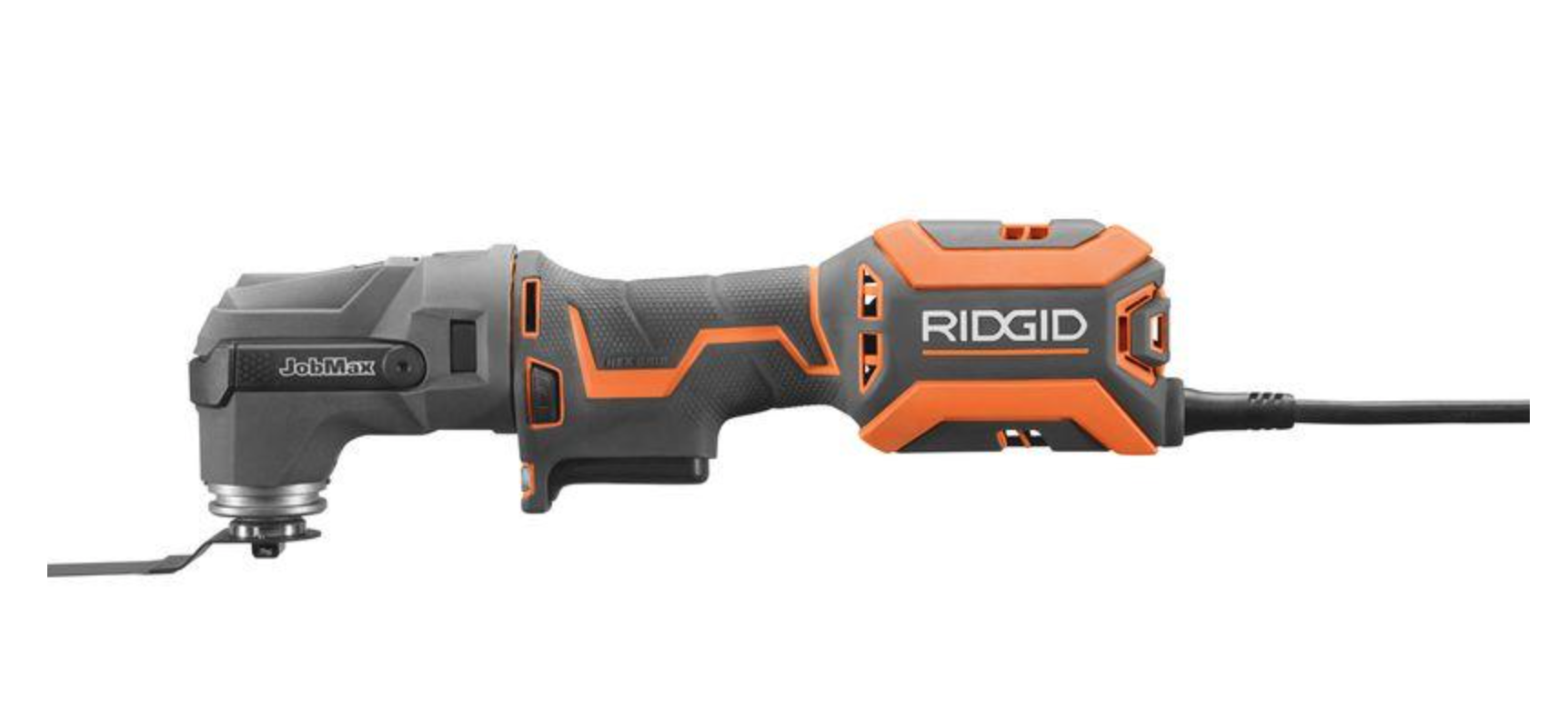 We have found the motor to be powerful enough for most general purpose work. For normal intermittent cuts use we never found any issues with over heating. It notches framing lumber and plywood with ease. Under cutting door jambs and casing were no problem for it. Drywall is nothing for the power it has. With extended paint scraping we experienced some heat management issues. We found the tool too hot to handle after more than 15 minutes of scraping paint without gloves.
WARRANTY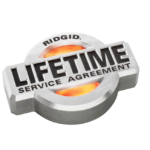 One appealing factor of Ridgid Power Tools is the Lifetime service agreement. As long as you register your tool soon after purchase (within 90 days) you are covered for life if it ever fails.
Click Here for More Information
The powerful THRUCOOL motor provides 33% more power and can get through the toughest jobs.
Equipped with a tool-free head, changing blades has never been easier – just pull, flip and twist to change out blades for a variety of jobs.
This tool is backed by the lifetime service agreement for free parts, free batteries, for life
I review and recommend products to help you buy the stuff you need. If you make a purchase by clicking one of my links, I do earn a small commission. My pledge to you is this: I will always say what I really feel. I will not taint my reviews to make a quick buck at your expense. I want you to know the truth about the tools I review for the good or the bad. My picks and opinions are independent from any business incentives.