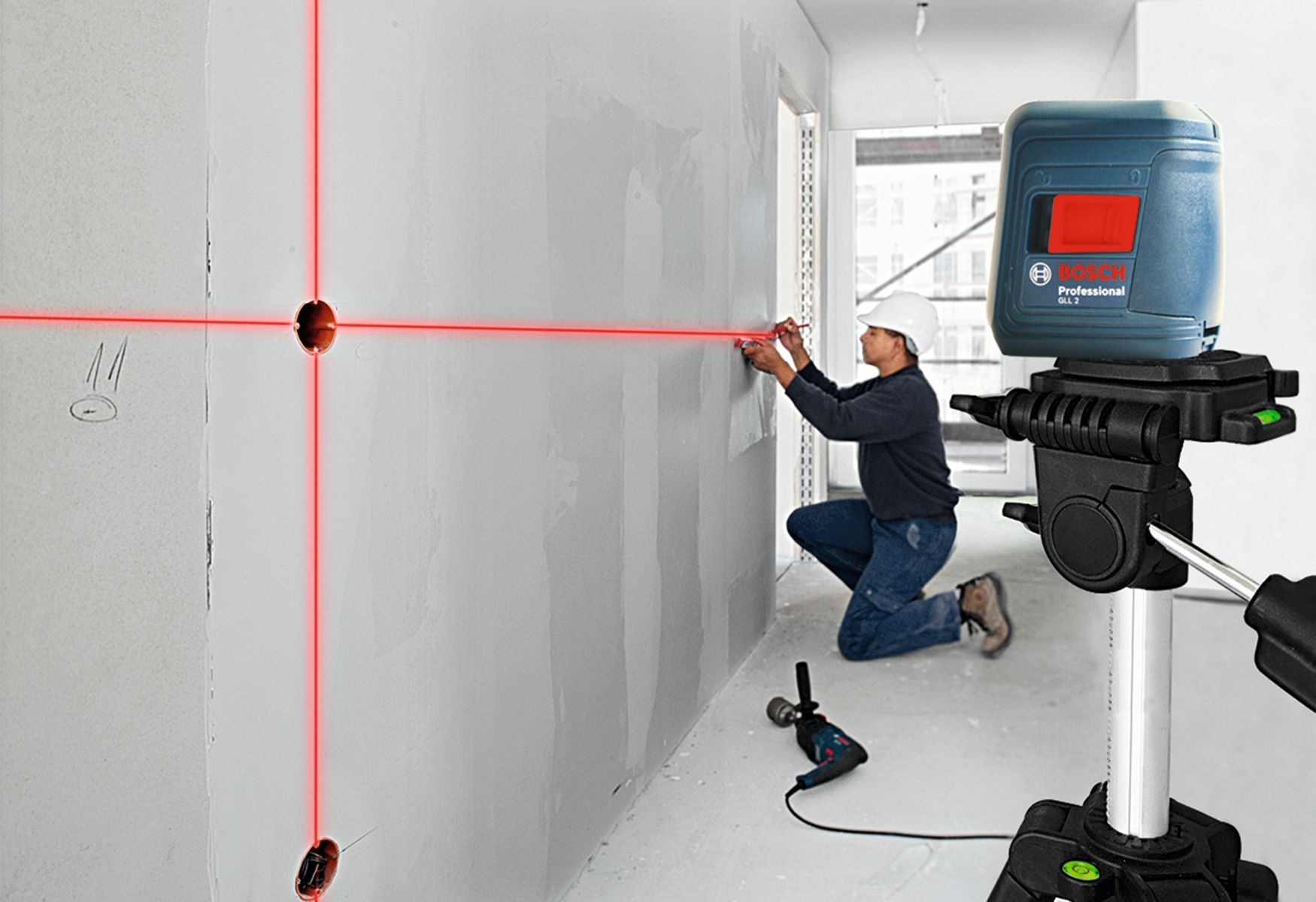 Bosch GLL 2 Self Leveling Laser
When I first received the Bosch GLL2 laser kit I actually laughed out loud. I thought,"Man that looks like a laser level only smaller."
Bosch was going to get the last laugh as you will soon see.
I have used laser levels on my projects for the last 15 years. For many years that meant a large expensive Hilti rotating laser. I used it both inside and outside for grading, footings and concrete forms all the way through framing, siding and more until the last cabinets and moldings were installed.
In recent years prices have gotten lower and lower and the units have shrunk even more. I now rarely use the rotating lasers as most of my jobs are inside these days. Fixed beam lasers are easier to use inside as they have a constant line which is easier to see at any given moment.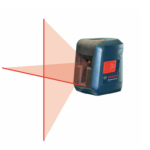 This Bosch GLL2 is the smallest and one of the least expensive lasers I have ever used. It comes with batteries and a base/clamp for mounting to a stud or pipe or anything else that will fit in its jaws. Since it is a cross line laser level It has a horizontal and a vertical beam. You can have one or the other or both depending on the task at hand.
Who needs it?
At $39.00 at Home Depot it is affordable enough to land in every tradespersons toolbox or bag. I literally cannot think of a trade that wouldn't benefit from a small yet accurate laser level. If you can come up with one let me know.
Our electrician has used it on electrical runs to get receptacle box layout straight and conduit and EMT level and plumb.
Our HVAC technician has really enjoyed using the Bosch laser to get his trunk lines perfectly level and in a straight line.
I have used it on cabinet installs and it has worked flawlessly. I checked and rechecked and it matched the accuracy of larger, much more expensive lasers in kitchens up to 18' Long. On somewhat larger areas I expect similar results.
I have also used it to set showers and bathtubs and for tile layout on walls. It has never given me a false reading with any of it.
All Lasers have some cons no matter what the price.
I want to mention that it is not as bright as the other larger more expensive lasers that I use. We can't expect it to match 500.00 green lasers on every point. Because of this there is a more limited range. The price point is one of the lowest I have seen for a cross line laser level from any brand. The fact that it is a name brand like Bosch and it actually works makes it that much better.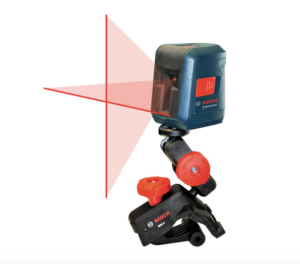 I never expected the Bosch GLL2 to be as good as it is. It exceeded my expectations and I feel it is worth a look if you don't have a laser level already. If you do have one I recommend it as a backup for when your helper knocks your expensive one to the concrete.
Find More Info at Boschtools.com
The Bosch GLL 2 Self-Leveling Cross-Line Laser is a compact and high-performance leveling and alignment solution for professionals.

Easy-to-use one-button operation allows the user to choose among cross-line, horizontal or vertical modes, depending on the application, and it provides an accuracy of ±3/16 In. at 30 Ft.

The unit includes a flexible mounting device that can clamp to practically any interior surface for maximum versatility.
I review and recommend products to help you buy the stuff you need. If you make a purchase by clicking one of my links, I do earn a small commission. My pledge to you is this: I will always say what I really feel. I will not taint my reviews to make a quick buck at your expense. I want you to know the truth about the tools I review for the good or the bad. My picks and opinions are independent from any business incentives.