In summer of 2018, we met Paul through Instagram. We were pretty new to the platform, with a few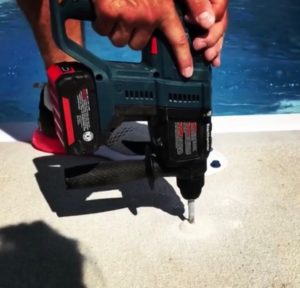 followers, posting what we do. I figured out one day that he was local to me from a post he made with a tagged location. The rest is history.
First impressions
The first tool that Paul brought to our job site was the Bosch GBH18V-20K21 hammer drill. We had never used a cordless hammer drill before, but had been using the Bosch Bulldog Extreme for a few years, so we were familiar with Bosch tools. To say that I was impressed was an understatement. No extension cord,YES! No time wasted dragging around the cord,YES! No annoying generator running.. EXTRA YES. Total game changer for us.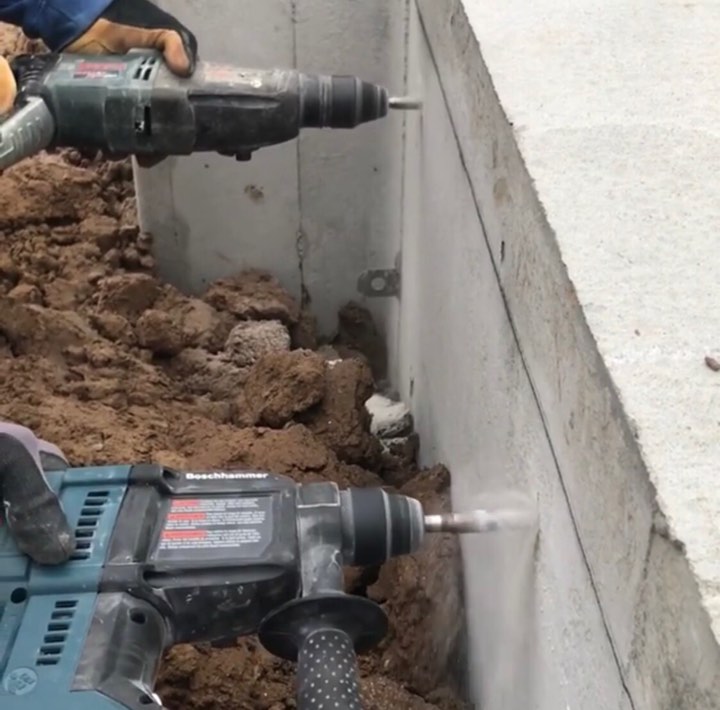 Since last summer, we have not used our corded hammer drills one time. We liked it so much we ended up buying the larger Bulldog GCH18V-26K24 for our other truck. Both drills have tons of power, strong batteries and are easy to handle. They are especially useful when we have to bolt our aluminum forms to existing concrete walls.
Cordless Convenience
Not having to toss a cord behind the wall and roll it back up when we're done takes all the chore out of the work. Being that they are so compact, we are able to get them into tight spots one handed, while still having total control. We have found that we average 25-30 One half inch holes 4′ deep drilled on one battery charge, depending mostly on the age of the concrete. Typically, this exceeds the amount of holes we would need to drill in one day, but we always have the second battery if necessary. While we didn't test each drill against each other, the 26K24 definitely has a little extra grunt to it.
I highly recommend both of these rotary hammers as they have changed our operation completely. And a huge thanks to Paul, who showed us an easier, faster way to complete our work.

Tyler Clark
Clark Concrete Construction
Powerful, compact cordless rotary hammer – features drilling performance plus chiseling in a lighter tool, to allow great productivity and efficiency in concrete and masonry applications
SDS-plus® chuck – industry-standard system compatible with many bits
Lightweight design, at only 5.7 Lbs. (tool only, not including battery) – for great performance-to-weight ratio
Efficient 18V motor – produces 1.3 Ft.-Lbs. of impact energy for professional applications
Robust power system – produces 0-5,850 no-load bpm and 0-1,800 no-load rpm
Multi-function selector – three modes of operation: rotary hammer, rotation only and hammer only
Works with Bosch PRO+GUARD™ dust solutions – an end-to-end dust-collection system that helps users move toward OSHA Silica Table 1 dust compliance
Ergonomic design – provides great user comfort, with a soft-grip handle
Advanced Electronic Cell Protection – protects battery from overload
Electronic Motor Protection – protects motor from overheating
Bosch 18V Brushless 1-in SDS-plus® Bulldog™ Rotary Hammer delivers more power in a cordless tool for drilling in concrete
Electronic Precision Control provides slower ramp-up for accurate bit starts
Vibration Control affords great user comfort for extended periods of work
SDS-plus® chuck is the industry-standard system
robust power system produces 0-4,350 no-load bpm and 0-890 no-load rpm
optional GDE18V-16 dust-extraction unit, which integrates with hammer to provide a self-contained HEPA dust solution for max mobility
Electronic Motor and Cell Protection protects motor and battery from overheating
Variable-speed trigger (0-890-RPM)
SDS-plus® chuck is the industry-standard system
Includes (1) auxiliary handle
Hammer weighs only 6.3-lbs (tool only, not including battery) but powers 1.9-ft-lbs of impact energy
CORE18V battery helps the hammer deliver up to 50 percent more impact energy and greater tool runtime than conventional cordless hammers
The CORE18V battery system provides compatibility backward and forward with all Bosch 18V tools
KickBack Control technology reduces the risk of sudden tool reactions in binding conditions
Limited 1 year warranty
SEE THE WIDE RANGE OF ROTARY HAMMERS AT ACME TOOLS