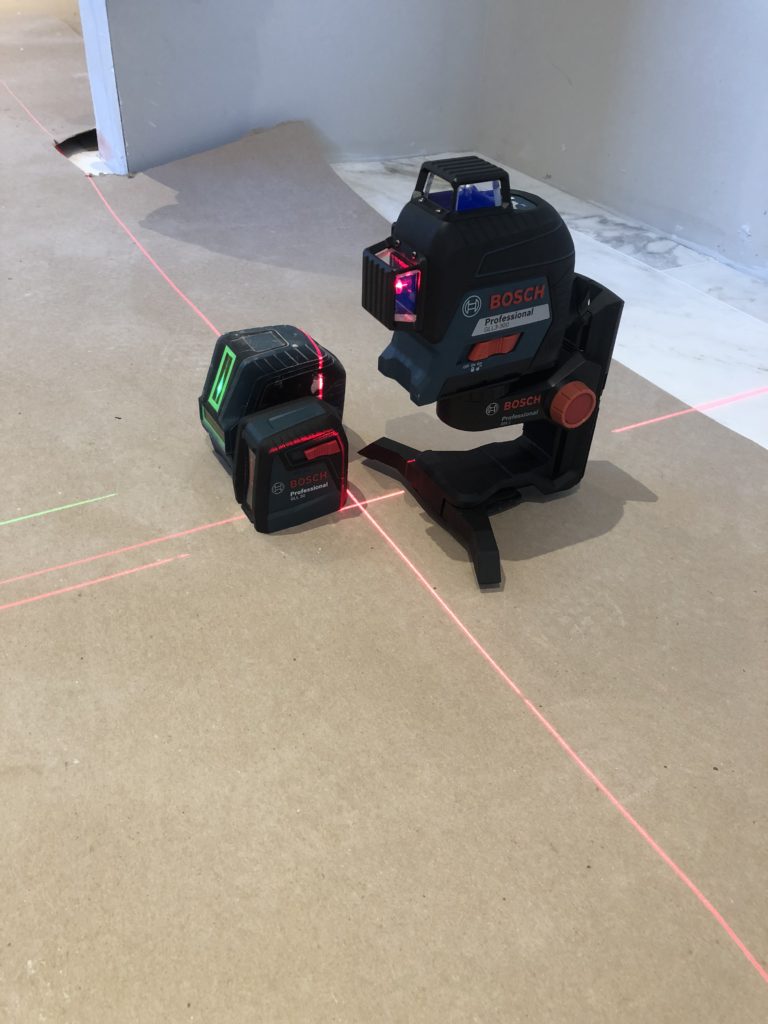 Bosch GLL3-300
To start this review, the Bosch laser we'll be discussing today is the Bosch GLL3-300, 360 degrees three-plane leveling and alignment-line laser. I remember the first laser I ever used only had a single cross line, this thing has three 360 degree lines. Spoiler alert, they're not even close in comparison but I'm sure you guessed that already.
If you didn't know this already, this is a red line laser. Now don't let this scare you off because this thing is bright. Ever since the introduction of the green line laser a few years ago the internet and social media has made it seem like that's the way to go and there's no reason to buy a red laser. DON'T BELIEVE THE HYPE. This is some more "fake news." The GLL3-300 has an upgraded diode that creates a brighter beam than earlier models did.
SPECS
The box states it has a 200 foot range, but because of what I do and what I use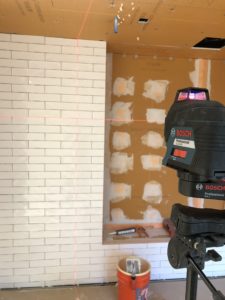 it for (shower walls and floor layout) I doubt I'll ever need the 200 feet. For those of you that need these longer distances it also offers pulse mode to extend the working range up to 300 foot diameter and/or in bright lighting, using an optional LR8 or LR6 receiver. It also features VisiMax technology, which monitors power consumption to maximize line visibility and extend overall battery life.
Which brings me to my next point. This laser runs on 4 AA batteries and does not use a rechargeable 12v battery like some of its red and green cousins. This may be a con for some. If you are leaning toward a rechargeable battery laser, just remember you'll need to buy two batteries in order to keep working while the other is charging.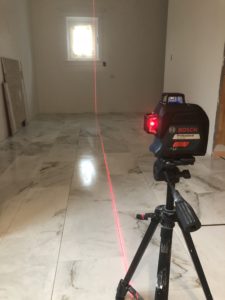 As most lasers these days have multiple ways to mount, this does as well. It has two different mounting sizes on the bottom depending on what your setup is. I, personally, have the Bosch tripod which is a super easy plug and play with this laser. It also comes with the BM1 positioning clip which is a really nice extra. The magnets are strong enough to hold to exposed corner bead but not if it's been mudded. This clip allows micro adjustments in height to made very easily as well as swiveling. It also comes with a mounting clip commonly used for installing ceiling grid.
A feature I really appreciate is the ability to have a line across an entire floor of a room, something you just don't get with a cross line laser. When both vertical lines are on you now have the ability to square up a room very quickly. When these are on you will have a perfect 90 degree angle on the floor and ceiling. No more plumb bob needed.
GLL300 & GLL100
Notice above, I included a couple of pictures to show the difference of brightness between this laser and the GLL100GX. As you can see in a very brightly lit room (7 high intensity led bulbs) it doesn't matter green or red, both lines are dim. However in normal daylight only this is where lasers really shine (no pun intended). As you can see a cross line laser simply doesn't make a mark on the floor but the GLL3-300 does. Easy decision if you ask me. Is it more expensive? Yes. Is it worth it? Yes.

Who needs one? Flooring installers, general contractors, framers, trim guys, tile installers, ceiling grid installers, cabinet installers, pretty much anyone in any trade of construction that cares about precision. I know precision is lacking in a lot of areas these days when it comes to construction. So I know a lot of people would benefit from having one.
What I like about it
3 beams that are 360 degrees

Very bright, crisp red line. I'm not squinting to see it

Easy to use and toggle between which laser you want on.

Doesn't eat batteries like a green laser does.

Beam can be dimmed to reduce and heat and extend battery life.
What I don't
I wish it came in a hard case

That's pretty much it.

I feel like if you're spending $399.00 on something that needs to be treated with care, you should get something more than a canvas sleeve to hold it.

Invest in a case and some kaizen foam and you should be good.
When writing this review, I know that this professional Bosch laser isn't for everyone. As I said earlier this really will most benefit those of us in the trades where precision is of paramount importance. There are many people out there though that could benefit from having a laser level that will give them plumb and level lines but don't want to spend the money on something of this caliber. Such as decorators, diy'ers, handy man, anybody who owns a home really.
GLL30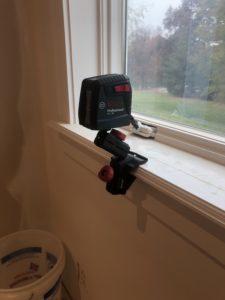 Bosch hasn't left this group out either. The GLL30 is a great option. This is a self leveling, red cross line laser with a range of 30 feet. We compared it to the more expensive lasers and the lines all matched perfectly. In other words this 39.00 laser is as accurate as those costing 10x as much. The main difference is brightness and lower feature set. It comes with a flexible mounting device that will clamp to multiple surfaces easily. It does have mounting hole on the bottom for a tripod setup.
I would suggest buying a tripod for any laser purchase. They aren't very expensive and make setting up any laser quick and easy. Whether you are a professional or a DIYer you can find a Bosch laser that is perfect for you needs.
A Little About The Writer
I've been in and around construction all of my life. My father is a carpenter, home builder, but has also done pretty much everything under the sun when it comes to construction. Fortunately, I was able to get to work with him throughout my childhood and even now from time to time. I also had the opportunity to spend two years of high-school in a building trades class in which we built a house each year.
After graduating a friend of mine who was a carpet layer asked if wanted to help him, and as the saying goes "the rest is history." After having my fill of all the berber basements that we could stand, we started branching out into other areas of flooring. We learned a lot from other journeyman we knew as well as from my friend's Father-in-law who has been in the flooring business for the past 40+ years.
We started doing more wood floors and as well some tile jobs. I really took a liking to these two and have stuck with them for the past 6 years or so. As I progressed in my tile skills, the custom shower side of things really struck a chord with me. I really enjoy taking a blank canvas turning it into something beautiful that will last a lifetime or at least until the trends change and people want to rip out all that hard work. Anyway you're probably tired of reading about my boring life and want to know more about this laser.
I acknowledge that The Home Depot is
partnering with me to participate in
the ProSpective 2018 Campaign. As a part of
the Program, I am receiving compensation in
the form of products and services, for the
purpose of promoting The Home Depot. All
expressed opinions and experiences are my
own words. My post complies with the Word Of
Mouth Marketing Association (WOMMA) Ethics
Code and applicable Federal Trade Commission