"Clutter Costs Me Money"
As the small business owner I need to make sure that we are set up to accomplish all I put before my employees. That means I have to give them a good set up for success. Have you started a job and spent more time digging around in a cluttered tool caddy for what you need, especially if the items are smaller and drop to the bottom? Now be honest, I am pretty sure we all can use more organization in our lives, not to mention our job sites.
My crew does cleaning for HVAC so we are in need of an assortment of sizes of screws, washers and caps for access points we make to clean out the systems. I have to say these compartments in the Dewalt organizer make getting the job done more efficient in the end. Less trips back to the truck for the right size fasteners and for me that spells out productive employees, which translates to happy customers. No Joke, I am so much better to work for when I have productive people making customers happy.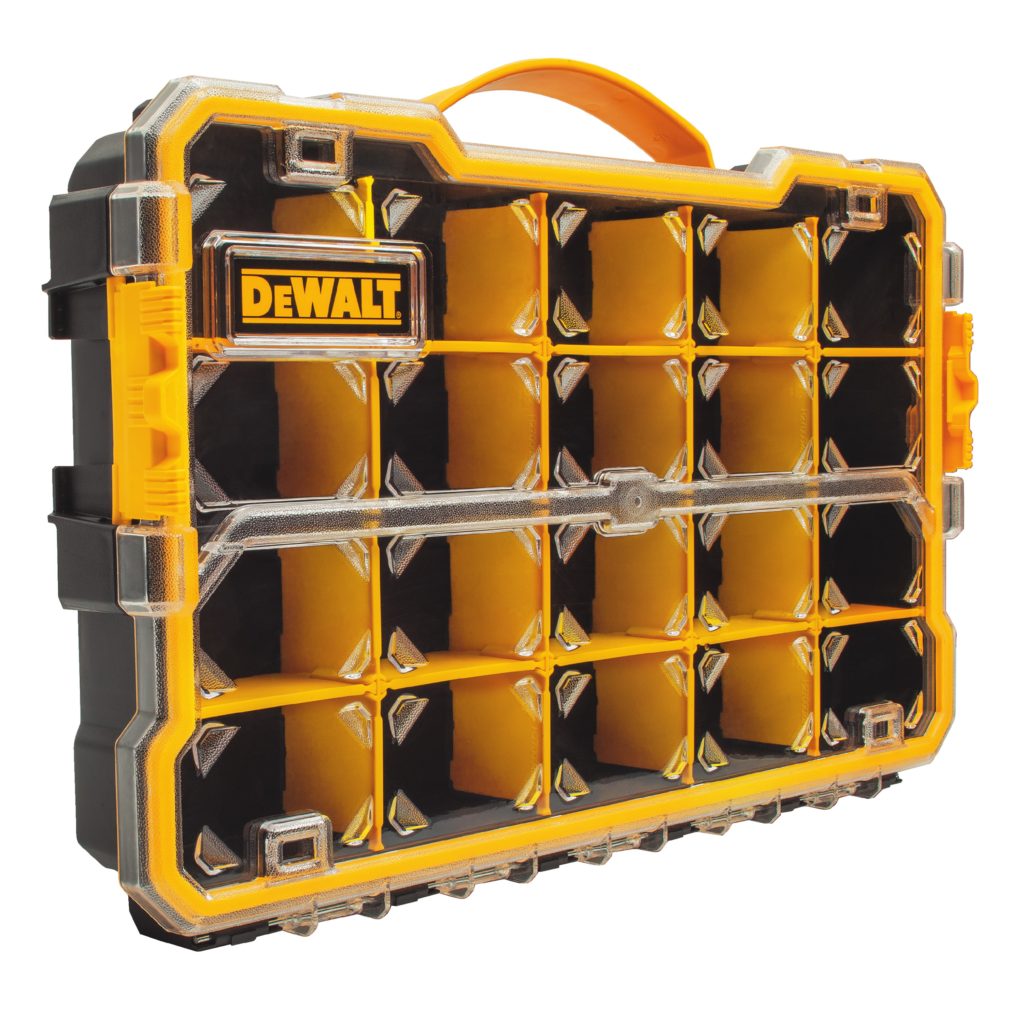 It's titled "Guaranteed Tough" but my crew can certainly put toolboxes through a battery of test. The boast is, if it fails they replace. It seems like a tough plastic so I don't expect it to be destroyed like some of the cheap knock offs out there. I look forward to what this might look like months down the road. Although I like the 20 compartments for our needs it was nice to see we can adjust the dividers to larger or longer spaces. Definite win!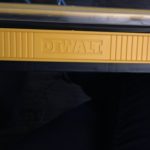 The handle is thin as you can see in the photo but if you are carrying a lot of weight in yours it may make an issue. I can see that it could fail over heavy loads for long-term use. This baby is the size of a small briefcase, hmm, wonder if I can make it over for that? Stay tuned there may be a whole new arrangement for tools and toolboxes on the page.
Although it is similar to the T-Stacks and the Tough System it doesn't interlock with those. I would say this is a disappointment if you have some of those systems already on hand. You have an option to purchase other pro units and combine them.
Side latches enable stacking to other units including DWST14825 deep pro organizer, DWST14925 shallow pro organizer and DWST14835 10 compartment pro organizer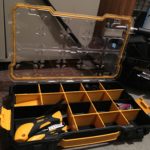 The latch system though is great. A secure and tight latch making a seal on each space, just what is needed when full of fasteners. No one wants to pick it up and have the top open up spilling out its contents or find the contents spill into the next space.
The hinged clear lid looks to be a nice complement. See through is a must! Good job Dewalt! We know what we have at a glance, not to mention at the end of the work day, what needs to be restocked for the week. When I first looked at this I couldn't imagine it would be useful. I have to admit at the price of $13.97 at Home Depot "Shut up and take my money!" If you need help to get your "stuff" together this is the way.
I am not gonna lie, I am now looking at how I can make this help me in other areas of my life. I can foresee so many places I can make better with the use of such a simple container.
If you are in the market for storage on the job, then I suggest checking into the Dewalt 20 compartment organizer at Home Depot