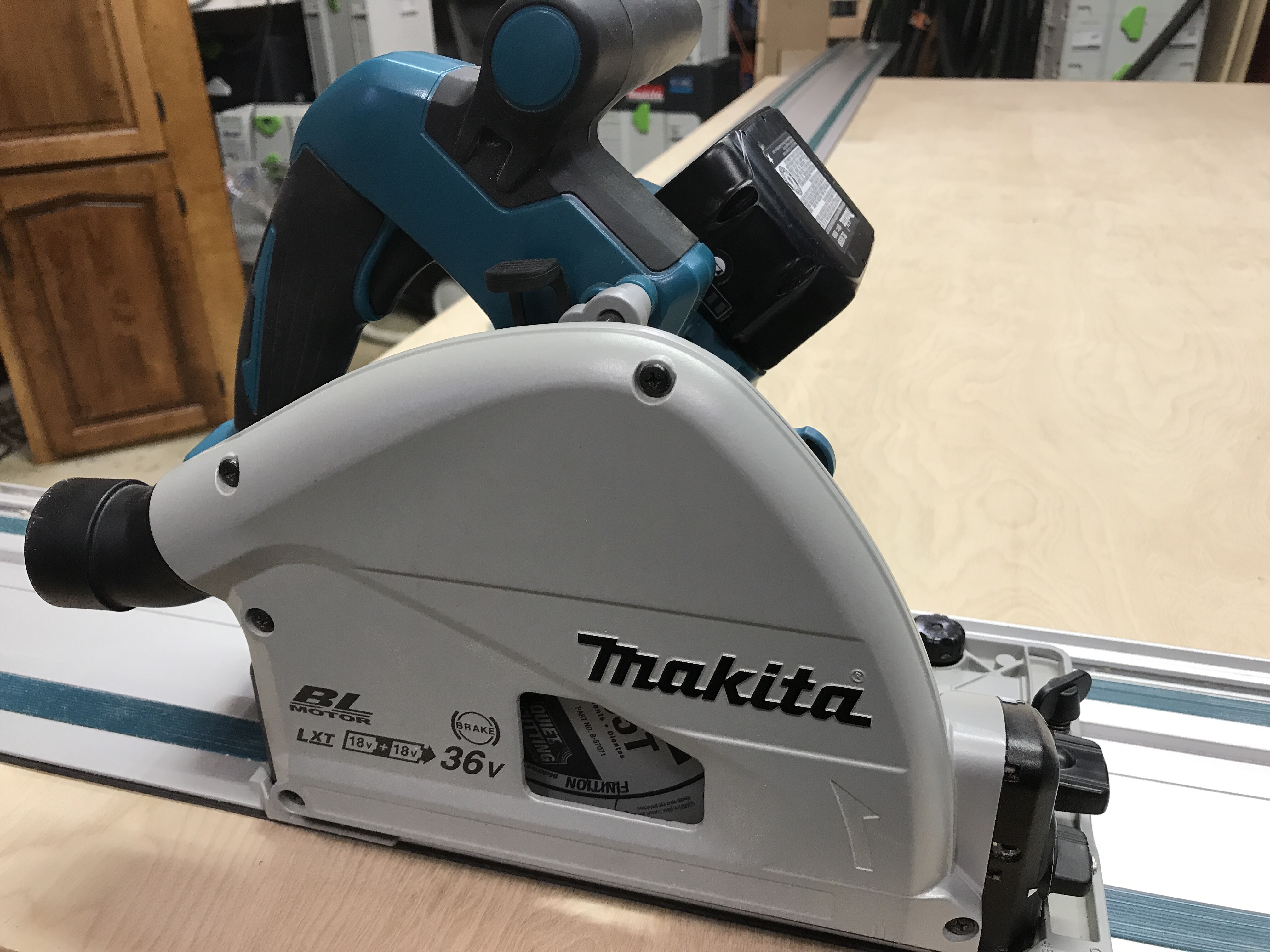 Check out the awesome X2 at Home Depot
What can I say? I love track saws. I've been using them for years. They make many hard tasks easier. Once you have one it's impossible to go back. It changes something inside of you. Even stubborn doubters have changed their minds in as little as one use.
I used to think I had no need for a track Saw. I felt like a straight edge and a couple of clamps were enough to make nice Straight cuts. I used to say, "Track saws are too expensive for what you get." How wrong I was. There is more to it than just making straight cuts. The first track saw I used was a cheap one from grizzly. It wasn't very good. The dust collection was horrible and the splinter guard was off by 1/8″ but it was good enough that I soon realized that I needed a tracksaw in my life.
I originally wanted a Makita since I was against Festool pricing at the time. The problem was that I couldn't find a Makita anywhere within a 3 Hour drive and I wanted to try the Saw before buying.
My favorite lumberyard Schutte Lumber in Kansas City, MO invited me to a Festool event and I decided to go ahead and check it out. I have to say I was hooked! I bought the TS55 Saw which is the smaller Festool and a CT36 dust extractor. The Saw served me well for about a year and then the cordless TSC55 came out. I was so happy with the cordless one I rarely wanted to use the corded Festool.
I still wondered what the Makita was like so I ordered one last year. I was very pleasantly surprised. I found that it was excellent in many ways. It has noticeably more power than the Festool saws. It makes the same quality of cuts as the Festool saws and it cost a lot less. In fact knowing what I know now, if I had to do it all again I would not hesitate to buy the Makita first.
What about the XPS01 cordless Makita? It is the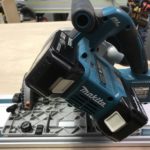 newest one on the market and let me tell you it is very impressive. It does everything all the other track saws do but it is also nicer to use than most. That is very important to me. If I truly enjoy using a tool then my day goes much better. This saw has a long list of things that stand out. First off there is no cord. No one is going to walk by your workbench and trip llon the cord causing your saw to crash to the concrete floor below. The short track is identical in length to the Festool 55″ but the long track is almost a foot longer making it much nicer to use on full sheets. To me it has the most comfortable main handle and side handle. It has the smoothest plunge feel of all of the track saws I have ever touched. It glides on the tracks like nothing else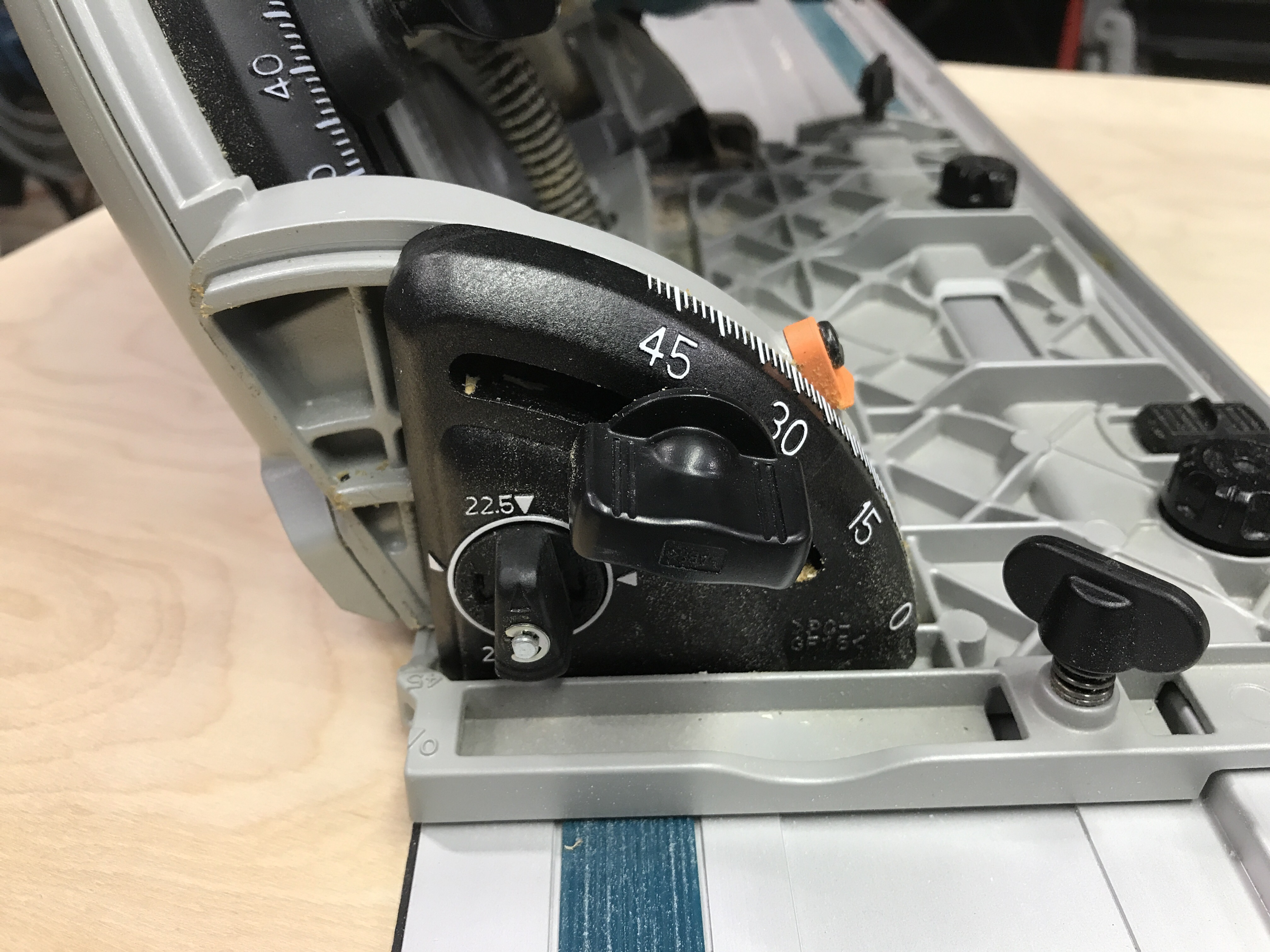 on the market. It has the nicest bevel set up . It has a -1° stop as well as a 22 1/2° positive stop and a 45° positive stop and it will go up to 48° positive stop. It is about 1 lb lighter than the Festool cordless. It is much much more comfortable to use than the DeWalt. It uses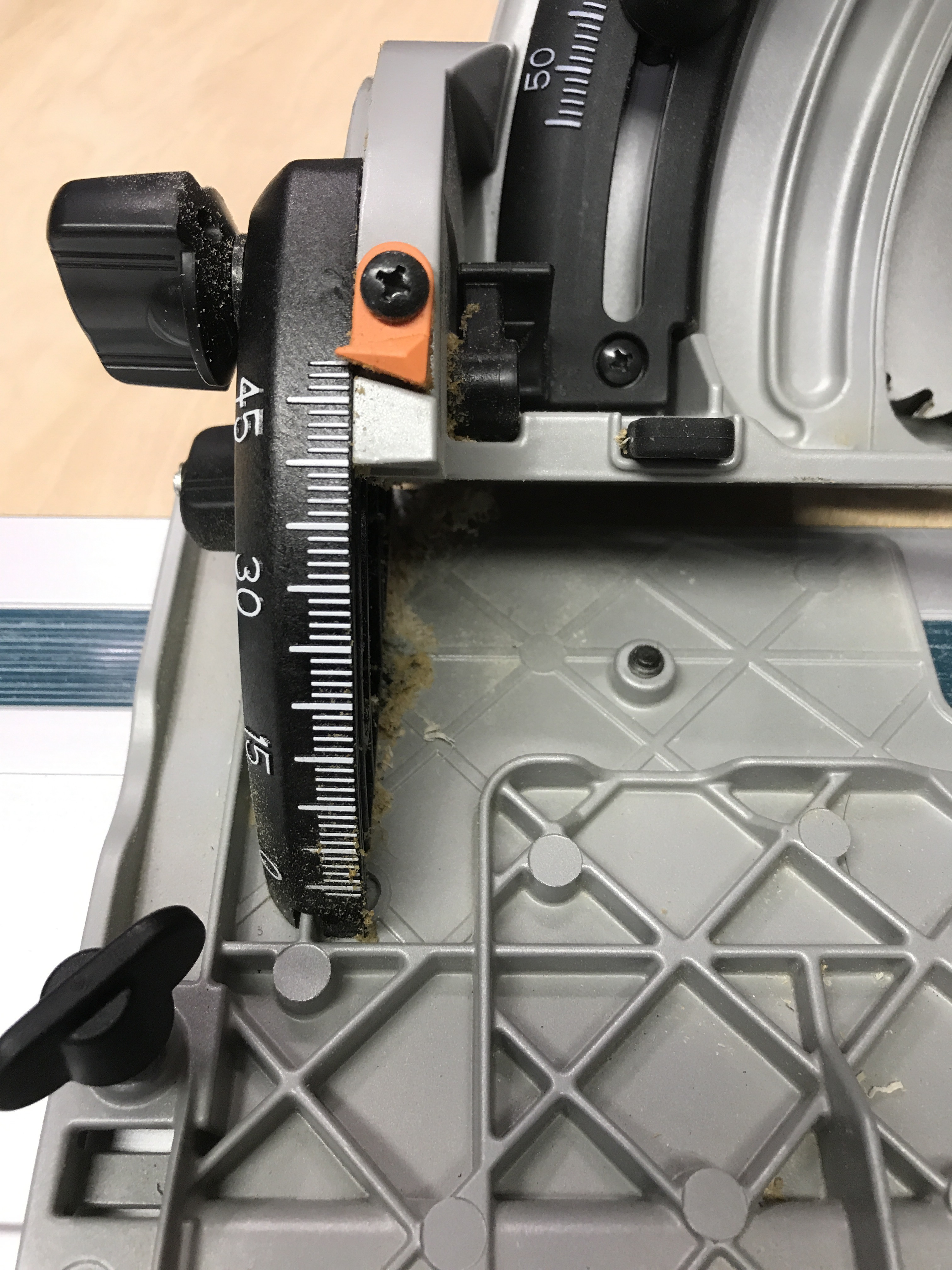 an ultra thin kerf blade and powerful brushless motor with auto downshifting so it can blast through material easier than just about any other cordless or corded track saw I have used.
Check this link below for a video of it in a tough cut. Please keep in mind the dust bag was full before the cut and a lot of the dust is coming out the bottom of the saw because of it.
Makita is famous for putting great blades on their saws from the factory. At first I was a bit concerned about the saw having a 52 tooth ultra thin kerf blade. I knew it was a really good idea for cutting power and run time but I wondered if it might flex more in the cut and leave a rough edge compared to a full kerf sawblade. After using it on the job for building and installing cabinets and breaking down full sheets in the shop I realized that those fears were unfounded.
The 52 teeth do a very nice job of making very clean cross cuts even in thin veneers. I have used it mainly without the 2 mm scoring feature and the results have been quite good. It is even cleaner when you use the scoring setting. If I find myself in a situation where I am using an expensive piece of material I may be more inclined to use the scoring feature. Even though I don't use the scoring feature much it is good to know that it is there.
I think the blade is made by Tenryu. It is extremely similar to their ultra thin kerf blade. Whether it is or is not it is a wonderful blade and I wish it would work on my cordless festool without removing or changing the riving knife. (I do believe the Tenryu version comes with a thinner riving knife for the Festool Saw)
Another huge advantage of the Makita XPS01 track saw is they have an unequalled range of compatible high performing woodworking and carpentry tools on the 18 V LXT and X2 36v platform. I really feel that the X2 36 V system is an Excellent solution to provide heavy duty tools without forcing users to go to a larger battery system.
There are a couple of things I would change if I could. I would like to see an offcut splinter guard like on the Festool TSC55. (I think it is patented so I don't see that happening) That piece is probably the most important thing that sets the Festool apart from all other saws on the market. It increases the quality of the waste side of your cut and it increases dust extraction with or without a vacuum extractor. The next thing I would add is a good dust bag. I know it is meant to be used with a vacuum extractor but the saw catches an incredible amount of dust with just a dust bag. People have been modifying the Festool TSC55 dust nozzle to fit the Makita so they can use the Festool bag on their Makita Saw. I have not done it yet and I am not sure that I will. I have not seen a nice clean modification yet. I have been using the Dewalt flex volt miter saw dust bag on my Makita. It works well but it needs to be dumped frequently. It would be nice to be able to use it with one battery in a pinch as well.
Some people say it needs a riving knife but I honestly don't miss it. I have never had a kickback with it or the corded version on sheet goods or solid wood. Even worked and twisted word has not been a problem with this saw. Please don't feel that I am against riving knives because I am not. If the saw was sold with one on it I would not remove it. I definitely like a riving knife on my tablesaws when I am not using overhead guard with a built-in riving knife.
The advantages far outweigh the disadvantages with the Makita XPS01 36 V cordless track saw. If I found myself without a track saw tomorrow because of theft or fire, this unit would absolutely be the very first one I would buy . To me it dominates in performance, features, compatibility and value.
I review and recommend products to help you buy the stuff you need. If you make a purchase by clicking one of my links, I do earn a small commission. My pledge to you is this: I will always say what I really feel. I will not taint my reviews to make a quick buck at your expense. I want you to know the truth about the tools I review for the good or the bad. My picks and opinions are independent from any business incentives.