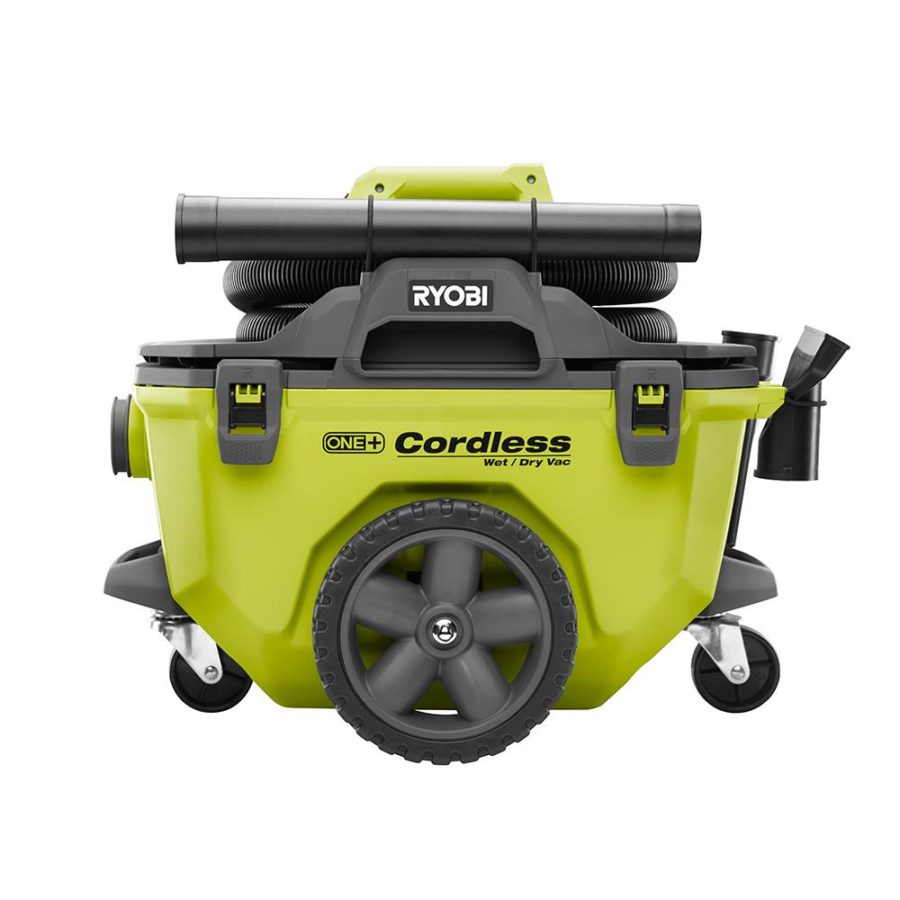 Chapter One:
At Home
The
Ryobi cordless Wet/Dry
vacuum proved very handy a couple of days ago in cleaning the car at home. You know, wash the car in the driveway, then pull out the floor mats and vacuum the carpet. Now, at the car wash you run around like wild, trying to not waste the quarters you fed into the vacuum. At home, no quarters but the vacuum frequently gets hung up by the cord getting trapped under a tire because you very much have to move about to reach everywhere. With the cordless vacuum that just will not happen. Also, no frayed cord dragging across wet ground threatening to light you up. Anyway, this vacuum has other virtues, too. A low center of gravity for instance, large side wheels that refuse to get hung up on any obstacles, casters front and rear, more carry handles than you have hands, the vacuum hose latches into place so you cannot pull it out by accident, clever onboard elastic tool storage. In use, the Hose Deck becomes the obvious place to hold whatever tool you don't need in your hand this minute. The whole package is low profile so it will probably fit under some other tool in the garage or workshop. All that said, you may be running around the car like wild to get the carpet vacuumed before the battery is exhausted. The fix, of course, is a second battery because the charger will have the first one recharged almost faster than the second one can run down.
Chapter Two:
Worksite
Siblings and in-laws are a little better than rank amateurs at constructing a cabin. The one working electrical outlet is tied up with extension cords. The cordless vacuum is great at going to where it is needed without impacting anyone else. Never mind other trades at a real work site; this is the brother-in-law minefield! Tools that contribute to peace? Priceless! Well not exactly but only
$99
. By the way, this vacuum is not the screamer I was afraid it would be. Originally I did not think it was really suited to work site use, but my wife and her sisters gave it a workout so I have had to change my mind. Since my house was built-in 1945 it has only 60 amp service. Until I get it rewired, cordless tools are a godsend and very welcome.
Chapter Three:
Suggested Uses
I have been writing about the
Ryobi One+ P770 Wet/Dry Vacuum
. It came to me with a battery and the hose, of course, two wand sections and a couple of attachments. Onboard storage will accommodate a couple more attachments of your choice and I suggest you add them to keep the elastic snug. I have not mentioned its wet virtues because I almost never use a vacuum on liquids but for this one I made an exception. How could I not when wet is in it's very name? Someone suggested timing emptying a 5 gallon pail but all I had handy was a 5 quart bucket (full disclosure: I filled it to the 4 quart line). The bucket was empty in 15 seconds at most, faster if I had kept up with the dropping waterline better. I did remove the pleated filter. Third-party filters are available. This test brought to light some unexpected details. The top latches on very secure and the latches stand proud so replacement is, literally, a snap. The top is gasketed, too. The carry handles I previously thought merely abundant are really very well placed for emptying the vacuum, especially as there is no drain port. Upside down it is easy to see that the various components are built up with friendly fasteners. The more I work with this Ryobi cordless vacuum, the more impressed I become with the thoughtful practicality of its engineering.
Chapter Four:
Multi-size no-tip wheel design and 360° mobility for balance rolling over obstacles such as cords and thresholds
Corded performance with 80CFM, all with cordless convenience
Convenient onboard accessory storage and no-mess hose storage dock
Multiple carrying handles for easy transportation
Removable top for simple emptying
Compact design for space-saving storage
Crevice tool, floor nozzle and extension wands included
Part of the Ryobi ONE+ family of over 100 products