This post is sponsored by The Home Depot.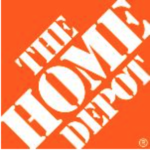 One of the biggest surprises at the Home Depot prospective event in New York was the Ryobi 18v one + 18v bolt cutter. I wasn't expecting anything like it from Ryobi. I figured a company that already made press Tools would make one first.
You probably already know that Ryobi isn't a brand you'll see on my jobs very often. That said, I totally see their place and respect what they are. DIY tools with a lot of features and performance for the money. Maybe you didn't know that I actually used to buy them in the early 90's when I couldn't afford higher end tools. They always gave me the most bang for my limited buck back then. I always got a couple of good years out of them and earned enough money to save up for more and better tools.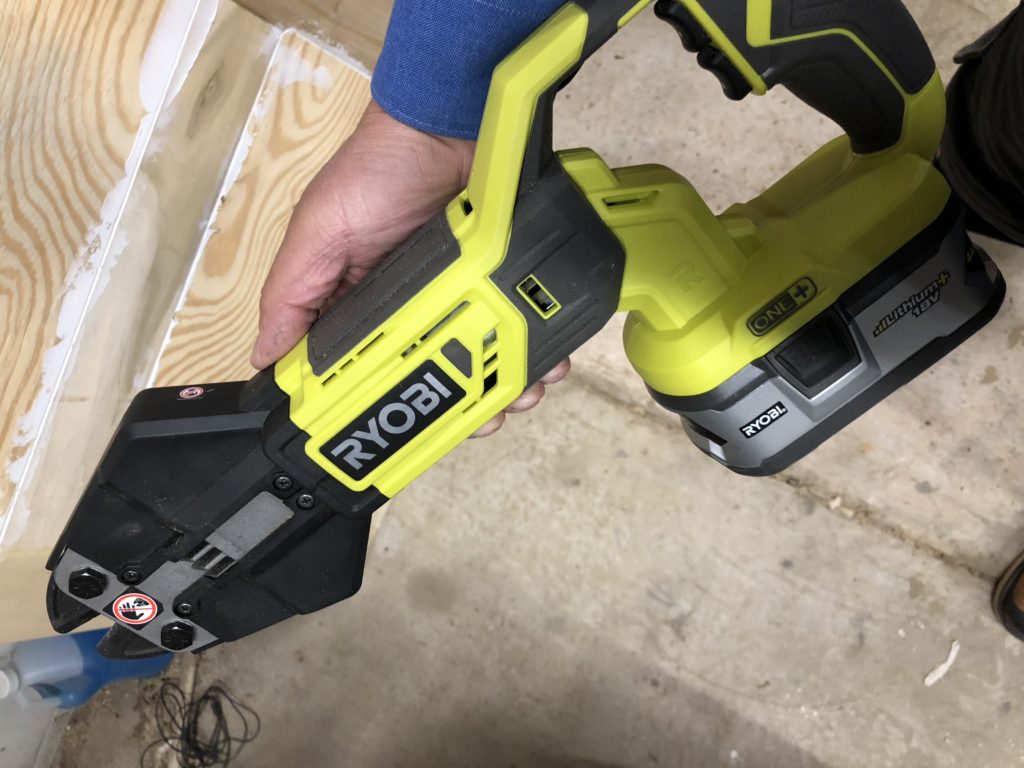 This bolt cutter seems pretty well made for its intended purpose as most Ryobi power tools are. It is a nice size with enough grip area for both hands to control easily. There is plenty of rubber oversold for a secure grip. It's supposed to cut bolts up to 3/8". I can say it will do it depending on bolt hardness. It will do grade 2 for sure. Sometimes it stalls out but if it's the right size and grade all you have to do is back the jaws off,push the button again and it gets another surge of power.
We have used it on wire closet shelving and it really seemed to be a good fit for that process. It has plenty of power for both the small and larger wires.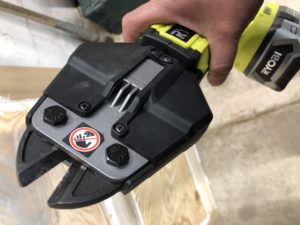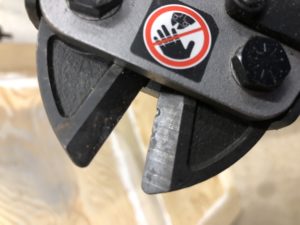 What I like about it is compared to manual cutters there is a lot less hand shock. I can definitely see where these would be very useful for people with arthritis or carpal tunnel syndrome or other hand or wrist issues. Even though I am strong enough to cut a bolt or lock with them it doesn't mean that the cut feels good when the cutter finally breaks through. With the Ryobi you just push the button and let the tool do the work.
One thing I highly recommend is to make sure you are wearing safety glasses and that both pieces are secured so they don't fly when the material yields to the cutting pressure. I have had quite a few pieces fly with considerable force while using the Ryobi cutters. This is something you must do with any bolt cutter but since these are easier to use it may be easier to forget.
I am glad we had this opportunity to review one of these. I probably would not have chosen to order one on my own. This THD-Prospective program really has me looking at things I would never have thought of trying.
Try one for yourself from Home Depot.
I acknowledge that The Home Depot is
partnering with me to participate in
the ProSpective 2018 Campaign. As a part of
the Program, I am receiving compensation in
the form of products and services, for the
purpose of promoting The Home Depot. All
expressed opinions and experiences are my
own words. My post complies with the Word Of
Mouth Marketing Association (WOMMA) Ethics
Code and applicable Federal Trade Commission