I love the Nitto Trail grappler tires on my truck. They offer excellent grip in mud, snow and sand. The ride is very nice. They are also pretty quiet for a mud tire. Every 5,000-7,000 miles I like to rotate them to keep the wear more even and to quiet them down as much as possible. If I leave them on too long without rotating they get rougher riding and much louder. Rotation is essential for almost any tire but it is more so with mud ties.
I know I know, all you need is a jack and lug wrench but how fun is that? In this article we will be taking a look at a couple of options from The Home Depot that are far more interesting.
The Ridgid 1/2" brushless impact wrench seems to be a really solid tool. It is made of tough plastic with that grippy protective over mold. The grip is very slim and comfortable. I could use it all day without complaining. Layout is very nice. There is a simple slide switch to select the four speeds. Having the slower speeds is important on an impact wrench. Not as much when taking things apart but because of the power they produce you can easily over tighten a fastener or damage your work.
The size and weight are really a nice balance between the high torque monsters and the compact impact wrenches. This is close in dimensions to the Milwaukee and DeWalt mid torque wrenches.
I wouldn't say it's made for a tire shop or a full-time mechanic although it would no doubt serve them well. It is aimed more at serious do it your-selfers and contractors who need the power without all the extra weight and don't want to drag an air hose around the job site or garage.
So will it take off lug-nuts?
That is probably the most asked question when discussing impact wrenches. Power output is very respectable at 450 ft lbs. that puts it right in the upper end of this class. It actually surpasses some corded impact wrenches and some of the older heavier full size 18v high torque impact.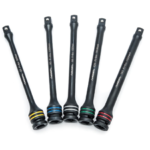 For most vehicle plug nuts that is plenty. Cars and light duty trucks will be a piece of cake. I have a one ton truck with eight lugs on each wheel. There is enough juice in a 5.0 to do all 4 wheels off and back on. Of course when reinstalling the wheels I need to adjust the torque down so I don't over tighten the nuts. Over tightening can cause the studs to completely break off. That's never a good scenario!
This combo offers two ways to adjust the torque down to avoid damage. The first way was already mentioned. There is a slide switch to allow you to choose four different levels of torque to match the application. modes 1,2 and 3 are low medium and high torque settings. " A" or auto mode runs the impact wrench normally until it reaches enough resistance to Start impacting then it immediately shuts off to avoid damaging the studs or the lug nuts.
The other way is to use the Husky torque limiting extension bars between the impact wrench and your socket. They are also called torque sticks. These are made specifically for impact wrenches. They will not help with a regular ratchet or driver drill.
They are made to twist slightly with each impact event. This will absorb a predetermined amount of the impact force thereby limiting the max torque to a certain level. There are four different extensions corresponding to four different levels of torque.
My truck requires 150 ft lbs for each lug nut. I grabbed the 140 ft lb extension and proceeded to torque the nuts down on the first wheel . The impact wrench was on The maximum setting. It is recommended to always check the final torque with a torque wrench. I adjusted my 1/2" torque wrench to 150 ft. lbs. to make sure they were correct..
We have to understand that there is definitely a percentage of variation when using these extensions. How long the wrench is allowed to impact. The cleanliness of the threads. Presence of rust. Lubrication etc. can all affect final torque. What I wanted to do was get the lug nuts on and close to the recommended torque.
This was certainly faster than running the lug nuts by hand. Whether the torque limiting extensions are for you or not depends on what you want to accomplish with them. They are not accurate enough to use for final torque of your lug nuts. However, they can save time and should get you in the ballpark then you can finish up by hand with a proper torque wrench.
Ridgid 18-Volt GEN5X Cordless Brushless 1/2 in. Impact Wrench (Tool-Only) with Belt Clip
Brushless Motor Technology delivers over 50% more runtime and longer motor life
4-Mode settings provide adjustable power and speed for the most demanding jobs and precision work
Maximum torque output of 450 ft. lbs. of torque for heavy-duty applications
Tri-beam LED around the front housing helps to eliminate shadows
Auto mode setting automatically shuts the tool down when it begins to impact to prevent overtightening
Die-cast gear box for increased durability and professional quality
1.2 in. friction ring anvil is compatible with popular impact-rated sockets and allows for quick socket changes
Backed by the industry's only lifetime service agreement
Husky 65-140ft. lbs. Torque Limiting Impact Extension Bar Set
Set includes: (5) 1/2 in. drive torque limiting extension bars: 65, 80, 100, 120, 140 ft. lbs.
Bars are designed to limit the amount of torque applied to a fastener when using a calibrated impact wrench
Color coded rings allow for easy torque range identification
Bars are designed for use with both cordless and pneumatic impact wrenches
Designed to be used with a calibrated pneumatic or battery powered impact wrench (calibration instructions included)
Extension bars are 8 in. in length
Ideal for use when changing lug nuts on multiple vehicles
Pin hole at the base of each bar for use with pin and O-ring for a secure attachment to drive tools
Cold formed from chrome molybdenum alloy steel (Cr-Mo) to withstand heavy-duty impact use
Chamfered lead-ins help to provide fast and easy placement onto drive tools and fasteners
Laser etched marking stand out on the black finish for easy identification
Plastic storage case is stamped with size markings for easy identification and organization
Meets or exceeds ANSI standards
Husky mechanics hand tools are guaranteed forever; if your Husky hand tool ever fails, bring it back and we will replace it free
I review and recommend products to help you buy the stuff you need. If you make a purchase by clicking one of my links, I do earn a small commission. My pledge to you is this: I will always say what I really feel. I will not taint my reviews to make a quick buck at your expense. I want you to know the truth about the tools I review for the good or the bad. My picks and opinions are independent from any business incentives.