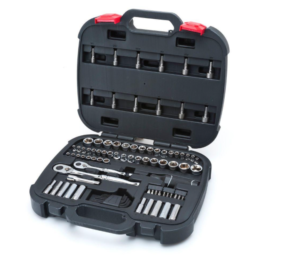 Husky 92 piece 1/4" and 3/8" drive mechanics tool set.
Sometimes less is more. We don't always need every tool made to complete a repair. This well equipped
$39.00
set has really come in handy because of its smaller footprint. I sometimes find myself looking at it and wondering where else it might fit. Under the truck seat. Behind the rear seat. In the camper. It includes over 90% of the most common fasteners we run into daily whether it's in the shop, home or the car.
The tools themselves seem to be very well made. We understand they aren't really aimed for professional mechanics but that doesn't stop Husky from testing them to extremely high standards. We were able to witness some of this extreme destructive testing at the
Home Depot headquarters
. They thoroughly test everything about the tools. They don't just do it once, they do it repeatedly. Periodically they will bring in another sample to test all over again. The strength of the steel. The failure limits. The chrome plating. The fit and finish. All details must match their specifications.
The main attractions of this set are the surprisingly nice 72 tooth 1/4 in. and 3/8 in. drive locking ratchets. You will be pleased to note they only need 5 degrees of swing to turn the sockets. The lock is very secure. You won't be losing sockets with these ratchets. They have an easily found quick release button for fast and clean socket change-outs. the reverse lever is well placed and easily switched without looking at it. one thing I know from watching destruction tests is that I'll never break one of these under normal use. I think a cheater pipe would do it but I don't use them on ratchets.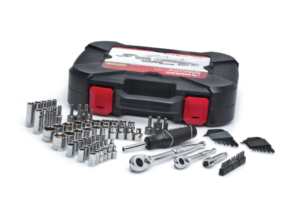 Now for the cold formed Chrome Vanadium steel sockets.
There are 52 in total.
14 standard length 1/4 in. drive 6-point sockets.
8 standard length 1/4 in. drive 12-point sockets.
10 deep 1/4 in. drive 6-point sockets.
20 standard length 3/8 in. drive 6-point sockets.
They feature an off corner loading design which prevents slipping, stripping and rounding off of nut and bolt heads. The mouth of each socket is chamfered to help to with easy placement onto fasteners
The sizes are deeply stamped in fairly large numbers for easy identification.
We like the feel of the ratchets and sockets. The handles are comfortable and will allow you to pull pretty hard on a fastener before your hand hurts. The chrome plating feels like it won't chip off like some cheaper socket sets. Chrome provides corrosion resistance and added durability. It also easily wipes clean of oil and dirt
There are also 38 other heat-treated S2 tool steel driving tools. there is a 1/4′ hex screwdriver handle with a full set of metric and standard nut drivers. there are also a nice assortment of Phillips, flat head and torx bits.also included are metric and standard hex wrench sets.
Everything fits neatly in the case. Nearly every piece has a clearly marked spot.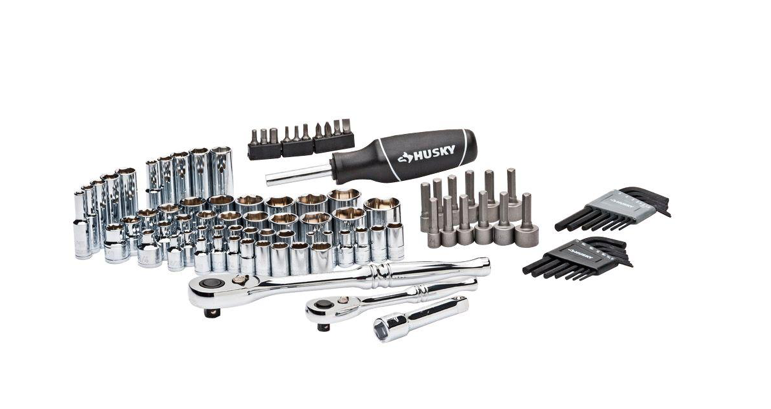 This set like all Husky tools carries a full lifetime warranty. That means if your Husky hand tool ever fails, take it to Home Depot and they will replace it for free.
I review and recommend products to help you buy the stuff you need. If you make a purchase by clicking one of my links, I do earn a small commission. My pledge to you is this: I will always say what I really feel. I will not taint my reviews to make a quick buck at your expense. I want you to know the truth about the tools I review for the good or the bad. My picks and opinions are independent from any business incentives.