Dewalt Cordless Orbit Sander Review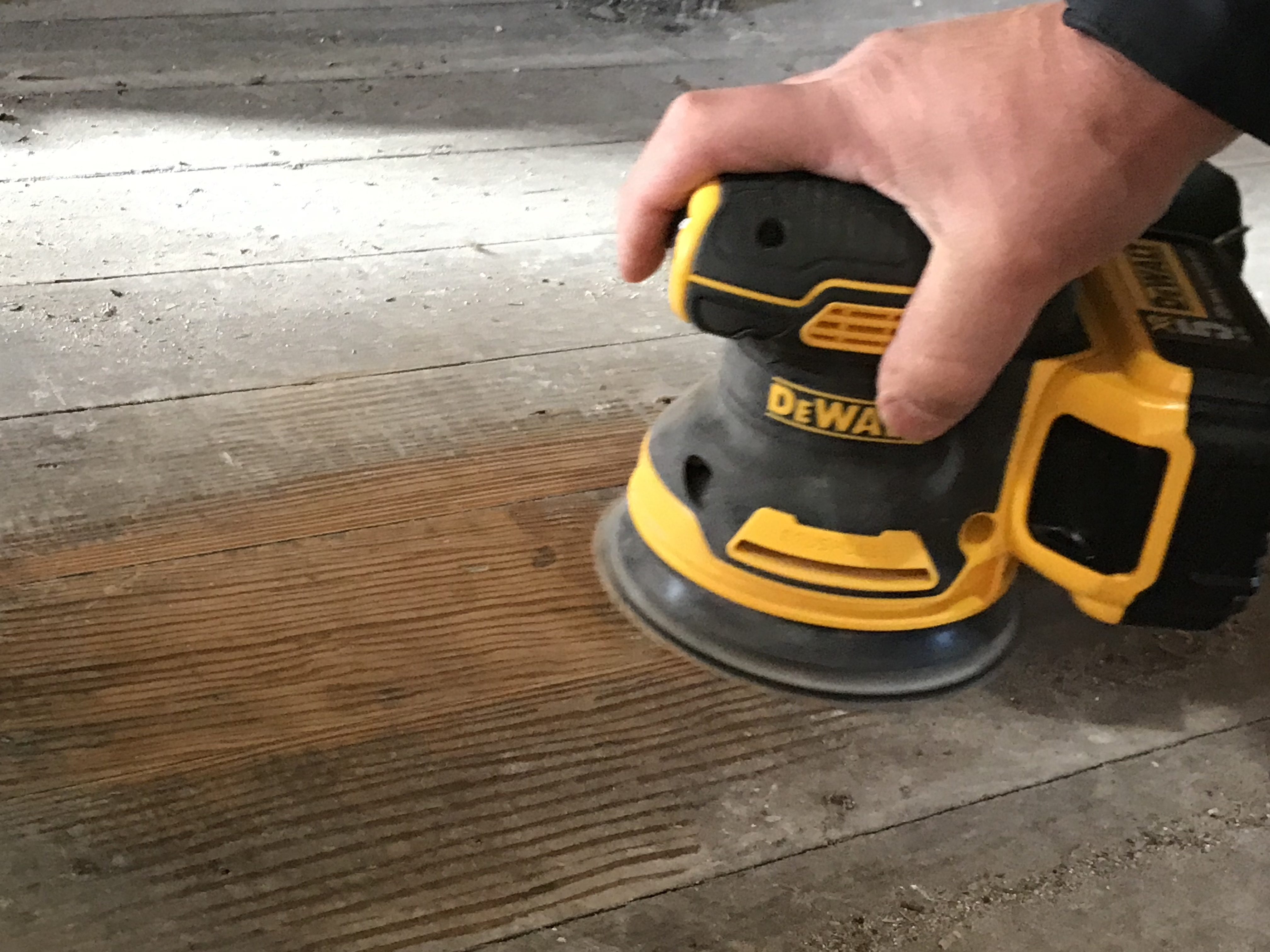 Good cordless sanders are rare. Some are excellent and others are not so much. Brushless cordless sanders are even more rare. We are focusing on the Dewalt Cordless Sander in this review. It is the newest sander on the market at the time of writing.
The announcement of this new Dewalt cordless sander was such a welcome one.
DeWalt
fans have for years been clamoring for just such a beast from team yellow. It was several years ago that Makita released their 5" random orbit sander and each and every year since we have been wondering if this would finally be the one.
Dewalt Cordless Orbit Sander Review – It's Finally Here
The wait is over and I have to say it was well worth it. This new
Dewalt Cordless Sander
is loaded and lives up to the hype! Overall it is very comfortable with lots of rubber over-mold. It has the industry standard 8 hole pad with a hook and loop connection for quick abrasive changes. The pad has a brake to prevent over speeding and burning into your work surface. It also features variable speed on a dial. There is a nice soft dust bag that catches a ton of material and won't get in your way like a hard box will. If you have a
Dewalt
Vac this sander hooks up to the air lock connection.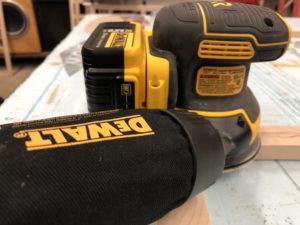 Go Against the Grain
One thing that is not standard on this sander is the battery. On most box store sanders the battery is vertical. On the Dewalt Cordless Sander (and other Stanley brands sanders) the battery is horizontal. At first it looks odd. It may be the first thing you notice when you look at it. It allows for a lower profile with a corresponding lower center of gravity. If you line the
DeWalt
up with a competing sander you will immediately see that it noticeably shorter. I think it's a good idea. A lower center of gravity makes for a more stable tool. It feels better balanced even when sanding at an angle. Better balance helps us to avoid gouging our work.
Built for the Long Run
The power and runtime are very respectable on this bad boy. On a 5.0 battery we are getting well over 38 minutes of runtime. Check our video on
Instagram
By comparison the new Milwaukee will go about 26 minutes on a 5.0. There is more torque than I expected. Its easily on par with corded sanders. The variable speed dial is there because you will need it. On some cordless sanders all you need to do is put them on the work and they slow down. On the
Dewalt Cordless Orbit Sander
you are getting full power unless you dial it down when the need arises. You don't always want full power. Some materials or details on a project need a more delicate touch. Sometimes we cant keep up with all that power. The dial is a great feature to have. Its also well placed right by the power switch which is where my fingers naturally lay over the top edge.
On runtime testing I like to use padded gloves.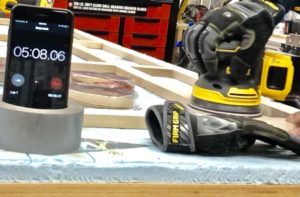 They reduce vibration. Even though this sander is well balanced it has some vibration as all sanders do. For the past month we have been using the Firm Grip Heavy Duty work gloves from
Home Depot
. They are very comfortable and have reinforced areas for better durability.
Proprietary Blues
As Mentioned before the sander fits
DeWalt
brand air lock hose fittings. That means it clamps in very securely to a DeWalt factory hose. It also means it doesn't play well with others. Other than the factory hose, I cant find any other dust extractor hose that fits the sander dust port inside or out. I have found a few rubber Fernco 1 1/4 x 1 1/4 or 1 1/2 inch plumbing fittings at
Home Depot
that fit perfectly and work nicely with any vac hose. There is also a small Makita accessory dust collection hose # 192108-4 that fits into the dust port tightly.
I feel cordless sanders can be primary sanders for lighter use like quick sanding between coats of finish or on site sanding to complete a job. For heavy or extended use a corded sander is lighter and works better with a tool activated dust extractor. These cordless sanders have corded power but they are not as comfortable or balanced as their corded counterparts. Therefore I use them as supplemental sanders. Your mileage may vary depending on your situation. Either way this
DeWalt
brushless sander is the best value in cordless sanders today with top performance and runtime with a nice ergonomic design.
If this Dewalt Cordless Sander Review helped you decide, check them out at
ACME TOOLS
in bare tool or KIT form.
The DEWALT DCW210 allows you to sand without the hassle of a cord

Hook and loop pads are designed for easy replacement

Part of the DEWALT 20-Volt Max Battery system (batteries and charger sold separately)