We received the Milwaukee M12 cordless cut-off saw to review. Sometimes you have to scratch your head when tool manufacturers bring out a new idea. Other times you wonder why it didn't come out sooner.
This little multi-cutter from Milwaukee is pretty unique in the tool world at least in North America. It's basically a 3″ mini grinder with brushless direct drive. Any tool is more efficient if the power doesn't have to change direction through gears. It is also more efficient if it is brushless. That's a good thing with a 12v tool since the small batteries are limited.

What You Get
The saw comes with 3 different blades for cutting different materials. There is a bonded abrasive metal-cutting blade, a carbide grit on steel blade for plastics, drywall and maybe thin wood products. The arbor is 3/8″ for use with regular 3" cut-off wheels available at any hardware store however Milwaukee did something really nice for us. They included a 7/16″ arbor flange so we can use competitors blades (Dremel saw max) they didn't have to but I'm glad they did. I have lots of Dremel blades and this will save me from having to buy more.
Whats it for?
This new cut off is a possible replacement for the Dremel saw max (check the Review) or a pneumatic cut off for smaller stuff in my book. If you've watched us for very long you may have seen us use the Dremel with a vacuum for dust free cutting of Durock cement board tile backer. It always did a nice job however I have longed for a cordless version for a long time. The Milwaukee is the first I have used and it does similar work in a much smaller package.
Limits But Not Limited
With 12v max on tap, it does have its power limits but the super compact size may make the lack of power less of a problem depending on your needs . The key is matching the tool with the work. First thing to remember is pair it with a 4.0 or bigger battery. It needs the extra available amperage they provide compared to the 2.0 Milwaukee sent us for the review. The carbide grit blade is decent for drywall if you make sure you have the blade going toward the dust port. It is supposed to work on wood and plastic. Honestly it doesn't really unless its very thin. Similarly it is not happy cutting schedule 40 PVC pipe. It does ok on thinner slip joint drain pipe and fittings. The abrasive blade does well on sheet metal, thin angle iron, unistrut, spiral duct and small threaded rod. Just purchase extra blades as they wear fast. The diamond blade cuts 1/4″ concrete backer board in a pinch. It cuts plaster and drywall with ease.
What about Tile?
Tile is hit and miss. I really wanted it to like it for tile. Turns out I don't. Some softer tiles like subway seem OK. On harder thicker porcelain there just isn't enough power to keep the speed up. We noticed significant chipping on porcelain.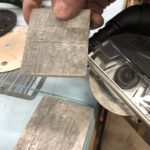 If I could get good dust collection running the motor in reverse I could possibly get better results. A diamond mesh blade would probably help as well. As far as I know there are none available. I will stick to tile saws and 18v grinders with diamond mesh wheels for tile.
Versatility of Milwaukee M12
Milwaukee has designed the cut off saw to be used with or without the saw base for versatility. Its pretty easy to put it on and take it off depending on needs. It clips onto the blade shroud. The shroud itself clicks in to several positions to provide the angle you want. I like the stability and square cut I get with it installed. The base also adds the very important feature of dust collection. There is also an LED light on the bottom of the tool. I use it as a mini flashlight. The light doesn't really shine on the blade therefore it has not really helped me to see a cut line.
Control the Dust with Milwaukee M12
I have at least 8 dust extractors and shop vacs. Would you believe, I didn't have anything that fit? Even the new Milwaukee 8 gallon dust extractor won't fit without an adapter. In Milwaukees defense it does fit standard 1 1/4′ shop vac fittings. When I want to collect dust nothing will stop me. I picked up a used shop vac extension tube and cut the end off. Then I inserted one of my small Makita dust collection hoses. It fit pretty well inside the tube. I like this because it is so small and light. It is less likely to pull me off the cut line than a regular sized hose. You may already have the right size.
As mentioned the saw can be operated in forward or reverse depending on what you want to accomplish. One reason you may want to reverse the motor is to direct sparks away from yourself or delicate materials. You may also be able to reduce chipping in certain materials. Whether you like it or not its still nice to know it's there when you need it.
New Uses
One thing I'd like to try with this cutter is to use it on coping trim. I have tried it on a couple of pieces of crown molding and the results are promising. Normally I use a coping saw, a jigsaw, grinder, table saw and even a miter saw for coping colonial base and base shoe. This is essentially a mini grinder so why not. Check my first video here.
Suggestions
A few things I'd like to change right off. This tool is severely underpowered. It needs a more powerful motor. I think it would benefit from a variable speed dial. Next it has no way to store the blade wrench or the extra arbor. I am afraid they will get lost, it's just a matter of time. Finally, I think there should be a few vacuum adapters so it can be used with more than one size hose.
Other than that it's possibly a handy little cutter that can be used lightly on a wide range of materials. The addition of the removable base and dust collection make it more versatile. I would not buy it for any of my work or even home use. If you know its limitations and still need one check it out by clicking the links to our partners on the side bar.
POWERSTATE brushless motor delivers maximum power and motor life. (according to Milwaukee)

Compatible with common 3 in. cut off wheels with 3/8 in. arbor

Part of the M12 System, featuring over 80+ tools
Add to any M12 bare tool to create your own tool kit

M12 REDLITHIUM battery packs delivers long life and run time with fade-free power

Battery fuel gauge displays charge status on tool

M12 charger offers recharge-statues light indicators and an easy-to-load design