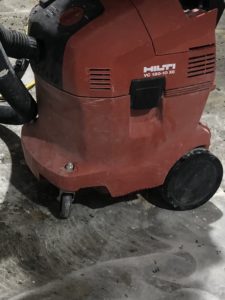 Hilti has always been a brand that represents quality, durability in my mind. I think most would agree. So when I learned of this extractor that they marketed for concrete grinding, cutting, drilling and dry coring tools I was all in. I am a full time flooring contractor. I do a LOT of concrete grinding and floor prep for tile. What attracted me to this vac was the CFM of 150 as well as the self cleaning HEPA filter. Grinding concrete with the wrong tools was a long time practice of mine that I needed to change. We only get one set of lungs so destroying mine with silica dust was something I needed to change.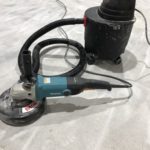 My usual setup was my Makita 7" grinder with an MK brand dust shroud with any available shop vac I had bags for at the moment. I would even grind without bags at times with my 14 gallon Ridgid vac relying on just the filter. I probably cleaned the filter every five minutes when I resorted to this option. Needless to say I was need of proper extraction. My goals were 1) Having the most suction available in a mid size extractor 2) never have to clean a filter again as well 3) avoiding lung cancer down the road.
The Good.-
Enter the Hilti vc 150-10 XE. My first impressions of it were of course the size and shape. I like the size of it because its kind of right in the middle height wise. It's not super squatty and it's not tall and awkward like other high end vacs on the market.
I appreciate the overall quality materials used to make the shell. It's thick and durable. Built to take a beating. The wheels are another plus I really like. The front casters have locking capability and are also made of non mar rubber and roll very smoothly. Power cord storage is nice too. Two hooks on top of the vac act as a nice place to store the heavy duty 12 ga. power cord during transport. As far as the suction goes it really is incredible. This thing really does have serious suction. Keep in mind though that serious suction requires a serious power source. While it is not required to run on a 20 amp circuit, for the longevity of the motor and overall performance of the vac it is recommended. The vac does have tool activated mode as well which is nice if you have a tool you want to use in conjunction with the vac that won't trip a breaker. The vac will come on when your tool comes on. it also runs for a few seconds after your tool stops. Very nice and convenient.
The bad.—
One thing I didn't think I would mind at first was the fact that the auto clean functions every 15 seconds. While this may be best for this vac it does get annoying. This Hilti is loud to begin with but when you add the auto clean on top of it, the noise starts to get to you after a while. The fact that it goes off every 15 seconds also means you get no suction every 15 seconds for 3 quick pulses.
There really is no hose storage on the Hilti. No hooks or bungees. Whenever I transport it from job to job I detach the hose completely and put it in the bed of my truck. The vac is equipped with a nice inlet plug that is attached and is friction fit for when you take the hose off. It keeps all the dust in the extractor and out of your truck. The inlet fits almost any dust extractor hose from Bosch, Fein, Festool and wet dry vacs from Ridgid, Shopvac and Craftsman.
The ugly.—
Plain and simple, clogged filters. Let me say this first before I begin. We have been running this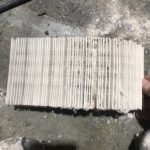 extractor with no bags. (Hilti has determined that we need to be using bags) We run other brands like the Metabo ASR 35 ACP (check the long term review) without bags as well with no issue. After all it is an "auto clean" extractor, that cleans every 15 seconds. We've used the Hilti mostly for grinding high spots on concrete as well as in conjunction with a rotary hammer while taking up tile and thinset. I'm not sure what the issue is but while using it during the demo of old thinset the filter gets clogged to the point that the vac goes into constant clean mode and pulses continuously. This happens very quickly as well, even after cleaning the filter out with another extractor. Hilti suggested we try theirperformance filters. We did and unfortunately had the same result. Clogged filter and vac goes into constant clean mode. This is my only gripe with this vac.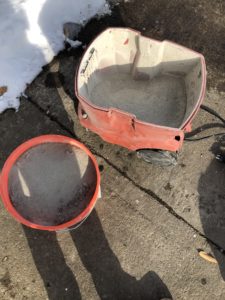 More Of The Good
It should be noted however that when we use it for just surface grinding of concrete with no tile thinset involved, clogging does not happen. We recently ground 1500 feet of concrete some even heavily covered with pressure sensitive glue as well as regular cut-back adhesive. We filled the vac three times with this problem not occurring. I'm not sure what is causing the issue with it going into auto clean continuously. I feel like it has something possibly to do with modified thinsets being heavier or thicker causing the dust particles to cling to the filter. I'm not a scientist or Hilti engineer just my two cents for what it's worth.
The Verdict
The Hilti is on the pricier side compared to its competition which makes it a difficult decision in the first place. When you add the issues we've had with it as well as those of others we've talked to, it becomes a hard sell. On future jobs with the Hilti we're going to take their advice and use their fleece bags to prevent this issue. It's not a deal breaker, it's just disappointing that something with so much promise comes up short in the way that it does. Tile demo is constant in my business. An extractor I can use for the whole process is worth its weight in gold. I really do like this extractor. It has incredible suction, sturdy construction, and a great warranty. Just wish I didn't need bags when tearing out tile and chipping thinset. If you are not dealing with thin set mortar this may be just the vac for you. You will not find a more powerful unit in the 150 CFM category.