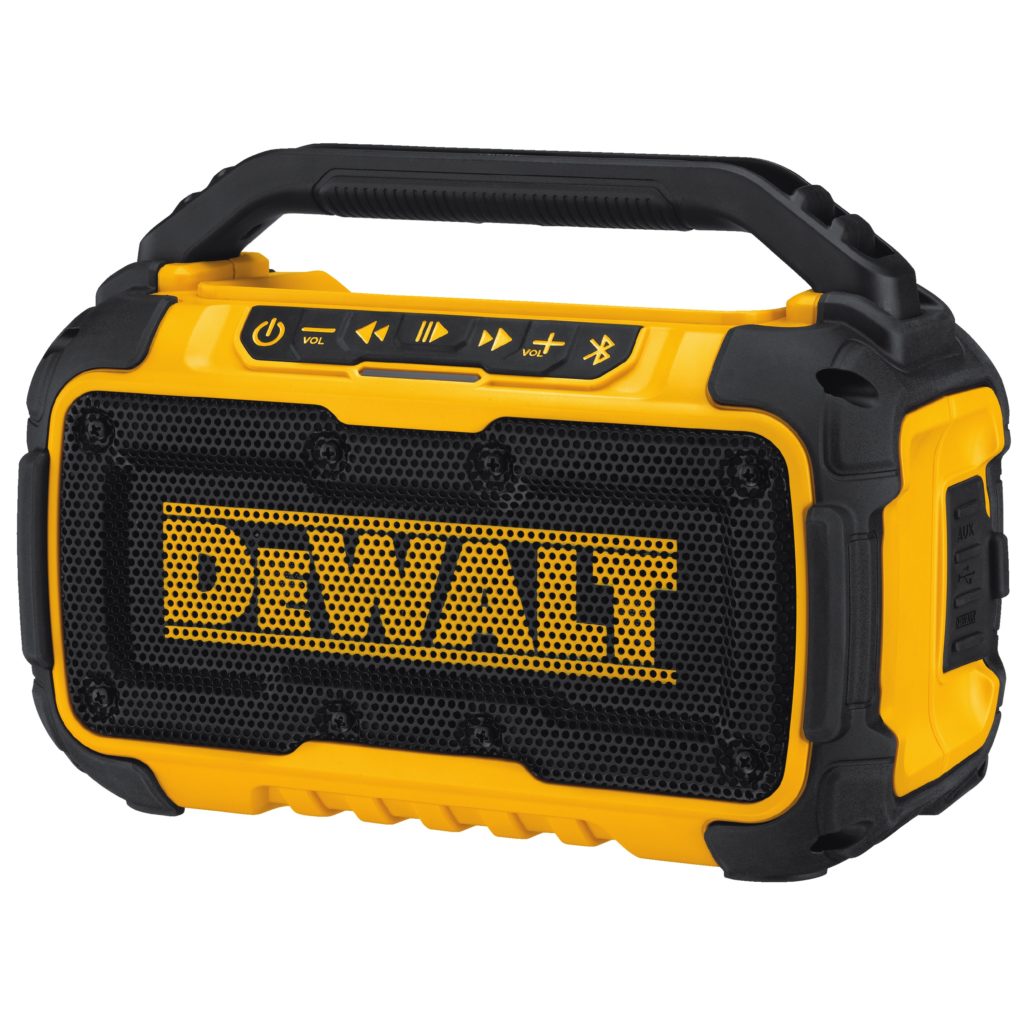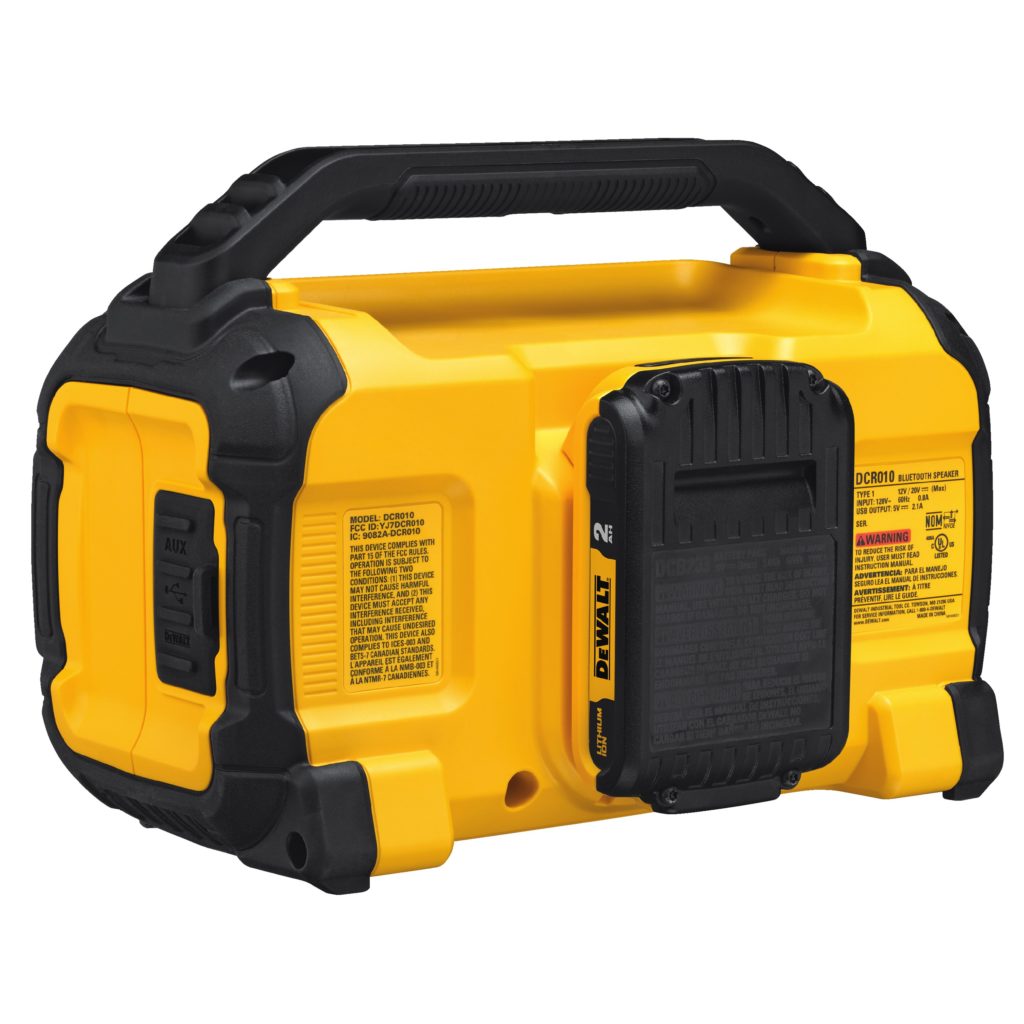 DEWALT 20-VOLT MAX BLUETOOTH SPEAKER
I really haven't been a fan of job-site radios from tool companies for very long. I'm not saying I haven't bought them over the years because I have. I have actually bought more than one from all the major tool companies. I just haven't been pleased with he sound quality or radio performance. They all had a serious lack of useful bass and seemed consistently dull on the top end. I had a chance to check out this Dewalt bluetooth speaker and was surprisingly impressed.
Dewalt Job Site Choices
That all changed when Dewalt brought out the Tough System Radio. This is the top performing job-site radio from any tool company. It has crystal clear highs and more bass than any other I have heard. I noticed it still seems to outperform the newer T-Stak radio even though it has a similar compliment of drivers and amplification.
This new Dewalt bluetooth speaker is a totally different animal. It is pretty tiny but has good bluetooth range and decent sound quality. It's not going to produce bass you can feel but the sound is pleasant and balanced. It's not overly boxy or dull sounding. It lacks just a little of the top end sizzle of the Tough System Radio but it is clear and clean and still outperforms some of those older job site radios. It actually sounds pretty good for an inexpensive speaker that will run for days on a 20v max battery or forever on a 120v cord.
This unit does not have a built in charger like its bigger brothers but it works on all sizes of 20v max or Flexvolt batteries. I do have to mention it is much better balanced with a 2.0 battery. a 5.0 isn't too bad but a large flex volt battery will make it back heavy when carrying.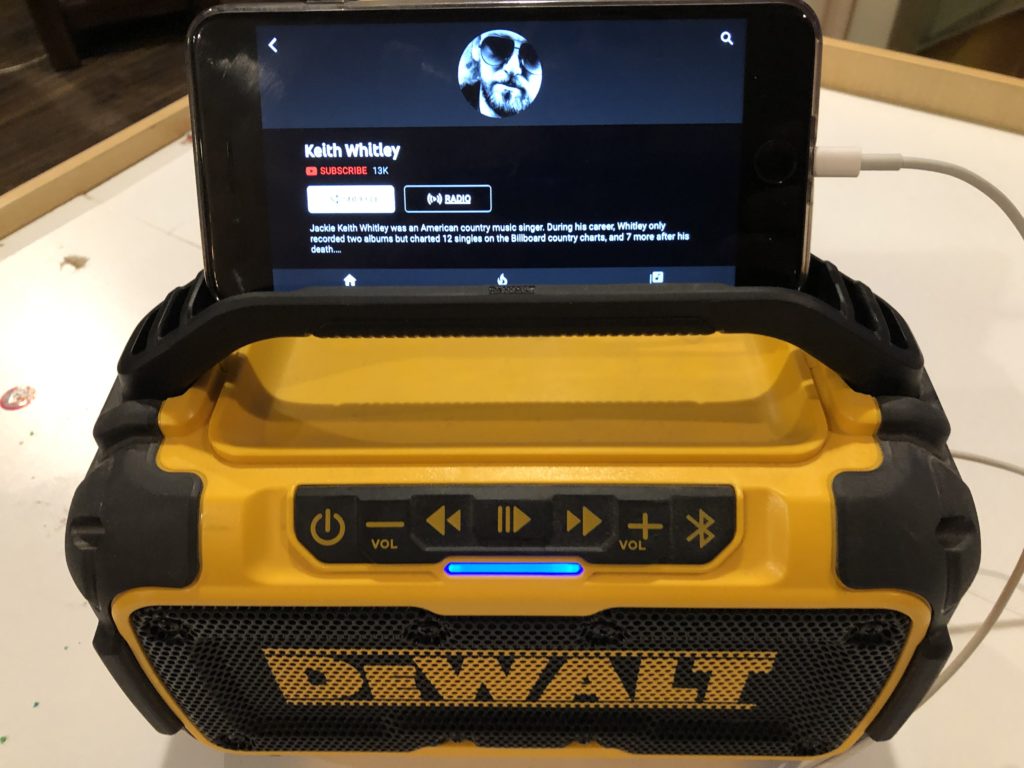 Controls
On the control panel you will find a power button, volume up and down, skip forward and back buttons, pause play button and a bluetooth pairing button. On the side panel you will find a one-eighth inch auxiliary jack and a USB plug. The AC plug is on the back behind where the battery goes.
Tough Construction
I really like the way the rubbery handle is molded. It can hold your phone upright in portrait or landscape mode. It has a nice opening in the handle for you to run your charger cord through without putting undue stress on it.
The overall build quality seems pretty tough. Since it is a tool it will take good hit or survive a fall from a reasonable distance. Yes, we tested it. The plastic molding is heavy and the rubber over-mold will also help. Its handle is flexible enough to not break from a fall but stiff enough to not bend while carrying it even with a 12.0 flex volt battery.
Overall we are pleased with this radio considering the size and price. There are smaller ones out there from DeWalt and others but they sound like garbage and don't get very loud.
Check it out for yourself at ACME TOOLS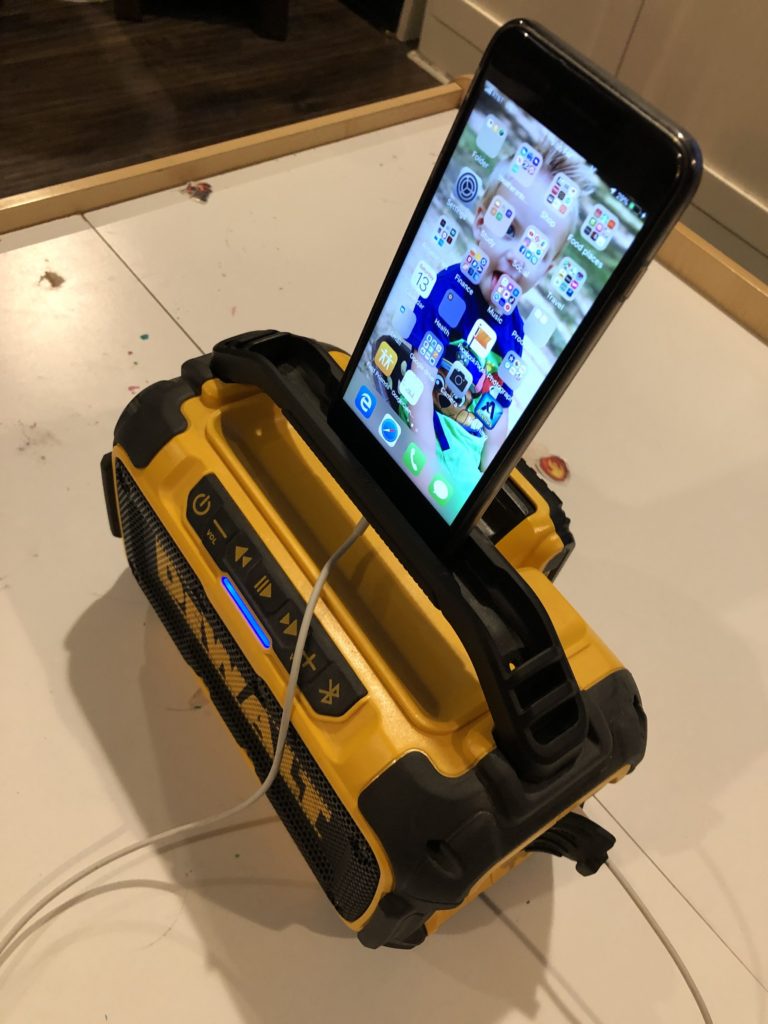 Lightweight and compact for easy storage

Durable design able to withstand any tough job-site

Connect your device via bluetooth up to 100 ft.