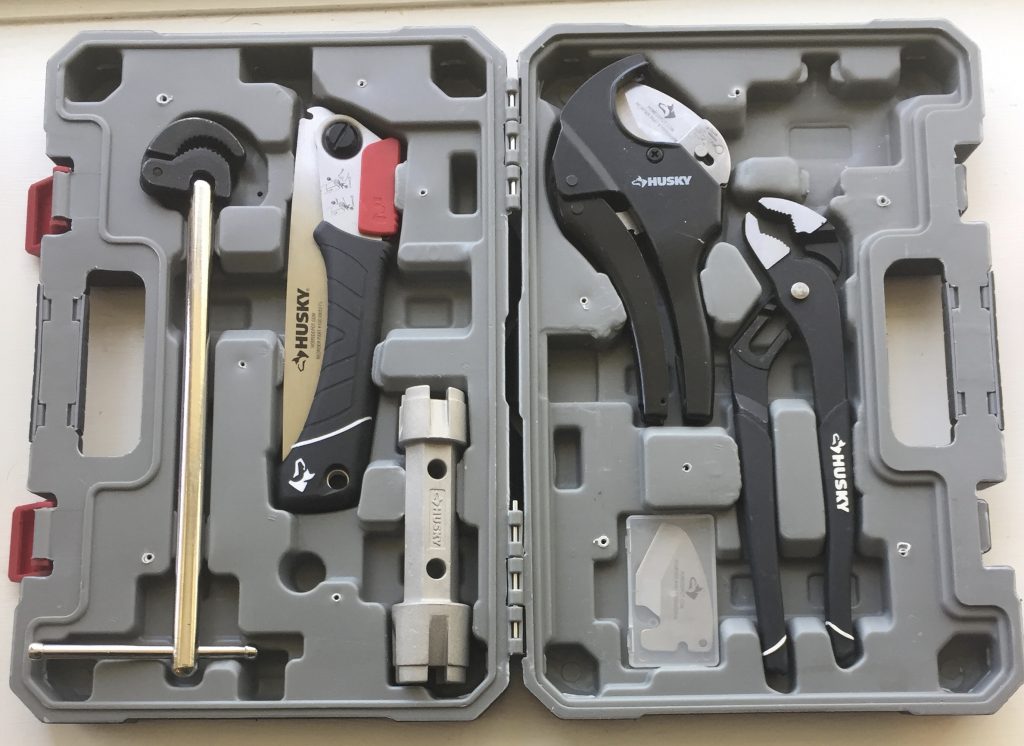 HUSKY 7-PIECE PLUMBERS TOOL SET WITH CARRYING CASE
7-piece tool set is great for a variety of plumbing projects
Includes cutter and PVC saw for cutting pipe up to 1-1/4 in.
4-way sillcock key opens and closes sillcock valves and spigots
No doubt whether you are a professional plumber, maintenance man or everyday home owner you want the right tool for the job. This is especially true when it comes to plumbing jobs! There is something really frustrating about either not having the right tool or having the tool yet the tool being inferior in quality. I feel your pain, that's why in this review you will find the pros and cons of the Husky 7 piece plumbing kit.
For me having all the tools in one place is helpful, but, I'm not a hard shell case guy. I would rather have them in a bag or box. Although being a tough case the molding for the tools is off, meaning some tools like the saw, are next too impossible to get out while the 4 way hose Bibb key kept falling out every time I closed the set. This is why you don't see pictures of the 4 way key in this review, it fell out and I lost it within a few days at the job-site.
There are though many positive aspects to some of the tools. I will review these tool from best to worst.
The Best Tool: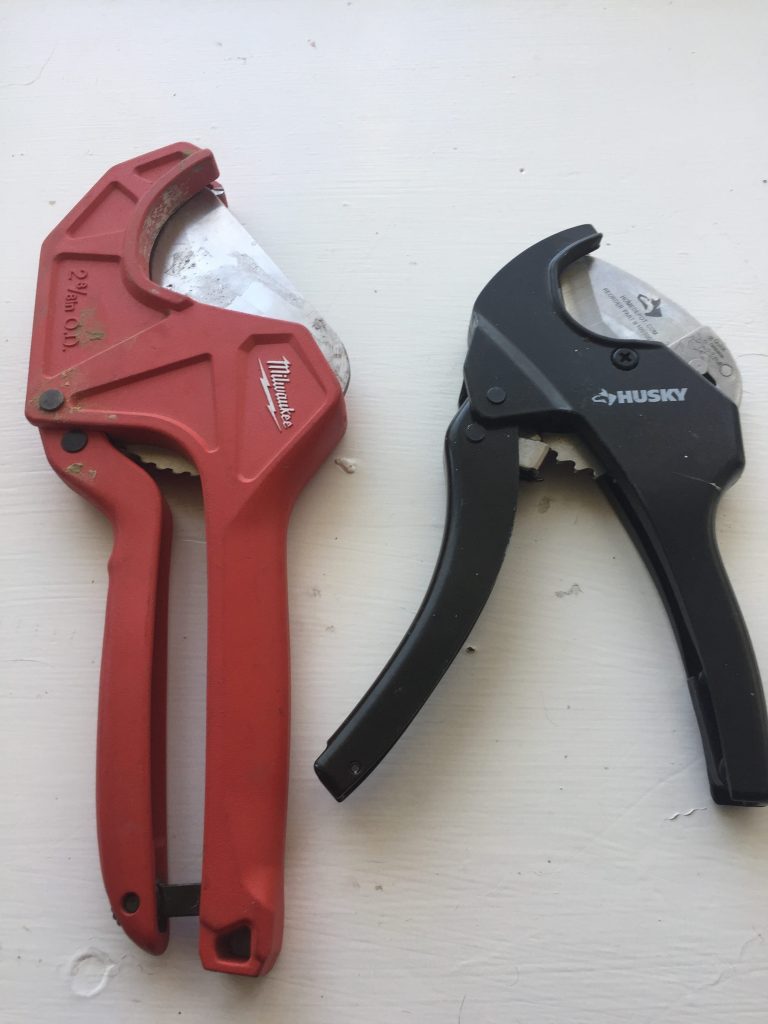 Husky 1-1/4 in. Quick-Change Ratcheting Cutter and replacement blades for cutting PVC, CPVC, PP, PEX, PE pipe up to 3.5 inch outer diameter
I absolutely love these cutters! I have used the much more expensive Milwaukee cutters and they are not as good as this Husky pair. Why? For 3 reasons.
1. Because they are quick at ratcheting and quick to replace the blade with a quick release on the side.
2. The blades seem much more sharp and heavy duty than other brands.
3. Good price point.
The Second Best Tool: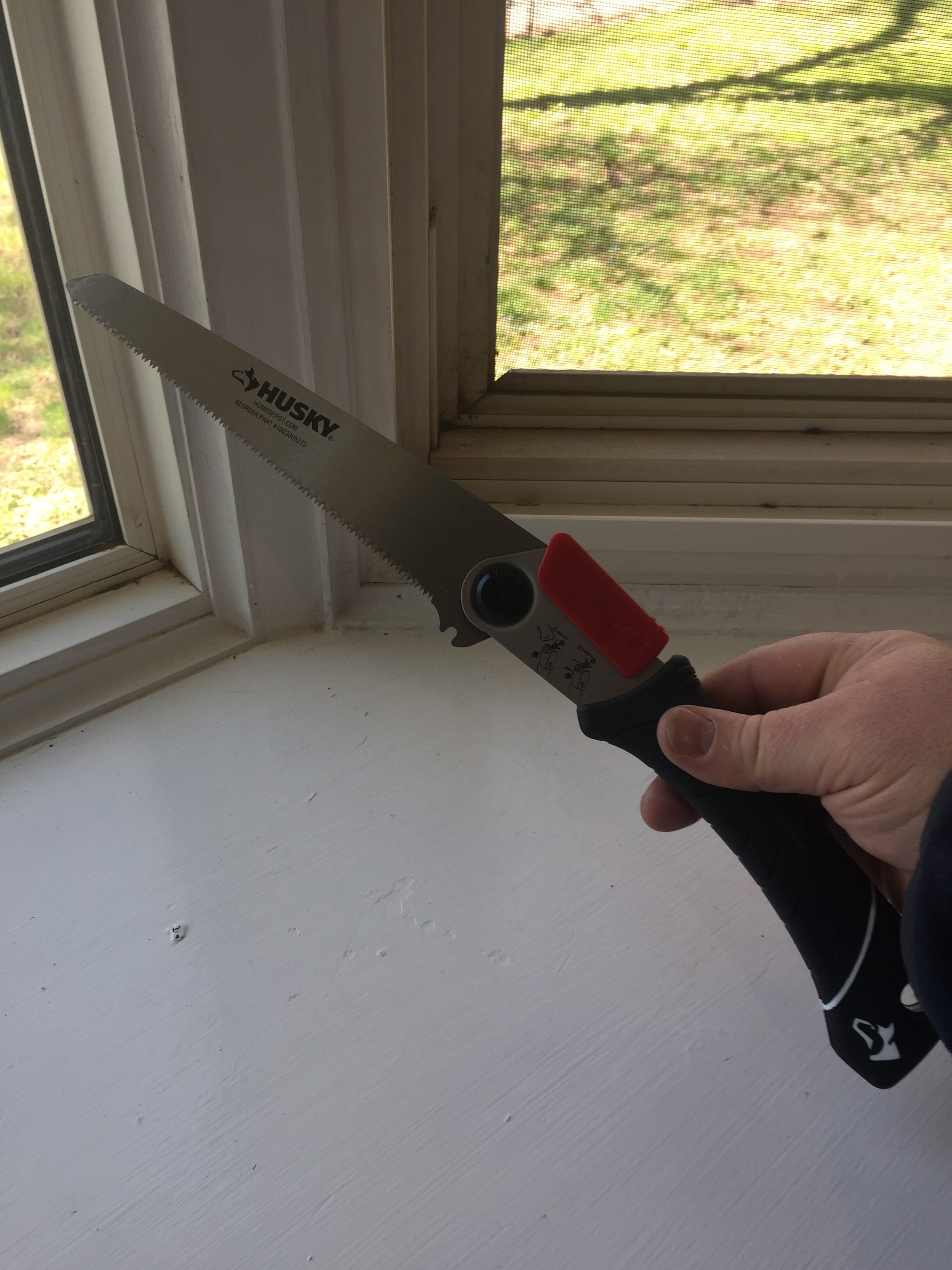 Husky 7 in. Folding PVC Pipe Saw is ideal for cutting PVC, CPVC, PP, PE pipe
I like this pipe saw for many of the reasons I like the ratcheting cutters. They are great quality and the blade seems sharper than most. The saw is extremely handy for cutting out old plumbing quickly or for precise cuts on new installation. These are used when pipes are too large for the ratcheting cutters.
The Third Best Tool:
Husky Double-Ended Tub Drain Wrench installs and removes most tub, shower drains and closet spuds
This tool also works great, there have been many instances when to unclog a tub drain it's best to just take out the drain and snake the drain. This tool makes it fast and easy. I found it to fit all the drains I worked on. It is made very strong yet lightweight. It works great for me.
The Fourth Best Tool: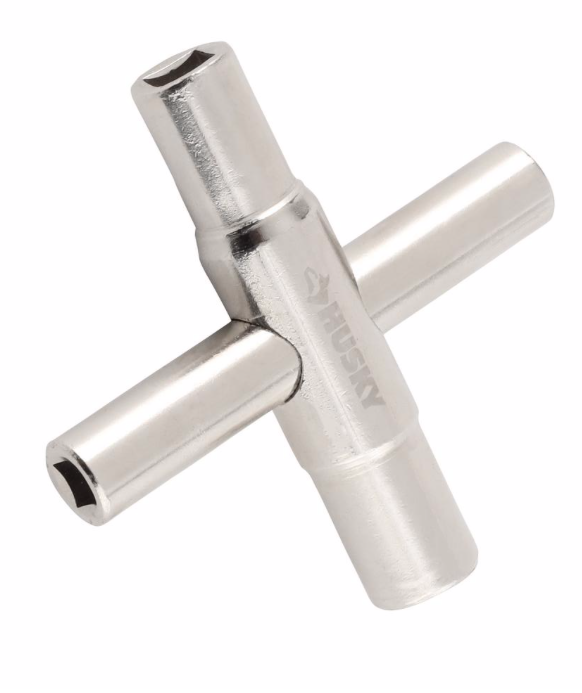 4-way sillcock key opens and closes sillcock valves and spigots
I am used to calling these hose bibbs, most people say spigots. This 4 way wrench fits most hose bibb stems and helps to open them up when they are rusty and frozen shut. In a pinch this is a very handy tool, yet it is low on my list because it does not fit in the case at all. It falls out every time you close the lid, maybe I'm just mad that I lost it so quickly!
The Fifth Best Tool: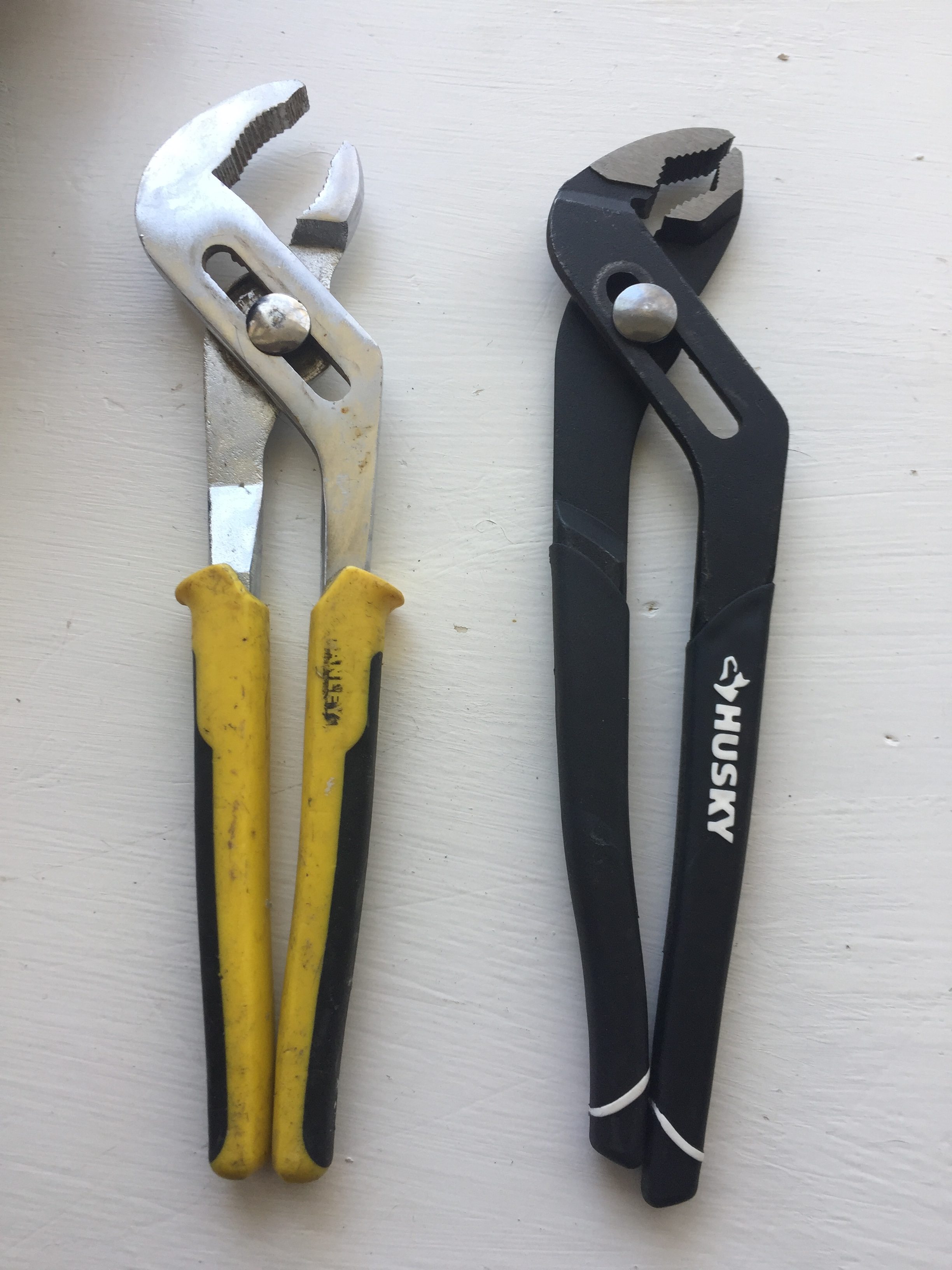 10 in. Soft Jaw Slip Joint Pliers fit most popular basin nuts and toilet spuds
These pliers are made well and do the job most of the time. I say most the time because I found the jaws don't open wide enough for some applications. Also the small rubber caps for tightening pipes without scratching I personally found impractical, they slip off too easy and I quickly lost those also. In the picture you will notice my cheap old Stanley pliers I have had forever. I immediately went back to my old pliers after using the Husky pliers only a few times.
The Worst Tool: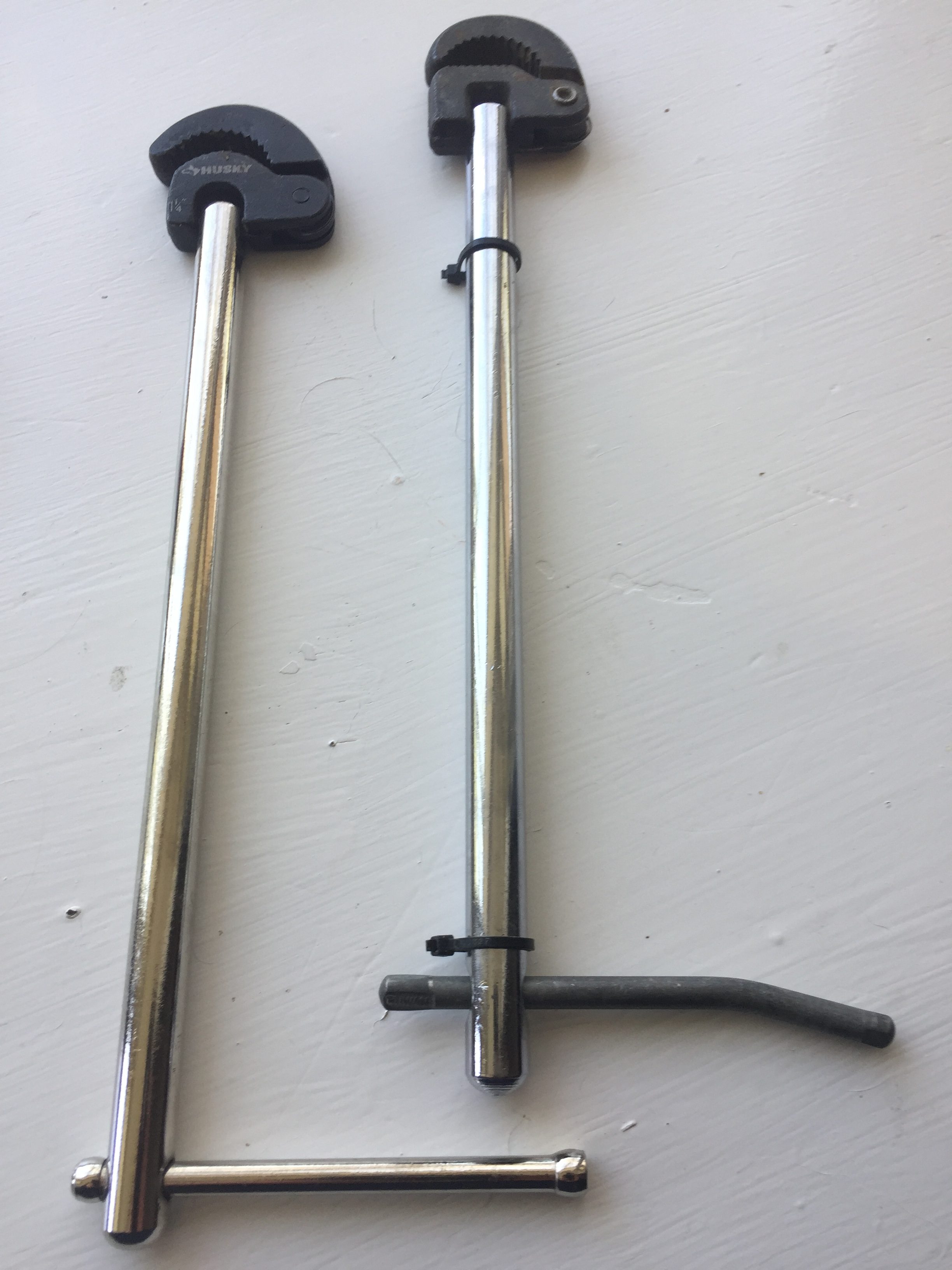 Husky 11 in. Basin Wrench with 1-1/4 in. capacity is made of heavy-duty steel and has a reversible head for working in tight spaces
Why is the worst tool? I tried using this several times under sinks and every time I went back to using my no name basin wrench. Because of the way the jaws are shaped, it has trouble staying on the nut. It slips, slides and rotates every way you don't want it to go. Very frustrating when you are already in a tight space under a sink.
Now with this set all this being said, I do appreciate that Husky has a Lifetime warranty with no questions, no receipt required. For the price of around $50 it's not a bad buy if you don't have any of these tools and are just needing something for repairs once in a while. If you use these tools though more than once in a while you will definitely want to buy a different set of pliers and basin wrench.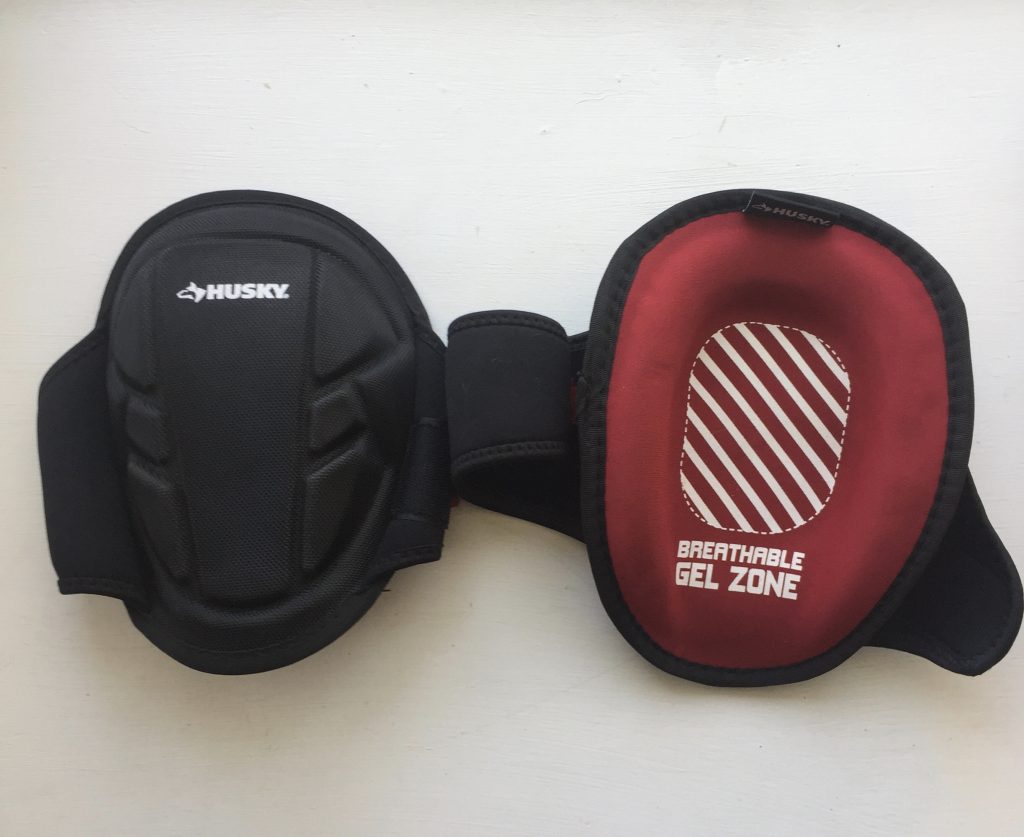 Tough, nylon molded shell for comfort
Next generation gel and memory foam protection
Wide, single neoprene comfort strap
Hook and loop closure
Knee pads enable comfortable kneeling and protect against impacts
One more item I wanted to review that does not come of course with the plumbing set is the Husky soft cap gel knee pads. I already have the Husky hard cap gel knee pads and wanted to compare. They are both very comfortable and easy to put on with the velcro straps, yet for me I personally like the hard cap better. When I go out of my way to put on knee pads I would rather have more protection than less. Although there is somewhat more mobility with the soft cap. Overall though I recommend any of the Husky knee pads. They are very comfortable, easy to use and reasonably priced.
I acknowledge that The Home Depot is
partnering with me to participate in
the ProSpective 2018 Campaign. As a part of
the Program, I am receiving compensation in
the form of products and services, for the
purpose of promoting The Home Depot. All
expressed opinions and experiences are my
own words. My post complies with the Word Of
Mouth Marketing Association (WOMMA) Ethics
Code and applicable Federal Trade Commission