Milwaukee Framing Hammer

I haven't been more surprised with a tool in years than I was with the Milwaukee hammers. I have long avoided steel handle hammers because of how they make my elbows feel. I used to use them because I didn't enjoy replacing wooden handles very much. When you are young and inexperienced you think you can wantonly just pull nails without any thoughts of durability. Unfortunately when we are inexperienced we are also the strongest we will ever be, not a good combo for the old hickory standbys.
About 15 years ago I swore off of steel handle hammers except for demolition days. I bought some Hart wood handle hammers and a few years later, I bought some Dalluge titanium head /wood handle units. I loved all of them. More recently I got a Stilletto Ti bone2 titanium and the new to market Martinez M1 titanium handle / steel head hammer. My favorite of all is the Martinez M1, but we are talking about a huge difference in cost of these hammers.
Steel handles from nearly every manufacturer definitely hold up better but for the most part they transfer far too much energy to the wrist and elbow.

When I first saw the new Milwaukee hammers I will admit I dismissed them as just more elbow abusers. Let me tell you how wrong I was! From the first swing I could tell that these were special. You wouldn't think they would be any different from other mainstream steel handle hammers. Milwaukee spent countless hours developing these on computer models, in the lab and on the job site. The effort was well worth it. The results are outstanding.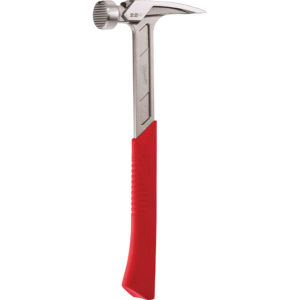 It's hard to believe how much vibration these handles absorb before it hits your hand, wrist and elbow. It's not that the rubber grips are super soft. They are actually harder than I expected. They are certainly harder than the DeWalt, Fiskars and Fat Max hammers. The vibration dampening comes from the advanced design of the head and handle core.
I have found that the worst hand-shock comes when you miss the nail and strike the lumber or other material directly. When you hit the nail there is usually a tiny shock but the nail moves as the hammer gradually decelerates and much of the energy is transferred to the work and not your hand. When you miss, the hammer decelerates faster, transferring much more energy to the handle. The further down the handle you are gripping, the more it hurts. This contributes to carpal tunnel syndrome and other problems. Believe it or not even compared to wood, fiberglass and composite handles the Milwaukee has one of the lowest amounts of hand shock I have ever felt even when I miss. Even when I am holding it by the end of the handle.
The head is also designed to control ringing. The claws are different thicknesses so they do not act like a tuning fork when you strike a nail or other hard object.
The magnetic nail starter on the face is a nice touch. I wish the magnet was stronger though. Sometimes the nail will fly off if I am not paying attention to how hard I am swinging. I'll chalk it up to user error but I will mention that it never happens with my favorite Martinez tools M1 titanium handle hammer.
I actually feel the handle is a good length. Some may prefer a longer handle but then I see a lot of guys choking up on the handle of some hammers with longer handles. I guess a longer one would give more leverage for pulling nails. I just pull sideways when I can't get one to move.
I never thought I would rave about a steel handle hammer. Here I am though. There is simply no other hammer I recommend as highly in this price range. Yes, I prefer the Stiletto Ti bone 2 and the Martinez M1 but those are both high-end and they have high-end price tags.
The Milwaukee hammers are available in smooth face and milled. They are also available in a composite handle in both faces. The composite handles are lighter but I feel the steel handles have less vibration and they are the ones I grab more. You may prefer the composite. Regardless, I urge you to at least try one. I think you will be pleasantly surprised as I was.
Buy one at THEHOMEDEPOT.COM for under $40
I review and recommend products to help you buy the stuff you need. If you make a purchase by clicking one of my links, I may earn a small share of the revenue. My picks and opinions are independent from any business incentives.