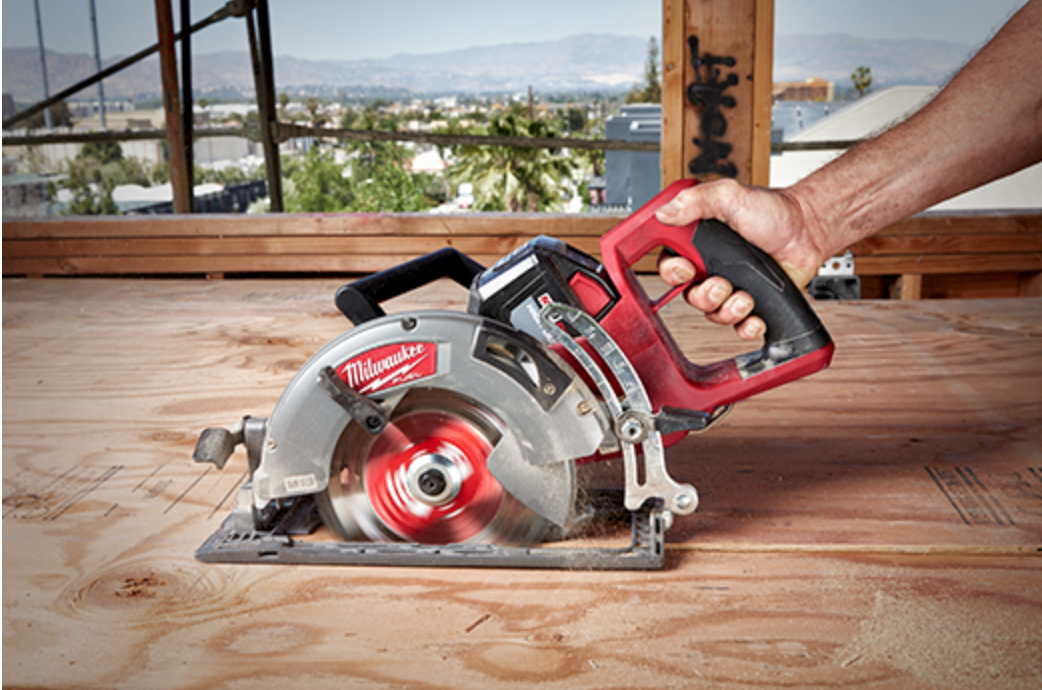 Milwaukee is usually one of the first to get a tool to market. Their innovations help fans of all tool companies. When they come out with something new it makes DeWalt, Makita and others stand up and take notice.
In the case of rear handle saws they were one of the last. Sometimes being last or almost last is a good thing. Rushing a tool to market is never beneficial for the end user and can hurt a companies reputation. Taking extra time can really pay off with a higher quality product and happier customers.
I have to say in with the rear handle saw the delay was definitely a good move. The result is a very capable machine. This has more power than the Makita and Hilti. I found it has better balance and handling than the Skilsaw and DeWalt. It is one of the few with an LED light to help us make those last few cuts at the end of those short winter days.
This is my all time favorite Milwaukee saw. It may be my favorite Milwaukee tool ever. The power and runtime are excellent with the 12.0 or even an 8.0 or 9.0 battery. The tracking is good. Even though the dimensions are very similar to the DeWalt the Fuel seems slightly easier to hold on a straight line. It has lees tendency to curve to the left. Skilsaw and Hilti are slightly easier to hold in a straight line. Makita is in a class of its own for tracking straight. The weight is reasonable for this style of saw. It is not the lightest but it is lighter than a corded wormdrive. Visibility is good whether straight or bevel cutting. The layout is easy for anyone to get the hang of. The hook is a nice solid design with plenty of room for 2x and engineered lumber which is typically wider than 2x material.
The included dust port is a really nice addition. Many will never even think of using it but others will immediately see the benefit. I use it when cutting out flooring,underlayment and subfloor. It really catches a lot of dust that would normally be all over me and in my lungs. Of course it is useless if you are cutting on a roof. But it could help in cutting the components. You can easily hook it to your vac for cut station use. There is also a plastic trim ring for the dust port when you don't want the vac attachment.
I'd rather see a plug than an opening. As it is the dust shoots out and will fill your pockets and socks with man glitter. Since there is no plug I cover mine with tape. Hopefully someone will start selling plugs for the opening. Better yet maybe Milwaukee will start shipping the saw with it plugged from the factory.
The other negative about the saw is the bevel adjustment lever. It is not captured. That means it can spin freely until it falls off and gets lost. It should be longer or just come with one of those little "c" clips. Anything to keep it from spinning off.
After using this saw for months I like it. I have used it on lots of plywood and 2x material. Additionally, I have used it with a diamond blade on concrete and have also used it with a Diablo Steel demon on 1/4 diamond plate steel. I can definitely recommend it if you are on the Milwaukee platform. If you are dead set on one battery platform it makes sense to buy the one that uses your current batteries. If you are considering adding another platform to your arsenal this is definitely a worthy candidate. If you are looking for ultimate power get the DeWalt. If you want a smoother more nimble machine with better accuracy get the Makita. As with all Milwaukee tools the warranty is 5 years on the tool and 3 years on the batteries.
You can order any of them here from MaxTool.com