DeWalt 18 GA. Nailer
Cordless nail gun's are becoming more and more popular with each passing year. We get so many questions about which one is the one to get. There are so many choices out there and we all really want to avoid buying lemons. Believe me with 30 years in building and remodeling I have bought my fair share of lemons and I know the frustration that it causes. I take tool reviewing very seriously because I never want to give bad advice and I never want to encourage someone to spend their money on something that is going to be a big disappointment.
Why Even Talk About This?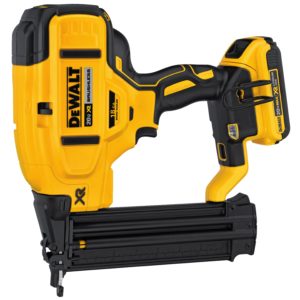 For several years all cordless nail gun options were pretty bad. More recently it seems manufacturers have worked really hard to make a tool that we can use successfully. There are many competing technologies with the same goal in mind. That is to successfully drive nails in certain gauges and lengths into a variety of building materials such as hardwood soft wood plywood and MDF. All of the newer options will accomplish this goal to a certain extent.
The Industry Standard
My most used guns over the years in both the 16 and 18 gauge categories have been Paslode impulse nailers. They use compressed gas and a small rechargeable battery to run a fan and the ignition. The design is basically a single event combustion engine. Their design has given them more power in a smaller lighter package than the battery only guns have been able to deliver. The downside has been weaker cold-weather operation and the maintenance schedule where you disassemble the gun to clean it and lubricate it to keep it in top running order.
There have been many battery only competitors brought to the market in the last 10 to 15 years and none of them have really compared well with the Paslode guns. Even though they keep getting better they just haven't been able to top the Paslode in performance, hole size or overall user experience.
Not Their First Rodeo
Now DeWalt has released their new 20v max 18 Ga. nailer along with several other sizes. How does it stack up? Short version? In my opinion, Very well. At first glance it has everything. Adjustable depth of drive, belt hook, LED light, dry fire lockout and tool free clearing of jams.
This is not DeWalt's first 18 ga nailer. They do know a thing or 2 about what we need in a nailer to make our job better. They have both pneumatic nail guns and the old 18v ni-cad gun under their belts. I really feel that this new gun is finally to the point where I can confidently say just go get one. The performance is really up there where we need it to do clean finish work.
Precision Machine
The first thing I want to cover is that the hole it produces is very tight. Once you get it adjusted to the proper depth with the tool free thumb wheel, it is no larger than the head of the brad. This is very important because we do not want large holes to fill in our finish molding. They might be Okay on paint grade wood work but on stained and finished or pre-finished molding it is always better to have the smallest hole possible. In comparing this gun to the pneumatic version there is a difference in the hole size. The cordless in this case actually out performs the pneumatic. It also handily outperforms the Milwaukee fuel and other cordless brad nailers in both hole size and cleanness. I was surprised at how tight the holes actually are.
The nose is very similar to the Bostitch precision point nailers. No surprise here since they are also owned by Stanley Black and decker. There is nothing to obstruct your line of sight. Perfect nail placement is easy and repeatable. The nose also allows you to get into tighter places than all other cordless brad nailers. They share many other features with the new Bostitch cordless nailers as well. They are near clones inside and out.
The next point is power. This gun has absolutely amazing power in all materials that we run into with finish work. It is one gun you actually need to dial back to the right setting to avoid over driving. It doesn't matter if it is MDF, Pine, walnut, White Oak or hard maple the DeWalt 20v has power to spare. Many guns do just fine with a range of nails but struggle on full length fasteners in hardwoods. Some of the more powerful cordless guns will do fine with red oak and then leave the head proud on hard Maple. The DeWalt 18 ga gun has no such trouble. Smooth sailing all the way. It is the first non gas cordless I have run across that will cleanly and consistently drive in these scenarios.
This brings up another point. User experience. To be sure, this is more important to me than the other points. All the power in the world is useless if there is too much feedback to the user's hand. Some guns mentioned earlier have the power but they can actually be painful to use after a while. The flywheel design in the DeWalt nailers is very efficient and offers class leading power with much less feedback to the user. Recoil is a fact of life with any nail gun but this gun has a minimal amount. It is very pleasant in the shot. I can literally nail all day with no hand shock issues. After 30 years as a carpenter and woodworker, I appreciate user-friendly tools more than ever. Your mileage may be different but suffice it to say no one benefits from more recoil. No one wants wasted energy transferring to your hand and wrist instead of being concentrated on the nail.
The flywheel design also gives DeWalt another possible advantage in some situations. Once that flywheel is spinning you can bump fire the thing until you are out of nails. I don't use trim guns in bump fire mode but that's not to say you might not benefit from that ability. There are many creative minds out there we never know what they might come up with.
A few other notable features: The gun itself is completely symmetrical. It has arguably the best balance of any of the cordless guns. The grip is very comfortable. I find dewalt grips to be some of the most comfortable on the market. The main head has rubber bumpers to help you avoid scratching finished surfaces and it also keeps your gun looking new longer. The belt hook can be placed on either side of the gun. It is in the perfect spot for left or right hand use. It is very comfortable has no sharp edges that we cut into your pocket if you used it on your jeans and it is plenty wide enough to hang on your nail bags. DeWalt has provided a simple switch to change the gun from single shot to bump fire mode. It works very well and requires no tools. The LED lights are well placed and light up both sides the gun for use in dark areas such as under cabinets. Since there are lights on both sides there is only a very thin shadow line in the middle where there is no light.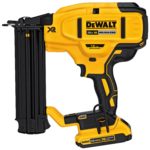 No tool is 100% perfect. I would still like to see a smaller form factor. It shares the same basic head dimensions with all the other 20v max finish nailers and stapler. It doesn't take as much power to drive a 2″ 18 ga brad as it does a 2 1/2″ 15 or 16 ga finish nail. I also find that the safety lightly dents softer woods like pine, plywood or pre primed MDF. It's not as bad as some other guns. I thought I should mention it for full disclosure. If any other complaints arise I will update this article. The benefits far out weigh these minor quibbles.
DeWalt really has all of their cordless nailers dialed. In 2017 I can confidently say there is no other battery only cordless 18 ga. Brad nailer I can recommend more highly. Don't just take my word for it. Try one without risk for 90 days with the DeWalt satisfaction guarantee and 3 year warranty.
I review and recommend products to help you buy the stuff you need. If you make a purchase by clicking one of my links, I do earn a small commission. My pledge to you is this: I will always say what I really feel. I will not taint my reviews to make a quick buck at your expense. I want you to know the truth about the tools I review for the good or the bad. My picks and opinions are independent from any business incentives.