Husky Universal Mechanics Tool Set
In the last few days I have had to turn my hand to repairs of the lawn mower, the car, and the house and have found the same wrench in my hand each time. The house is old, circa WWII, with the original gravity furnace. The car is much newer, only five years old, and the lawn mower is, well, kinda groady with a layer of dried grass all under the deck. The wrench is a Husky socket wrench set from Home Depot.
By itself the ratchet handle is a pleasure to hold; it has nice heft with a smooth finish and a fine ratchet action. Instead of a bright chrome finish, it's dark, so while standing on your head under the car with neither your regular prescription nor your bifocals in focus, at least you are not blinded. Hooray for modest advantages.
Of course, it's mostly the sockets that do the work. These feature a sort of 12-point spline shape inside. This sort of shape was promoted a couple of decades ago by a premium tool brand. Here it is definite advantage. That gravity furnace, the octopus in the basement, is assembled with square nuts. These sockets fit just fine, no grubbing about for a set of antique tools. This is not a modest advantage; big hooray from the pocketbook. See, that spline shape does not bear on the points of whatever fastener you're likely to encounter. Torque is transferred through a more meaty part of the head of the fastener. So, square nuts can be accommodated very easily and, whatever the shape, it's less likely to be rounded-off when great torque is called for even if the previous guy started the rounding . This too is far from a modest advantage. I should mention that they are guaranteed forever which constitutes a large advantage.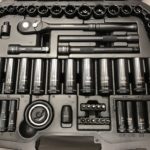 It's similar with the lawn mower. Since the socket does not have to be a perfect fit on the fouled blade bolts under the deck, the repair or re-sharpening can move forward with a minimum of lost time. Again a modest advantage because under the deck could be hosed down with great results but who wants to do that? Sharpening lawn mower blades is already enough of a chore to put you in a sour mood. These sockets are the enemy of procrastination.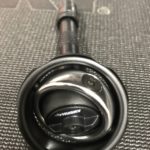 Different advantages come into play under the hood of the car. Well, not rounding off fasteners is an advantage anywhere, but these sockets offer the disproportionately large advantage of clear, easy-to-read, laser etched markings. This advantage is hard to overstate, especially to eyes of a certain age. Also, each socket has a machined knurl at its base. You know your own fingers; they try to turn bare sockets. Now, maybe they will succeed. This particular Husky socket set of 60 pieces includes a palm racket handle that is gimballed. Modern automobile engine compartments are cramped and that palm racket with a gimbal action is uncommonly handy. Some things become obvious after they are in your hand. Bottom line: the Husky H10060MTS Mechanics Tool Set is an excellent foundation for real accomplishment.
Stanley Brown
Set includes one 3/8 in. drive 100-position ratchet, one 3/8 in. drive 100-position gimbal palm ratchet, 1 standard length 1/4 in. drive knurl grip universal sockets, 8 deep 1/4 in. drive knurl grip universal sockets, 12 standard length 3/8 in. drive knurl grip universal sockets, 12 deep 3/8 in. drive knurl grip universal sockets and 16 other accessory and drive tools
100-position, low-profile, long handle ratchet has an ultra-narrow 3.6-degree arch swing
Gimbal ratchet features multi-directional rotation for easier access in hard-to-reach areas
Knurl grip universal sockets fit 6-point, 12-point, square, E-Torx, spine and partially rounded hex fasteners
Each socket features a knurl ring and tapper design, making them easier to grip and spin using only your fingertips
Industrial black finish stands up to a lifetime of use
Laser-etched size markings stand out on the black finish for easy identification
Bits work with the bit adapter socket to create 11 different bit sockets
Bits are formed from heat-treated S2 tool steel for added strength and wear protection
Tools are forged from chromium-vanadium (Cr-V) steel for outstanding durability and strength
Sockets feature chamfered lead-ins to help provide fast and easy placement onto drive tools and fasteners
Plastic storage case is stamped with size markings for easy identification and organization
Husky mechanics hand tools are guaranteed forever; if your Husky hand tool ever fails, bring it back and we will replace it free
I review and recommend products to help you buy the stuff you need. If you make a purchase by clicking one of my links, I do earn a small commission. My pledge to you is this: I will always say what I really feel. I will not taint my reviews to make a quick buck at your expense. I want you to know the truth about the tools I review for the good or the bad. My picks and opinions are independent from any business incentives.