Makita Cordless Router XTR01
Makita sent us one of these to test. Since then I have already purchased another one. They are THAT good! We are pushing for a 100% cordless job site and this is definitely an important tool for trim carpenters and installers to have on site. It is also indispensable in the shop.
Routers have always been one of my favorite tools. They are so versatile for so many applications. They aren't just for making round overs on stock. They are invaluable for cutting mortises in doors, flutes in moldings, circles, ellipses, dados and repetitive pieces with a pattern bit…
The first cordless router I ever saw was a Makita in the 90's. It was more of a laminate trimmer and used one of the old stick pack batteries long before 18 v tools were even a dream. I never bought one. I can't even tell you how good it was. I actually thought it would be underpowered and never gave it a chance.
Times have changed. We have seen cordless advance to the point where it is no surprise when we see an 18v tool outperform a corded tool. It makes so much sense to build a cordless router.
I would have to say that the most annoying thing about routers is the cord. They always seem to get hung up right as I am in the middle of a cut. Sometimes it causes a divot or burn mark in my work. I always try to plan but you never know what will happen once you turn it on and start to move. Cords move, stuff happens.
Another annoying thing about cords is that they get in people's way and sometimes they trip on them, pulling tools off the bench. On a precision tool like a router that is never a good thing. If you work alone it is less of a problem. When you have a crew you never know what may happen to a tool. If something does happen, fat chance finding anyone who knows anything about it.
For years one of the finest trim routers on the market has been the Makita. It has a precision balanced motor and smooth controls. There are a plethora of bases for it. This versatility has made it a fan favorite.
The XTR01 is a near clone of the corded model. It has an extremely smooth and powerful brushless motor to make the most of your batteries. It adds a couple of bright LED lights to illuminate your work. It can easily run any bit that this class of router would normally run. It comes with a 1/4″ and an 8mm collet. It is available as a bare tool or as a kit with batteries, charger and the fixed and plunge bases. All of the normal trim router accessories work with it. There are dust shrouds, edge guides and even track adapters so you can use them with your track Saw rails. There are also offset and angle bases available to make the most of your router bits.
The XTR01 is the only heavy-duty professional grade cordless router on the market. It is the only tool with an aluminum body and bases. It is precision balanced and machined for long life and dependability even under heavy use. There are other cordless routers on the market but they are lighter duty tools with plastic motor housings. They don't run as smoothly . There aren't many accessories available for them either. They are great for simple tasks like putting an edge on a board. They are definitely useful and the price point will get them in many hands. I should point out that there really is no direct competitor to the performance or quality of the Makita system. Each person must decide what they truly need and expect from a tool when considering a purchase.
To use the Makita there are a few things to note. There are two pressure switches you must push to activate the tool. On is a lock and the other is the power. There is also a variable speed dial to match both the bit and the material. The larger the diameter the slower the speed should be. A solid carbide laminate trim bit with a 1/4″ cutting diameter works great at 30,000 rpm but a 1 1/4″ chamfer bit needs a slower speed to operate safely. The electronic control can give extra torque for larger bits on the lower speeds. This is one of the benefits of brushless technology.
The bare tool comes with a fixed round base. It works very nicely for general use. There is a square plate available if you want it for more stability or to run on a straight edge. There is a nice dust port available for when you want to work cleaner and breath without a mask. They came with a pretty stout stamped steel edge guide. I feel it is a very nice touch. It increases the utility of your bits. Even if they have a guide bearing I like the guide. We often need to put an edge on something that is too thin for the guide bearing to register on. The edge guide also helps me to avoid mishaps on the ends and corners of my work pieces.
The plunge base is also very nice as it offers a wider more stable center of gravity. The handles are nicely placed and very comfort. There is a 3 position depth stop with a fine adjustment. The controls are all pretty normal and straight forward. There is a chip shield on the operator side. There is also a dust port available for the plunge base. The plunge action is pretty good. It's not quite as smooth as my Festool OF1010 or my DeWalt 611 but they have much more use on them. I am hoping that with a little use the XTR01's will break in. The depth lock lever requires a little more effort than I am used to as well. I have used DeWalt and Festool plunge routers for many years. I have never had a Makita plunge router before. I'm not sure if they are all this way or not. I guess I just have to learn to use my man hands with the little Makita.
There is also an adapter that allows you to use the router on your track Saw guide rails. Track saw rails are great for cutting flutes and V notches in flat stock. They can also be used in place of a jointer for straightening the edges of your stock.
This pair of routers has aced everything I have thrown at them. If they were stolen today I would order them again immediately. Now that I have experienced cordless routers, I wont go back.
I have a few trim routers that will be collecting dust now. I really see no need for a corded trim router at this point. We really aren't done exploring all the ins and outs of these little beauties but we know enough to say they are the real deal and aren't going away any time soon.
If you are a trim carpenter, remodeler or woodworker I imagine you will love using one of these bad boys. They are as useful as any trim router and add the benefit of no cord. The really nice accessory package makes them a seriously appealing addition to any tool collection.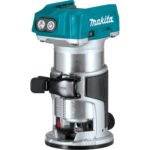 For more info visit
Makita 18V LXT Lithium-Ion Brushless Cordless Hammer Drill/Impact Driver Combo Kit w/Bonus 18V BL Router and 18V Battery 2Pk
The Home Depot