Husky 3/8 drive Digital Torque Wrench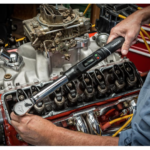 Team Toolpig welcomes the opinion of a 6 year Tradesman Field Mechanic.
Let's talk about the pros and cons of the Husky 3/8 drive Digital Torque Wrench, my overall opinion as a mechanic is that it is a very affordable torque wrench for the everyday mechanic. It has a torque range 5-80 in. lbs. When compared to my "other brand" torque wrenches I find it is spot on. It also comes with a certificate of calibration, definite pro. I do like the adjustment knob, I find it very easy to adjust and lock, this takes a lot of strain off your wrist by not twisting the handle, another pro for me as a tradesman that uses his hands daily I like to find the tools that do the work for me with the least strain on my body. The handle has a very comfortable grip as well, which is beneficial for long time use. It also is oil resistant and this is a great thing in the hand of any mechanic. I know myself, I tend to get my hands a little greasy and dirty.
The first con I see with the wrench. There is no way to push to release your socket button on the head, that would be something I would recommend to add, as the ball can wear out and cause your socket to fall off.
It does have a rebuildable ratchet pawl, if the ratchet were to wear out, replacement parts could be considered. I like the fact that if you can adjust to ft. lbs, you can simply press the green button to convert to either; in.lbs, newton meters, or kilogram per cm on the fly. The other con I see is I would recommend on the next generation of this 3/8 Digital Torque Wrench to have a LED Backlight display, for working in a dark environment, definitely see a lot of dark places with such a great tool.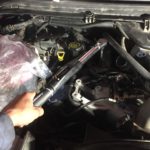 Most of the tools in my toolbox have consisted of Gear-Wrench, Matco and Snap-on mainly because I am partial to the warranty for the tools but I am open to Husky with this warranty policy.
My overall opinion- How could anyone pass up such a great quality tool with a LIFETIME WARRANTY!!!
Tony Sprague
​
Torque range: 5 to 80 ft. lbs. or 60 to 960 in. lbs. or 6.78 to 108.48 N-m and 69.1 to 1106.0 kg-cm
LED screen can be switched with the push of a button to display in ft.-lbs., in.-lbs., or newton meters or kilogram centimeters
Factory calibrated to +/- 4% clockwise accuracy in the upper 80% of torque range
Wrench is designed to give an audible click when torque setting is reached
Hard plastic case for storage and protection
End cap twist to easily set desired torque level which is displayed on the LED screen
Sealed head design keeps out dirt and oil
When the wrench is set the low end of the torque range the click will be less then when at the high end of range
Recommended that you remove batteries when wrench is stored for extended periods
Meets or exceeds ANSI standards
Oil resistant rubberized grip
When the wrench is not in use, it is recommended to store it below 25% of capacity
Wrench should be checked for accuracy every 5,000 torque applications or if it is subjected to abnormal handling