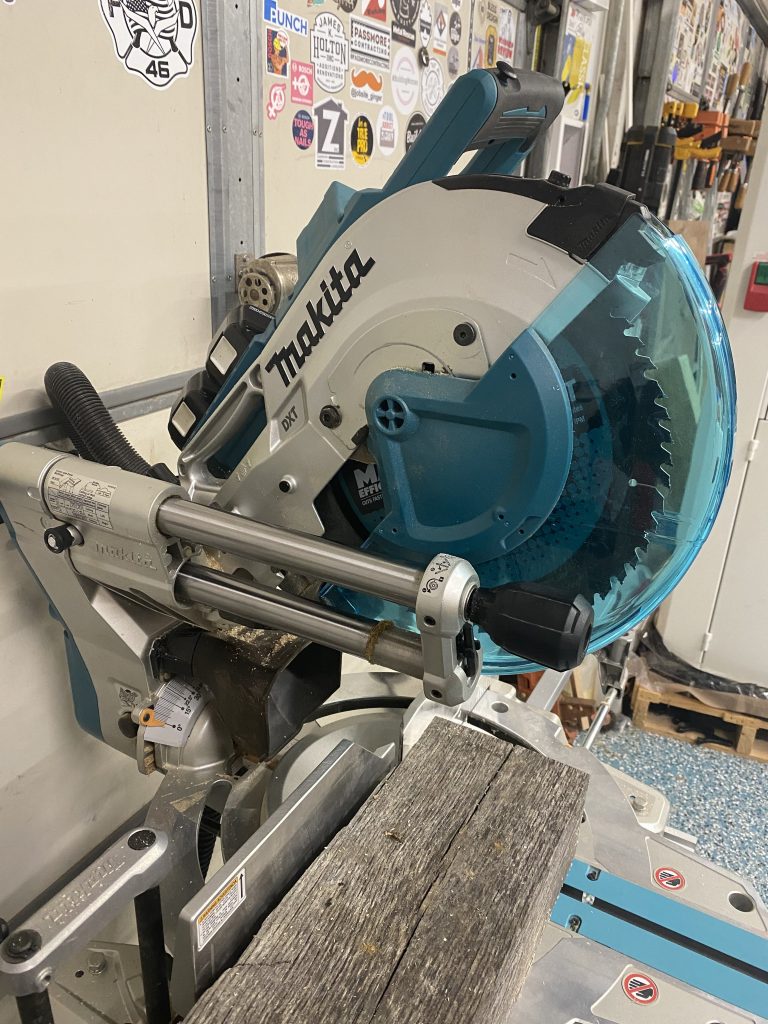 When I first saw the latest 12" sliding compound miter saws from Makita, I was pretty stoked. We were already using the 10″ version and loved it.The extra capacity was not alway necessary but welcome nevertheless. There are three 12″ saws. The XSL08, XSL07 cordless and LS1219 corded. The two cordless units are pretty much identical with the addition of AWS capability on the XSL08. The corded LS1219 is almost identical as well. Other than the cord the only difference I see is the table extensions are a little different being a simpler solid steel wire design than the cast aluminum bits on the cordless units.
Long Time Customer
I have owned every generation of Makita Sliders over the years. Some were 10″ some were 12″. We had really good service for many years out of all of them. I only sold them to upgrade to the newer models. Each new design would bring improvements over the previous.
This latest generation of saws are the most advanced miter saws Makita has ever produced. In fact they are in many respects my top choice in Miter saws:
Good dust collection is severely lacking in most saws today. With TWO effective dust extraction ports these new saws are not only effective, they are at the top of the class.
A Cordless Miter Saw?
The power from two 18v batteries is surprising. The smooth gear drive and brushless motor does not disappoint. We have no problem cutting even the hardest of hard woods. Even 4x white oak cuts like butter. Same with the corded saw. With the soft start 15 amp motor there is never a shortage of smooth power.
They have greater capacity than ever before. These new saws will handle crown up to 8" nested, base up to 6 3/4" and 15" crosscuts.
They also offer class leading 60 degree left and right miters and 48 degree bevels.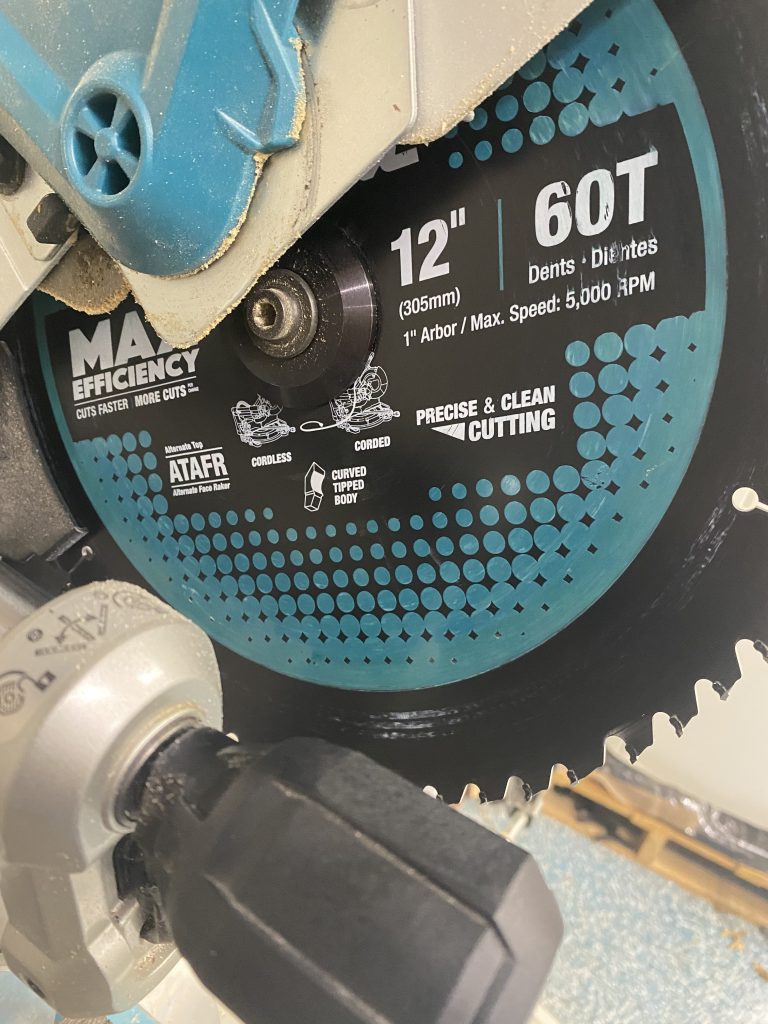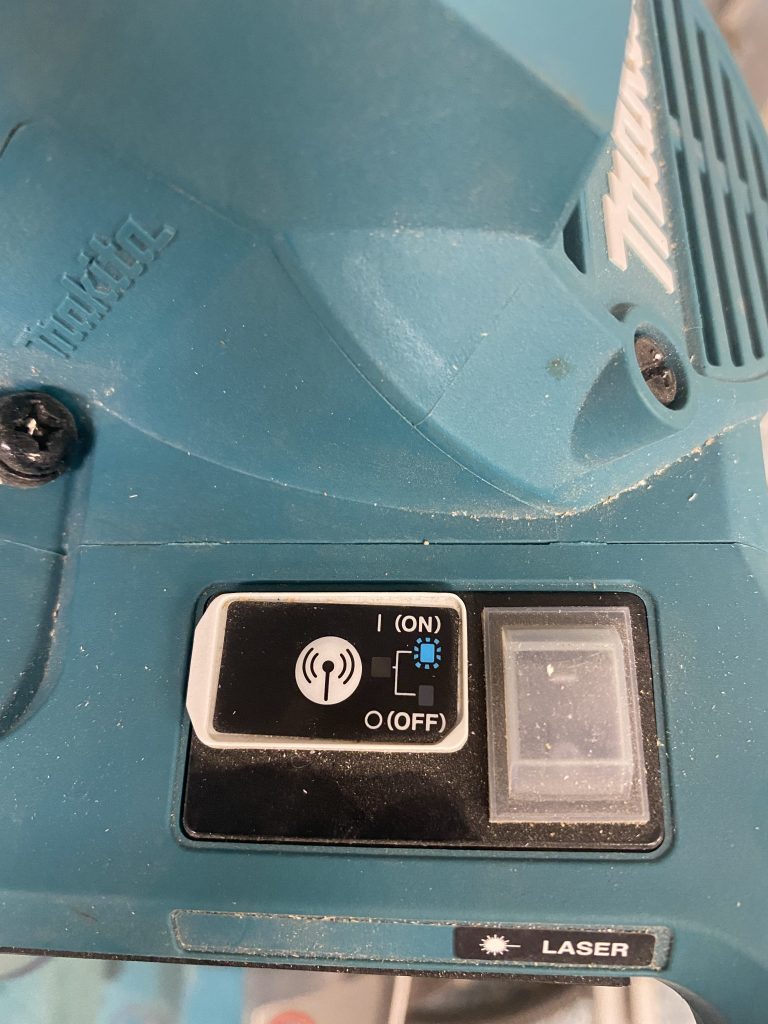 Controls are very convenient with a simple thumb button with an override lever for miter adjustment and up front bevel lock on the forward slide rails. a couple of secondary buttons for bevel direction and 45 degree override are not as easy to get to but are still very straightforward. On top by the comfortable horizontal handle you will find the switch for the laser and the AWS module (XSL08)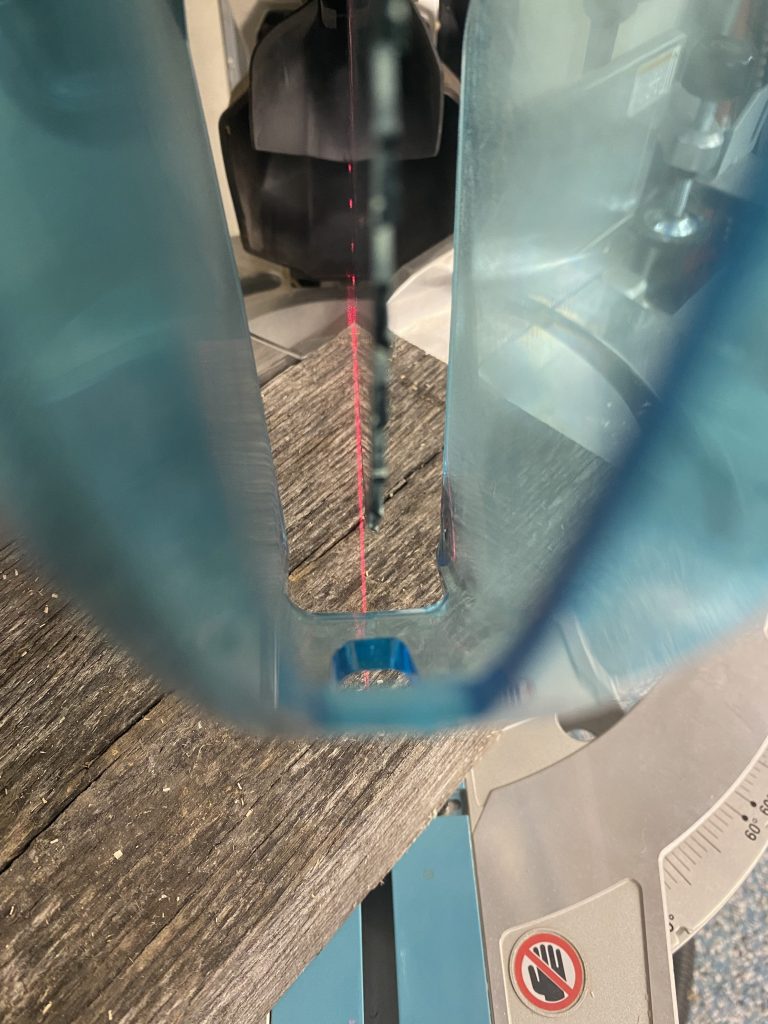 The clear blade guard is super smooth and has a slotted open area toward the bottom to make the blade more visible before each cut. The Laser is easily adjusted to make precise cuts easy to dial in. A shadow line light would be easier for most but the laser is very visible and simple to keep aligned. When it really matters I like to put the tooth to the line anyway so the laser isn't a problem to me
What is AWS?
AWS is Auto Wireless Start System. It was designed to bring dust extraction to cordless tools. Each AWS tool and extractor has an optional bluetooth module installed so the vac will come on whenever the tool comes on. With a removable module you can use one module in many different tools. It has been a pleasure to use in many different applications from trim carpentry to concrete cutting and drilling.
How heavy is it built?
At around 69 lbs. they are heavy, I must admit. However, I wouldn't trade any of that weight for a less solid design. it is a very stout platform with less flex and deflection than anything else out there. Even compared to a 1,500.00 Festool Kapex these new Makita's are much more solid, have better power and at least equal dust collection. There is very little deflection in the rails or any other part of these saws. I have never ruined a cut with one of these saws because of problems with the rails or slides. The extra tall fences are very supportive and solid. the large miter table gives great support to large and small workpieces alike.
Anything To Watch Out For?
One thing I would watch is the aluminum miter scale. It is great as long as you are careful when selecting miter angles. If you slam it into the detents you can deform aluminum faster than stainless steel. Fortunately the miter scales are inexpensive to replace if the need should arise. In over a year of good use we have had no issues with the miter scale. I am conscious of the softer scale and use care when setting my angles. Take care of your tools and they take care of you.
Final Verdict
After using these saws on many remodeling and restoration jobs we can't help but prefer them for most situations where we need a miter saw. The accuracy is bang on in our use. If anything gets out of whack they are easy to dust. We rarely need to adjust a cut made on either one of these machines. Only if something on the structure is out of square. We have used them for many types of molding both soft and hard woods as well as MDF and larger timber. The power is spot on, cordless or corded. The dust extraction is above the rest of the class
At this point all you need to decide is if you need a cordless or corded. All of them are available at maxtool.com
Below is from the Makita website:
for more info visit www.makitatools.com
FEATURES
Powered by two LXT batteries; X2 LXT technology delivers more power, speed and run time without the hassles of a cord
Makita built electronically controlled BL Brushless Motor delivers 4,400 RPM for faster and smoother cutting
Auto-Start Wireless System (AWS) utilizes Bluetooth technology for wireless power-on/off communication between tool and optional dust extractor
AWS capable with Auto-Start Wireless Transmitter – 198901-5 sold separately
The BL Brushless Motor eliminates carbon brushes, enabling the BL Motor to run cooler and more efficiently for longer life
Automatic Speed Change technology adjusts cutting speed and torque during cut for optimum performance
X2 LXT technology delivers up to 175 cuts per charge in 2×12 SPF lumber using two 5.0Ah batteries
Unique 2-Steel Rail Sliding System design offers single slide-glide operation; reduced saw footprint allows operation flush against a wall
In-front bevel lock for convenient operation
Dual dust collection ports provide excellent dust extraction performance
WHAT'S IN THE BOX
36V 18V X2 LXT Brushless 12″ Dual-Bevel Sliding Cmpd Miter Saw, AWS Capable – XSL08Z
(2) 18V LXT Lithium-Ion 5.0Ah Battery – BL1850B
18V LXT Lithium-Ion Dual Port Charger – DC18RD
12 60T Carbide-Tipped Max Efficiency Miter Saw Blade – B-66983
Triangular Rule – 762001-3
Dust Bag – 122852-0
Vertical Vise – 126617-2
Hex Wrench
Owner's Manual
WARRANTY
3 Year Limited Factory Warranty
30 Day Satisfaction Guaranteed
SPECIFICATIONS
| | |
| --- | --- |
| SKU | XSL08PT |
| Brand | Makita |
| Power Type | Cordless |
| Battery | 2X 18V LXT Lithium-Ion |
| No Load Speed | 4,400 RPM |
| Blade Diameter | 12 |
| Arbor | 1 |
| Max. Cutting Capacity (miter 90) | 3-5/8 x 15 |
| Max. Cutting Capacity (miter 45, L/R) | 3-5/8 x 10-1/2 |
| Automatic-start Wireless System (AWS) | Capable (transmitter sold separately) |
| Electric Brake | Yes |
| Laser Guide | Yes |
| Stand included | No |
| Dimensions (LxWxH) | 35-1/4 x 27-1/4 x 28-1/2 |
| Net Weight (with battery) | 69.1 lbs. |
[gravityform id="13″ title="true" description="true"]