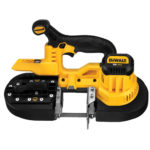 Dewalt 20v Max Compact Bandsaw
Handheld bandsaws are one of the most underrated tools on the job site. They can cut a wide variety of materials but they excel on metals. Because of this we primarily see them used by electricians, HVAC crews, plumbers and metal fabricators.
There are a few different classes of portable bandsaws. This article will focus on the compact DCS371 from DeWalt. It is not recommended but it is small and light enough that it can be run one-handed. With a 5.0 battery it weighs 4.3kg or 9.4 lbs. The weight with a slim battery is 4 kg and 8.9 lbs. The saw has plenty of power with the slim batteries but has a little more and 2x the runtime with a 4.0 and even more with a 5.0. If you want even more power and runtime you can use the saw with the new 6.0 batteries in either the flex volt or the heavy-duty 6.0 XR with upgraded 20700 cells. They both carry a weight penalty though. With the XR 6.0 it weighs 10 lbs and with the Flex Volt 2.0/6.0 you are at 10.5 pounds. The Flex Volt 3.0/9.0 will not fit.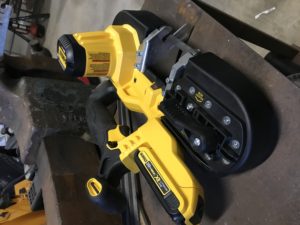 My money is on the 2.0. It strikes a good balance between power and weight.
The saw has the popular DeWalt soft black over mold for comfort and a secure grip. The grip itself is a little deeper than most DeWalt cordless tools. I feel this gives you more leverage for keeping the saw square to the cut. There is a well placed LED light to illuminate your cut.
There is also a solid round hook to keep your saw secure. You can hang it on a pipe or a piece of unistrut or a scaffold or lift. The hook is fixed. It cannot swivel out-of-the-way. I feel it is pretty small. I also wonder why it is placed beneath the handle. Every time you need to hang it up you have to flip it upside down before hanging it. Then to make the next cut you have to flip it again. Unless I am missing something this is inconvenient. It seems counter productive. Still its better than nothing. The one thing I can see it being good for is if you hold the saw in your left hand and then hang it from your tool bags. I also feel a lanyard ring would help the saw to be safer when on a lift.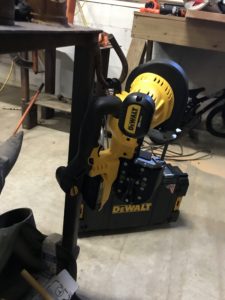 The largest size of material you can fit in the throat is 2 5/8″. The maximum depth of cut is 2 1/2″ unless you are within 1″ of the end of the material. Within 1″ you have no limit to depth.
This saw has handled everything we have thrown at it from unistrut to pre-punched angle to EMT to 2″ schedule 40 pipe. Basically it all might as well be butter. It zips right through with a smoothness that just can't be matched with a reciprocating saw. This really makes the saw a pleasure to use. It has so much control since the saw isn't jumping around and vibrating during the cut. Bottom line is it makes better quality cuts in less time.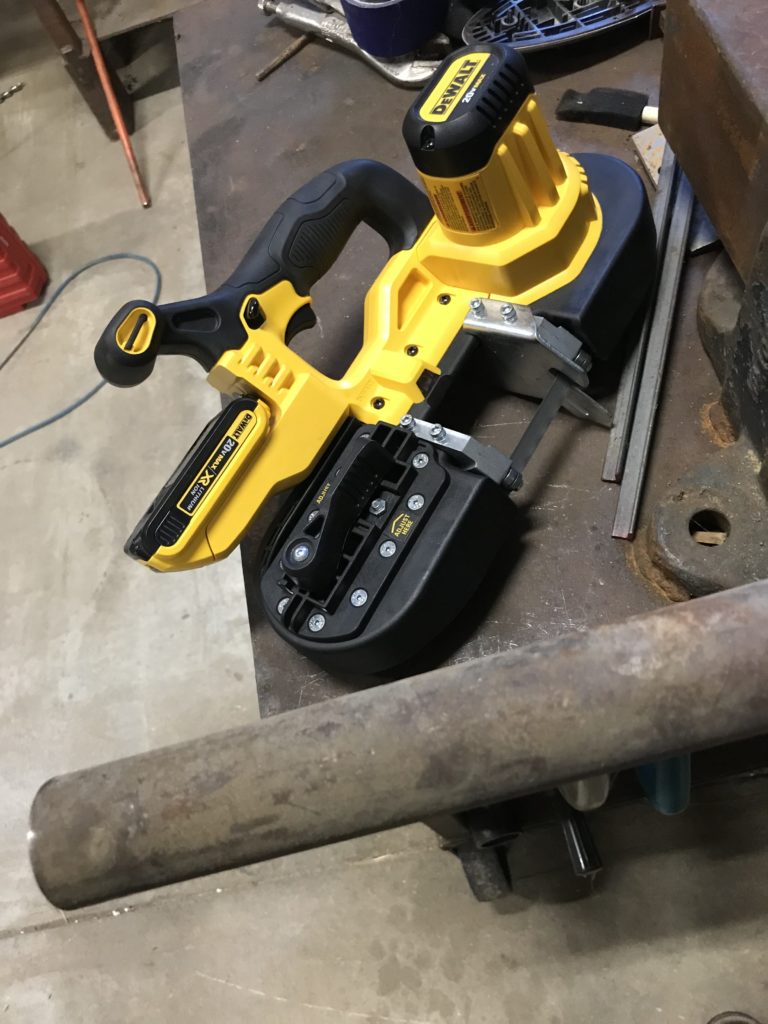 A huge advantage to using a bandsaw is safety. One area is the noise factor. A bandsaw is much quieter than a reciprocating saw, a carbide toothed circular saw or a grinder with a cut off wheel. Second is the lack of sparks flying. You are less likely to get hit with flying sparks or hot chunks of metal. There is also a lower risk of fire. I also feel there is a lower risk of injury from coming into contact with the blade.
There is only one speed. The blade runs at a constant speed of 570 SFPM. I think a second speed or a dial would be nice. Most of the bandsaws we have used have a speed dial. Stainless eats blades faster than mild steel and a slower speed helps them last longer.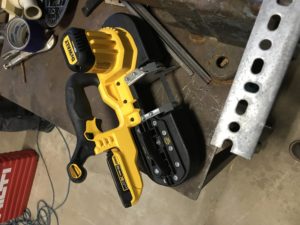 For smaller pipe, angle and tubing this little saw is a beast. If it fits it cuts. The comfort of the tool as well as the ease with which you can get great cuts makes it a really useful tool. I recommend checking one of these out to see if its right for you.
For More Info visit Dewalt.com
Buy at The Home Depot for $219.00
LED work light with 20 second delay illuminates dark work surfaces for accurate cutting
Integrated hang hook allows user to hang the saw without damaging the front handle or base
Blade tracking adjustment increases blade life by providing better blade tracking
Dual bearing blade guide rollers provides increased durability in the blade support system
2-1/2 in. cut capacity cuts up to 2 in. SCH 40 pipe
Uses a 32-7/8 (83.5)cm blade
I review and recommend products to help you buy the stuff you need. If you make a purchase by clicking one of my links, I do earn a small commission. My pledge to you is this: I will always say what I really feel. I will not taint my reviews to make a quick buck at your expense. I want you to know the truth about the tools I review for the good or the bad. My picks and opinions are independent from any business incentives