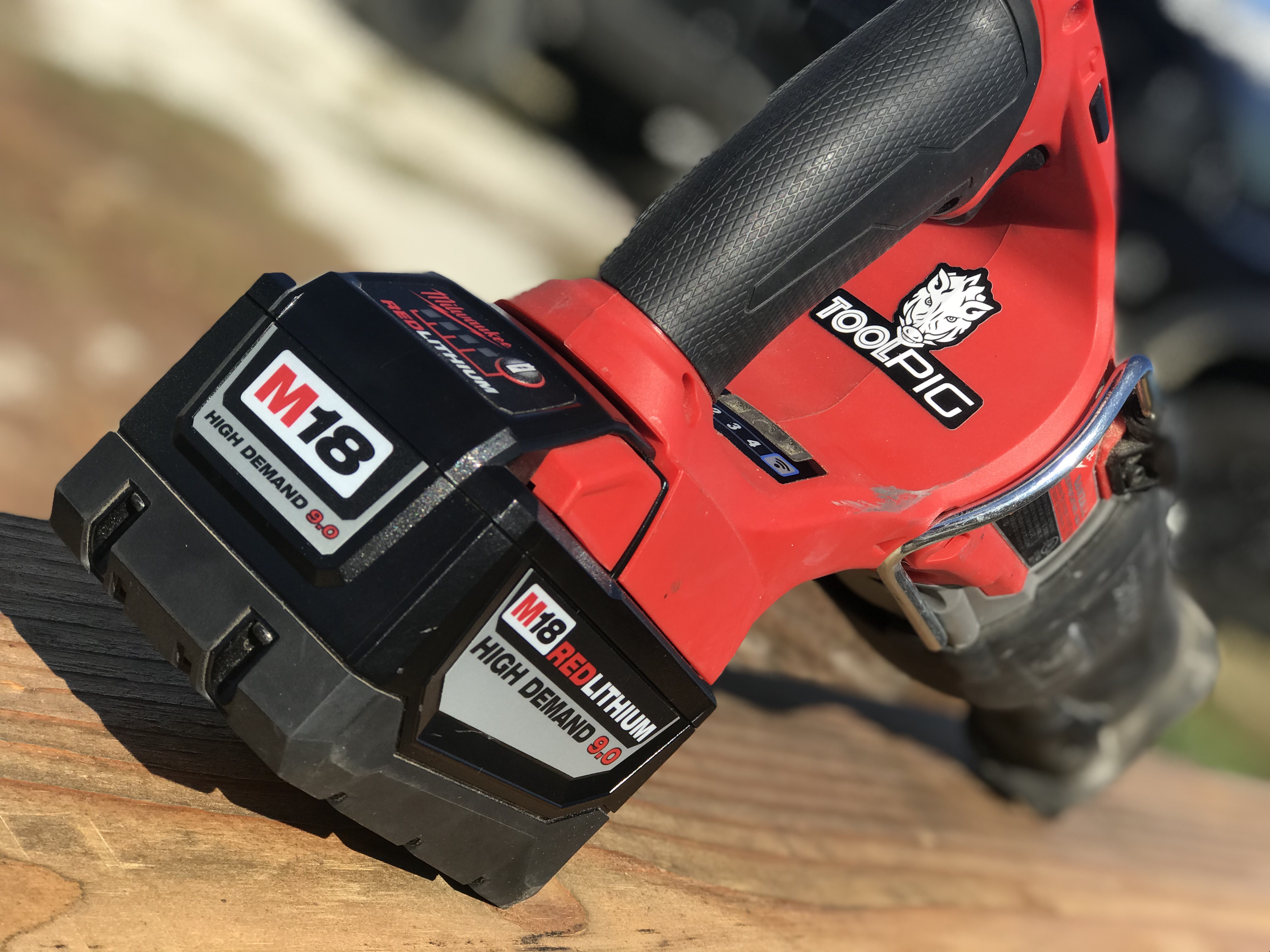 Milwaukee tools have long been an important part of the Toolpig arsenal. We have used many generations of their tools. No one can argue that they are a major player in today's tools scene. Milwaukee fans are some of the most loyal on the planet.
When we all first heard about the new 9.0 Amp Hour High demand battery. We were all pretty stoked. At the time of launch it was to be the highest capacity 18v battery by a wide margin. It promised double the runtime of a 5.0 in certain applications. The numbers do not add up but in application it seems to work out.
How did they do it?
All lithium-ion power tool batteries are made up of a series of individual lithium-ion cells to get to a certain voltage. To get to 18 V you need five cells of 3.6 V each running in series which adds up to 18 V under load. Pretty much any of the slim packs that you see such as 1.5, 2.0 or 3.0 AH will have five cells in this configuration. Batteries with this arrangement are very lightweight and maneuverable for light duty tasks. They can be used in a higher demand situation but they will drain quickly and will create a lot of heat which is wasted battery power.
The larger packs such as 4.0 and 5.0 are basically two of the slim packs stacked and running in parallel. Instead of five cells running in series you have two stacks of five cells running in series. This arrangement gives you the same 18 V of power but it roughly doubles the amount of current that is available at any given time. You will not notice a difference in power between a 5.0 and a 2.0 battery on a light duty task such as using an impact driver on small cabinet screws or inch and a quarter drywall screws. You will see a lot of difference on a more difficult task such as driving 8″ lag screws or ripping 2x lumber with a circular saw.
To make the 9.0 battery, Milwaukee used three rows of five lithium-ion cells. They are high quality high demand 3.0 Amp Hour 18650 cells. (18650 means they are 18mm diameter x 650 mm length). This battery can actually take your old faithful M18 tools and give them a turbo boost. Now instead of drawing 18 V of power from two rows of five cells you can now get 50% more current from 3 rows of 5 cells which translates to higher torque and longer runtime no matter what the task.
Why Did They Do It?
Milwaukee has repeatedly stated that they are firmly committed to the M18 platform for cordless power tools. I will not comment as to whether I feel this is wise or not. What I do know is there is fierce competition for our Power tool dollars. There have been great advancements in cordless tool design in the past few years. Brushless motors make the most of lithium-ion batteries. We now have many cordless tools that outperform corded tools all day long.
With the larger tools come larger brushless motors with higher power demands. That is where the high demand 9.0 battery pack comes in. It was the next logical step for Milwaukee. It is the biggest and baddest they have to offer so far for their m18 tool line. Just like stepping from a 2.0 battery to a 5.0 gives you're tools a boost in torque and power, so does stepping from a 5.0 to a 9.0. That means our regular old drills and saws will feel stronger all through the discharge cycle. The difference is noticeable especially on higher drain tools like sawzalls and circular saws.
This new battery has enabled Milwaukee to develop even larger more powerful higher demand tools than ever before. Last year we saw the world's first and only 18v SDS max rotary hammer as well as the world's first 10″ 18v brushless sliding miter saw. We also saw the new line of OPE with the release of the string trimmer, hedge trimmer and blower. For the most part these tools have performed admirably. They all perform their best when running on a High Demand 9.0.
This newer battery is also more efficient than a 5.0 or 2.0. How so? Since there are 3 banks of cells discharging the needed current, each bank is discharging slightly less current than if they were part of a single or dual bank battery. Less amperage out means less heat generated. Heat in a battery is just wasted energy. The less wasted energy the more is left to run your tools!
They have been duking it out on the job site with higher voltage lines from DeWalt, Metabo and Makita. So far it seems they are staying fairly close to the competition. The DeWalt Flex Volt tools enjoy a significant power output advantage with their 60v max (54v under load) batteries. They demonstrate an even larger power difference with their 2x60v=120v 12″ cordless miter Saw. Makita and Metabo enjoy a comfortable increase of 36v power by putting 2 18v batteries on high demand tools. How long Milwaukee will be able to stick to their guns on the 18v decision only time will tell. For now the High Demand 9.0 will deliver the max power from all of your m18 tools.

For more information visit Milwaukee
Buy at The Home Depot for $169
REDLINK intelligence: provides optimized performance and overload protection using total system communication between tool, battery and charger
Best-in-class construction: offers long-lasting performance and durability
Fuel gauge on board: displays remaining run-time for less downtime on the job
All-weather performance: delivers fade free power in extreme jobsite conditions
Versatility: powers more than 100 Milwaukee M18 cordless power tools
Compatible with all M18 lithium-ion chargers
The M18™ REDLITHIUM™ HIGH DEMAND™ 9.0 Battery Pack delivers up to 5X more run-time, 35% more power, and runs 60% cooler than standard 18V lithium-ion batteries
I review and recommend products to help you buy the stuff you need. If you make a purchase by clicking one of my links, I do earn a small commission. My pledge to you is this: I will always say what I really feel. I will not taint my reviews to make a quick buck at your expense. I want you to know the truth about the tools I review for the good or the bad. My picks and opinions are independent from any business incentives