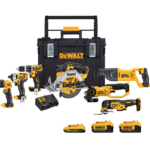 Dewalt 7 Tool Combo Kit
We have a long history with DeWalt Power tools. We have been using their stuff since before they were called DeWalt. Back then they were called Black and Decker Industrial. They have come a long way since those days in the early 90's. Dewalt 18v has been one of the all time best-selling cordless platforms on the planet. I am sure the 20v max platform will completely eclipse it when all is said and done.
When The Home Depot sent us this 7 piece combo kit we were stoked. It has 7 of the most used tools out there along with 1-2.0 slim pack battery and 2-4.0 AH full size batteries and a charger all in a rolling Tough System Toolbox.
DCD796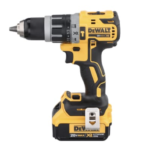 It starts with the DCD796 brushless/2″ hammer drill. It runs at 0-550 and 0-2000 RPM. with a max BPM of 34000 in hammer mode. It is probably the highest performing compact brushless drill on the market now. If it is not number one it is very close. I bought one of the DCD791 driver drills last year and it easily out powers the newest compacts from Milwaukee, Bosch and Ridgid. It's not all about power though. It has one of the best handles in the industry with great comfort and ergonomics to go along with that power. It also boasts the best light of any drill. The LED has 3 brightness settings. Normal, High with normal drilling and a special extra bright setting to use as a work light for up to 20 minutes. We have really enjoyed using these drills on the job. They are absolutely my top pick for a compact cordless so far.
Max power 460 UWO
1/2″ chuck size
2 speed settings
14 clutch settings
2.7 pounds
DCF885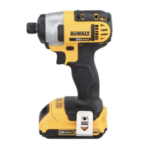 The next most important tool in the kit for me is the impact driver. I thought it was curious that this impact was brushed while the drill was brushless. This is a no frills impact driver even though it is brushed it has great performance and power. It has a 3 LED light array on the front for amazing view of your work. It is compact and lightweight and offers a one-handed chuck. It spins 2800 RPM's. The handle is very slim and ergonomic with just the right amount of over-mold grip. The only difference I am seeing between this one and the brushless is I can smell the brushes while driving screws.
0-2800 RPM
Max Torque 1400 in-lbs
2.8 pounds
DCS355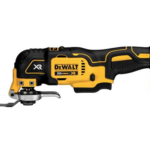 The next tool is the oscillating multitool. This is the most unique multitool on the market. It has arguably the most comfortable grip of all the multitools. It is slender like a drill handle with a dual action trigger. It has a very unique tool free blade clamping system. This is one of its greatest strengths but at the same time it limits blade compatibility since it must have an open end of the blade tang in order to work. It has a powerful brushless motor and a bright LED for TOUGH cutting. The one thing I don't like about it is there is not a variable speed dial and is harder to hold a lower speed with a variable speed trigger. You can only lock it on at full speed which is 20,000 OPM. Overall it is powerful and efficient multitool, just a few quirks I thought you should be aware of before purchase. This tool has the ability to add a belt hook. That is unique in the tool world.
20 V Max
0-20,000 Oscillating per minute
2.3 pounds
DCS381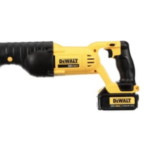 This is a reciprocating saw. This design is a reboot of the earlier 18V XRP saw. Not much has changed other then the battery connection. It is light weight and powerful with an easy to use tool free blade clamp but has no adjustable shoe, rafter hook or LED to illuminate the work. It also has more vibration than other current saws. It is a solid tool and will get your job done with ease but I feel an update may be more user friendly and would be nice.
0-3000 Strokes Per Minute
1″ Stroke Length
6.2 pounds
DCS393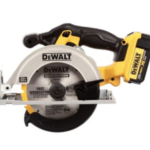 This is a 6 1/2″ cordless circular saw. One of the more powerful brushed circular saws on the market. It spins at 5000 RPM which makes it feel more powerful then other previous versions or saws with lower blade speeds. This is the entry level saw with a steel stamped foot plate rather then the magnesium of the higher end units, it has a plastic blade guard and no rafter hook. It will do up to a 50 degree bevel cut on 2x lumber, a 2-5/16 maximum depth of cut at 90 degrees. Overall a solid saw that will make your life easier.
3700 RPM
Electric Brake
7.2 pounds
DCG412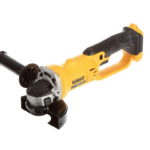 Here you have a 4 1/2″ grinder with 8000 RPM. It has a quick change arbor nut and a tool free blade guard. It is pretty powerful for a brushed grinder but I find the handle with the finger guard awkward compared to the cordless brushless grinders on the market. It has a two finger trigger with no way to lock the switch. It is a useful tool for any light duty cutting or grinding of metal, concrete, masonry or tile. We even use these cordless grinders for coping crown and other moldings.
8000 RPM
Spindle Lock
4 pounds
DCL040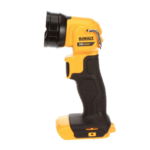 Its actually a pretty nice LED light with a swivel head and metal hook for hanging its a go to for tight spaces. Its one of the few work lights I have ever used that has the ability to add a belt hook. That is a huge plus for me. Super compact and bright at 110 lumens on the job in dark spaces it will help get your job done.
DS450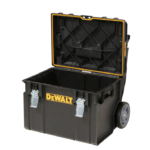 This tough system box is IP 65 rated which means your tools remain dry on the job or in the back of your truck. It has a lifetime warranty. Room for the complete combo kit and more, it will allow you to stack and roll other tough system boxes instead of carrying them on the job with 6″ wheels and a telescoping handle.
Holds 88 pounds
Carries up to 154 pounds