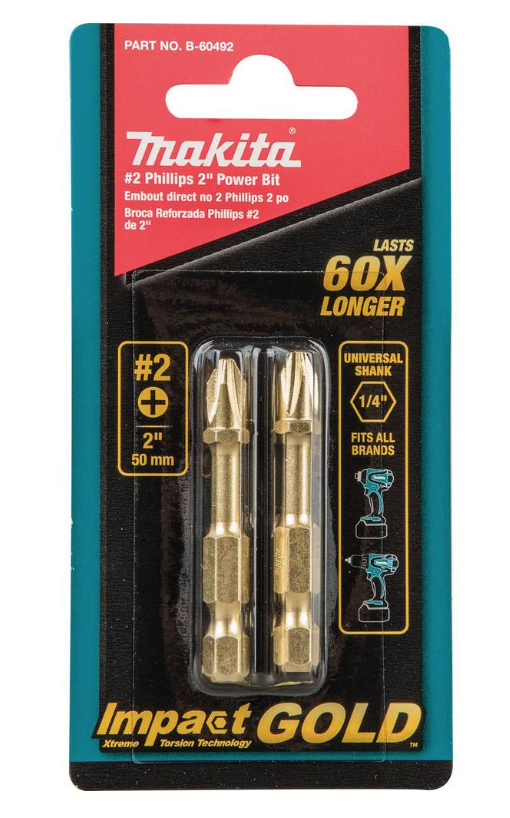 We have used
Makita impact gold driver bits
for years. They are some of the strongest bits out there. They are precision made for a great fit in the corresponding fasteners. They have a really hard shiny gold finish that makes them stand out in your bit container.
Why impact Gold
All driver bits eventually wear out or break. Tips need to be hard or they wear out too quickly. Shafts need to be tough so they can slightly flex. Impact drivers cause a lot more stress on bits than drills do. Drills have relatively steady low torque. Impact drivers have extreme torque spikes every time the hammer hits the anvil. When a screw stops turning and we don't let off the trigger the driver bit has to absorb all that energy. The fully hardened bits can't absorb that energy and they break under the impact force. Impact rated bits like the
Makita impact Gold
have hardened tips with a torsion zone which is a smaller diameter area signed to flex slightly to absorb the impact energy. This design is tied and true and has proven itself over many years. .
Home Depot
sent us a 2 pack of #2 Phillips bits to try. This is an easy review because we had already invested in Makita impact gold bits. We and our crews have used them extensively in woodworking, cabinet building, framing, deck and fence building, hvac repair, air duct cleaning, demolition and reconstruction on our remodeling and fire damage restoration jobs. I have also used them extensively in tool evaluation of many brands of impact drivers and drills. And we got a whole set to use around the house.
We use more torx 25 bits than anything else. Next would be Robertson then Phillips. We like the torx and Robertson better because there is less cam out compared to Phillips. Nevertheless at least in the US Phillips #2 are generally the most widely used construction screws I have seen. We run into them every single day.
Because of this we need a good reliable bit at all times. These impact gold bits fill that need easily. They have a great combination of hardness, toughness and fit. They are also very easy to identify in a pile of bits. They don't seem to rust in normal use as far as I can tell. The shiny coating adds to durability and protects the steel alloy.
The precision tips fit most #2 Phillips screws perfectly and seem to hold up better than most bits.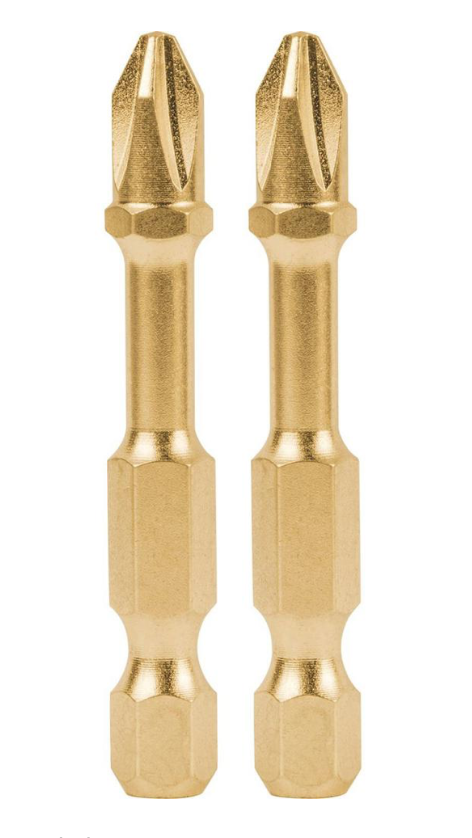 We highly recommend
Makita impact Gold bits
. We also recommend more than just the #2 Phillips bits we received from Home Depot. We regularly use the Torx and Robertson as well as the nut drivers. Try them for yourself I think you will be pleasantly surprised.
Designed exclusively for high-torque impact drivers

Xtreme torsion technology is engineered to allow the torsion section of the bit to flex under load, taking pressure off of the bit tip for increased durability in high torque applications

Precision-fit tip engineered to prevent cam-out and stripping

High-quality steel engineered for use with impact drivers

Ideal for driving screws in a wide variety of heavy-duty fastening applications including deck building, framing and installing plywood subfloor

Lasts up to 10X longer than standard insert bits

Combine with an impact gold bit holder to last up to 15X longer than standard insert bits
I review and recommend products to help you buy the stuff you need. If you make a purchase by clicking one of my links, I do earn a small commission. My pledge to you is this: I will always say what I really feel. I will not taint my reviews to make a quick buck at your expense. I want you to know the truth about the tools I review for the good or the bad. My picks and opinions are independent from any business incentives.